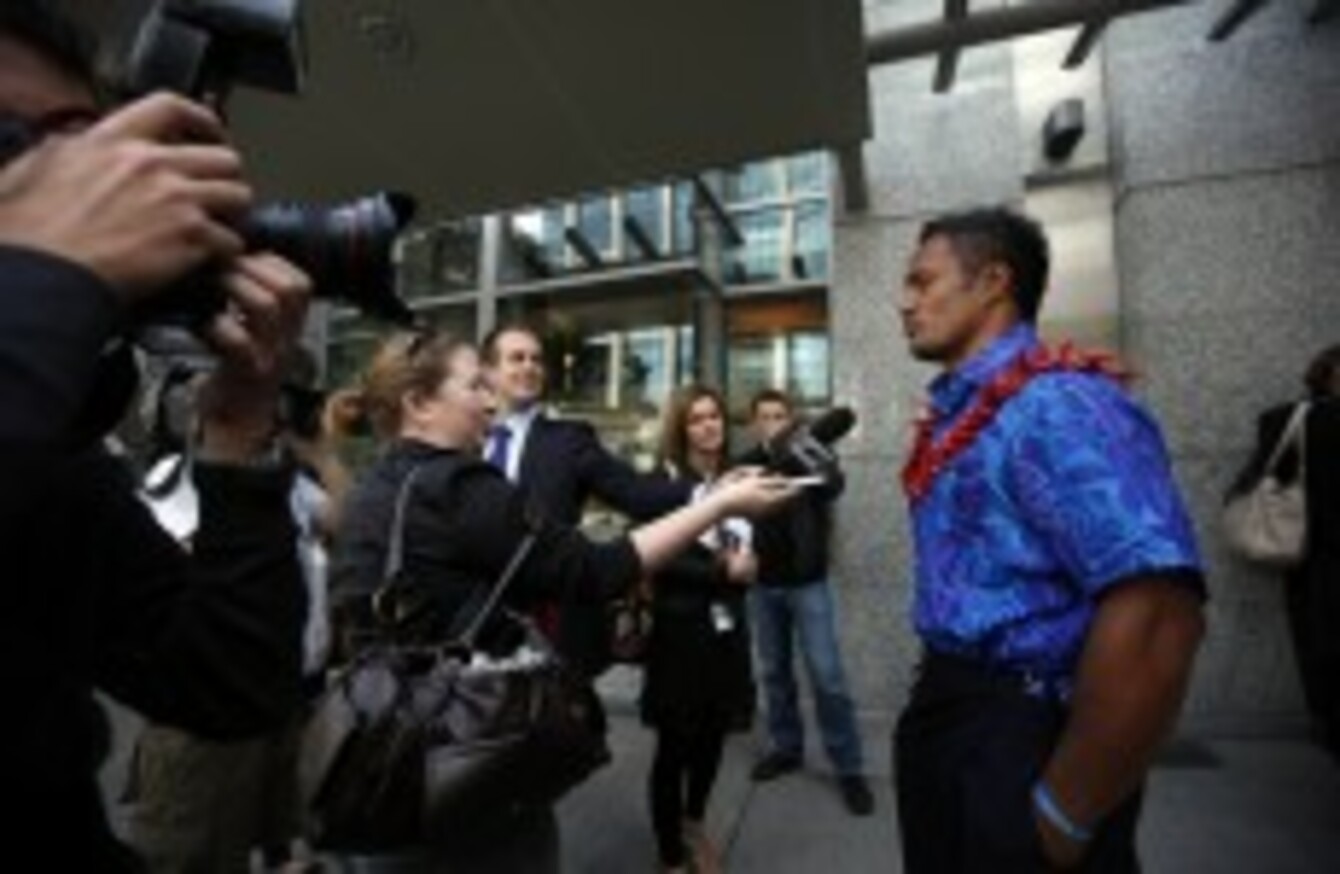 Sapolu has been banned for three weeks as a result of his actions.
Sapolu has been banned for three weeks as a result of his actions.
CONTROVERSIAL SAMOAN RUGBY player Eliota Fuimaono-Sapolu has been in the news again.
According to reports (BBC), the centre has been handed a three-week ban for a series of tweets he made during the Rugby World Cup, which criticised the IRB among others.
The Press Association reports that the centre's Gloucester future remains in doubt as a result of this ban.
Furthermore, the Daily Mail previously reported that the player would consider quitting the game if he received a ban for his actions.
However, Sapolu has yet to tweet his reaction to what appears to be a relatively lenient sentence, given that a ban of six months had previously been touted.
So while we wait for his next ill-advised tweet, here's ten previous ones to keep you entertained (warning: contains language that most people will find offensive):
1. "The only semi final that can't sell out! Exciting Saracens. Farrell put more bombs on us than the U.S did on Osama Bin Laden. Genocide."

Clearly, he is not a fan of Saracens' style of play, or for that matter, Owen Farrell.
2. "Found over 600 pages of submissions from RWCL in my mail box. Awesome. 2 hours to read, prep subs, find legal rep etc etc #bullshit."
Sapolu was less than impressed with the reading material and the length of time he had to read it, prior to his disciplinary hearing last month.
3. "#IRB, Stop exploiting my people. Please, all we ask, is fairness. If they [Wales] get a week, give us a week. Simple. #equity #justice."
Sapolu could never be accused of sitting on the fence.
4. "It is obvious the IRB is unjust. Wales get seven days, we get three. Unfair treatment, like the holocaust, like apartheid. F*** U."

If you thought the previous tweet was bad…
5. "Commercialisation has unfortunately overcome all reason and rationale. $$$ first, player welfare last. #exploitation."
Sapolu was not impressed with Alesana Tuilagi's fine for wearing the wrong gumshield.
6. "Get s.a into next round. The plan was obvious. Can't wait 2 meet irb members in public."
Sapolu becomes rugby's resident conspiracy theorist.
7. "I can understand the hate!! Haha good luck u racist biased prick."
Sapolu pays tribute to Nigel Owens.
8. "Love it when players talk big on the field in front of the camera. I like to see if they still talk big off the field when no cameras around."
Sapolu confirms that Owen Farrell is not his favourite person in the world.
9. "I do not want to play rugby anymore. One thing is for sure, my children definitely won't be."

Sapolu's immediate reaction to receiving a six-month suspended sentence.
10. "Education never stops. It's not limited to school. Even in isolated moments of silence you can learn something about yourself."
Sapolu demonstrates his philosophical inclinations.