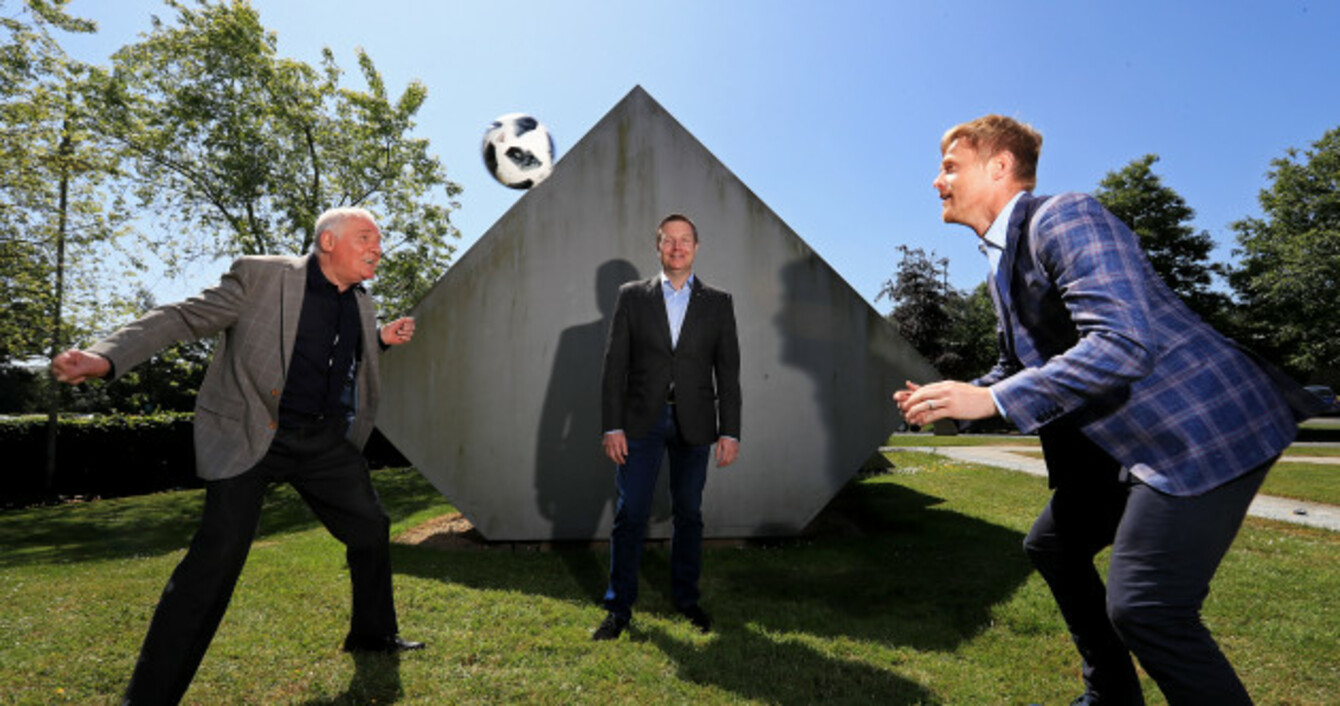 Eamon Dunphy, Darragh Maloney and Damien Duff pictured at RTÉ's launch of their 2018 World Cup coverage yesterday.
Image: Donall Farmer
Eamon Dunphy, Darragh Maloney and Damien Duff pictured at RTÉ's launch of their 2018 World Cup coverage yesterday.
Image: Donall Farmer
IT IS THE perennial debate that seems to amp up every time a major tournament comes around — RTÉ versus BBC/ITV etc.
Flicking between the British and Irish channels can almost feel like entering into altering realities at times. While the BBC are commending, for example, Steven Gerrard's performance on one channel, Eamon Dunphy is heavily criticising it on the other.
The contrasting dynamic has been satirised brilliantly by Aprés Match on more than one occasion.
While you might not always agree with what the lads on RTÉ have to say, that's kind of the point. The panellists have strong opinions and are willing to share them.
While the punditry across the water is sometimes criticised for being anodyne, the same cannot be said for the views of Dunphy and co.
"I won't say anything goes here, but I think lads are a bit more honest and forthright in their views," says Damien Duff, who is a relative newcomer to the panel, having made his made his major tournament punditry debut during Euro 2016.
Look at Eamon, he doesn't beat around the bush — that's why he's on the panel for 120 years. I think being given the freedom to do that helps and I'd like to think it's a good watch."
And does Duff believe you have to be more careful with what you say on British TV?
"I don't know. Eamon's your reference, YouTube what Eamon has got away with over the years — that's why people love watching him."
Sky Sports regular Graeme Souness memorably described working on Irish TV as an eye-opening experience, having featured during RTÉ's major tournament coverage in previous years, before switching to TV3 more recently.
Another panellist, who made his Irish punditry debut during the 2010 World Cup, ex-Liverpool and Germany star Dietmar Hamann, found it similarly refreshing to work in an environment where honesty was key.
"It was great," he explains. "I finished a year before, I did bits of TV, not an awful lot, and the guys asked me to come over. I did a few games here.
"At first, it was a bit new obviously, but no I enjoyed it, and the more comfortable you get, the more you can enjoy and concentrate on enjoying it, and it's been great ever since. RTÉ has been great for me and I don't want to miss a second or a game I cover for them."
As a rookie pundit back in the early 2010s, Hamann says the experience he gained from punditry stalwarts such as Dunphy, John Giles and Liam Brady was invaluable.
I'll never forget when I first came over, there was a press launch same as today, and [the producer] says to me 'we want you to say how you see it and how it is and we're not going to fool the viewer,' and that's one thing that always stuck in my mind. Here and also when I did other stuff, it's always the sentence that stuck in my mind.
"You've got to tell people what you see, not what they want to hear — that's key. That's one of the things I learned from all the guys — Johnny, Eamon and Liam. I did learn an awful lot from them."
Be part
of the team
Access exclusive podcasts, interviews and analysis with a monthly or annual membership.
Become a Member
And does Hamann believe pundits have more of a license to give bold opinions on Irish TV compared with elsewhere?
"That was one of the first things I've done on a regular basis, for me it's the way it should be and I felt comfortable from day one here.
"I've done stuff for the BBC and I'm contracted to Sky in Germany — I don't know if there are any guidelines you have to follow. I would like to think not, but then again, people have different interests. Some may want a job in football again, so they're a bit more cautious saying things, but that's another way to approach it.
"You're there to give the viewer some added value. I think that's what we try here and sometimes we succeed more than on other occasions."
Presenter Darragh Maloney, meanwhile, believes that the stark honesty of the punditry separates RTÉ from the pack.
The matches are there, but I think we've always had a group of panellists who call it as they see it and say what they see and might be [unwilling] to go along the expected lines. I think we do that really well in all sports.
"It's one of the strengths of this organisation, particularly with its sports coverage, that if something needs to be said, it will be said. We have a group of people who will all have very strong opinions and will back them up and argue them with whoever is beside them or in front of them or behind them, or whatever way you want to look at it."
In addition to the likes of Brady and Dunphy, RTÉ's World Cup coverage will also feature a younger generation of pundits, many of whom have only recently retired from football, including Duff, Shay Given and Richard Dunne.
"They're very close friends, all three of them. I haven't worked with Shay before, but I've worked with Damien for a while, and with Richard as well.
"It's just the knowledge they have — the same as the other guys and girls on the panel, the knowledge they have about football.
"You're learning something from them all the time. You're getting something completely different. You get a unique perspective from all of them, so they're going to be very strong for all of us."
The42 is on Instagram! Tap the button below on your phone to follow us!