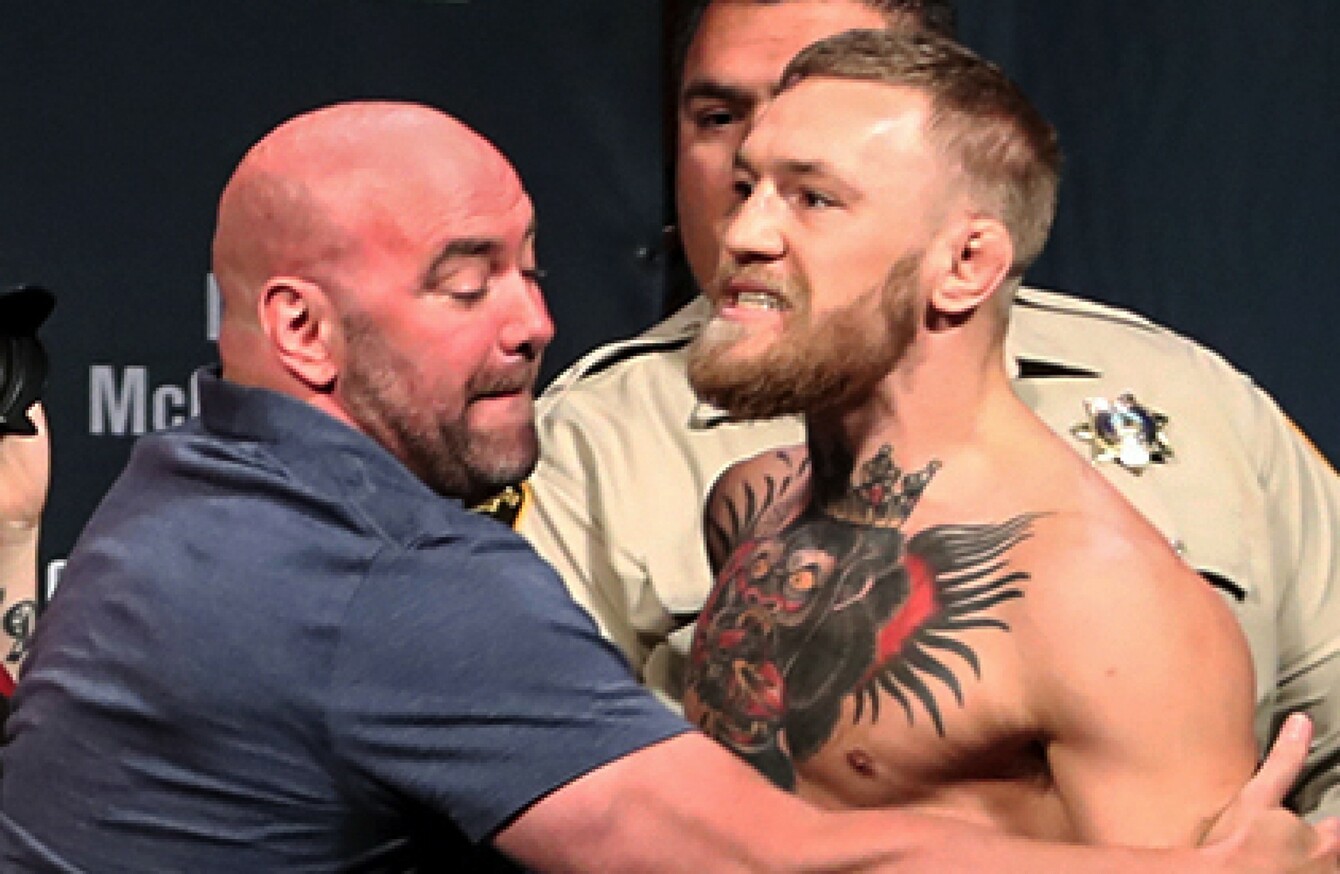 Dana White restrains Conor McGregor during last Friday's UFC 202 weigh-ins.
Image: INPHO/Tom Hogan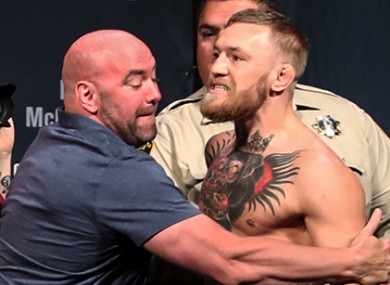 Dana White restrains Conor McGregor during last Friday's UFC 202 weigh-ins.
Image: INPHO/Tom Hogan
DANA WHITE AND Conor McGregor could be set to butt heads over the future of the organisation's featherweight belt.
In the build-up to Saturday's win against Nate Diaz in a welterweight rematch, McGregor reiterated his intention to eventually defend the 145lbs title which he claimed from Jose Aldo last December.
However, with Aldo now in line for a rematch after winning the interim title at Frankie Edgar's expense last month, McGregor isn't too enthused by the prospect of facing a man he took just 13 seconds to overcome at UFC 194.
"It's hard for me to get excited about that, especially after his last performance," McGregor said in relation to an Aldo rematch after last weekend's thrilling five-round victory at UFC 202 in Las Vegas.
"He didn't go out and get it like I wanted him to. I don't know. We'll see. I'm the 145lbs champion. The interim champion is a man that I KO'd in 13 seconds. I've got to figure out what's next, but right now I don't know what's next. There are many things in the pipeline, so sit tight."
White is keen for McGregor to return to featherweight and defend his belt. Otherwise, the UFC president insists that he'll have to give it up. But after consecutive outings at 170lbs, White doesn't want to see McGregor compete at welterweight again. Nor is he a fan of the idea of a trilogy bout between McGregor and Diaz.
"I'm not interested in a third fight between those two right now for a couple of different reasons," White said on the UFC Unfiltered podcast.
"Number one, he has to defend that 145lbs title or walk away from it. Number two, let's be real: Nate Diaz stepped up and was fucking huge, and I have so much respect for him and Conor for both doing it. It was such a fun fight, they both wanted to do it again and everything else. It's all great.
"But we have weight classes for a reason here. Conor is such a fucking super-talented athlete. You can only have so many of those wars in your career. When he's at his right weight, the guy is awesome, super-talented. I want to see him fight all the best in the world at his weight, not 30lbs heavier."
And when he refers to "his weight", he means either featherweight or lightweight. Prior to the birth of his rivalry with Diaz, McGregor was due to bid to become the first man to hold two UFC belts at the same time with a bout against then-lightweight champion Rafael Dos Anjos — which fell through when Dos Anjos sustained an injury.
White's preference for McGregor appears to be a second meeting with Aldo, but he's also open to a move to lightweight for a challenge to reigning 155lbs champion Eddie Alvarez, who dethroned Dos Anjos in July with a resounding first-round TKO.
"Jose Aldo is the interim [featherweight] champion," said White. "That's the fight he's got to fight if he goes down to 145. There's other fun fights for him there. Obviously if he went to 155, there's tonnes of fun fights there."
White added: "McGregor/Alvarez makes sense, absolutely. There's a lot of fun fights down around his weight class or at his weight class. That's what I'm interested in."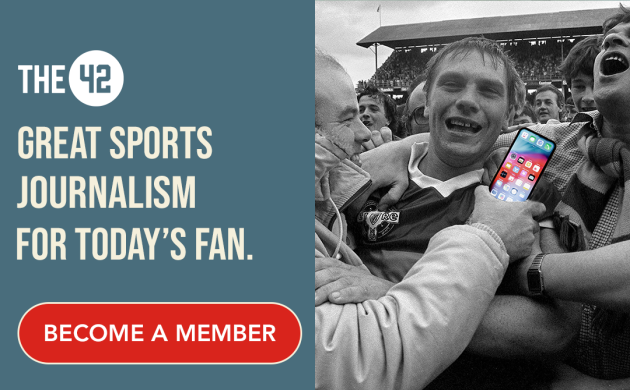 McGregor has said that he still intends to make a move for the lightweight belt, but he has no intention of being stripped of the featherweight strap.
"I don't think they want to do that," he said on Saturday. "How can they do that? If they want to do that, are they really going to give my belt to the guy that I KO'd in 13 seconds and bury that division on the prelims? That's what would happen.
"We'll see. How can they do that? What would that do to the division if the guy that I KO'd in 13 seconds is the champion? We've got a lot to talk about, but I'm in a beautiful, beautiful position now and that was built on hard work. I'm going to capitalise on that. We'll see. I have other stuff in the pipeline. Shit is about to hit the fan, I feel, so we'll see."
In a separate post-fight interview, McGregor reiterated that he has no shortage of options regarding his next move, claiming that "some might not be this sport".