ON MAY 27, my Mum died suddenly.
A few days later, I was standing in her bedroom and staring into her wardrobe. It was filled with colour and style and vibrancy and my eyes began to sting.
I stood there for a long time. I smelled her clothes and held them in my hands. Everything was the same. Everything. On her bedside locker was her portable radio with an elastic band wrapped around it. There was a box of Tic Tacs. There were photos from my wedding two years ago. Everything was the same. But it wasn't.
What I noticed most after her death was the silence. As a family, you bind together at difficult moments. You swap stories and reminisce and laugh hard, usually at very inappropriate things. And when there's a death, you get so many visitors. There's a constant din, an electricity of interaction. You're always entertaining. But then the silence comes and it gets you in the gut. You're not even aware of it but you begin to stare into space a lot, unable to speak. You want to speak but the words just don't come out, like stepping on the accelerator with the handbrake on. So, you sit and wait for someone else to deal with the silence better than you can.
And as I stood there, in the silence of my Mum's bedroom, I realised the finality of it. I realised that there would always be a silence from now on.
My Dad asked if I wanted to take anything of Mum's with me and there was. A medal that belonged to my grandfather and that she proudly wore on the lapel of one of her winter coats. She had attached a pin to the back of it so it looked like a brooch and for years I examined it up close. It was gold, engraved with the Munster crest and given to my grandfather in 1926 for winning the Munster Football League 2nd Division. On the back, it was personalised with the words 'D. DUNLEA (CAPT)'. Underneath, some more detail: 'Won by ST VINCENT'S A.F.C.'
Whenever Mum wore the coat, she'd point to the medal and encourage me to inspect it, as if it was the first time I was seeing it. I'd ask some questions about my grandfather's football career but Mum didn't seem to know much. She said that he served a ban for playing a garrison sport and that was about it. She didn't have any detail on St. Vincent's or the Munster Football League. But she loved that medal. She loved showing it off. She was so proud of her father.
Before Mum died, I never thought about that medal. I knew it existed but was ignorant to its story. I didn't care enough to ask Mum about it in greater detail. I never sat down and asked her about her family, what her parents were like, if she ever saw her father play football or what position he played.
I've covered football for 12 years now. Maybe my Mum hoped that one day I'd temporarily ignore the Premier League and the World Cup and write about our own family's connection to the game that I loved so much. But I never did.
I live in Toronto and on the plane journey back home, I stared into space a lot. I thought about the medal and its significance. It wasn't really about my grandfather anymore. It was about my Mum. It was about a basic thing I had failed to do when she was still alive: taking an interest.
I wanted to know more about that medal and my grandfather.
Some details I already had thanks to census records and my own father's impeccable memory.
Daniel Dunlea was born in 1905, the youngest child of Bartholomew and Mary, and raised in Sunday's Well on the northside of Cork City. He had one brother – Martin – and two sisters, Nora and Molly. There had been more children – seven in total – but three had died as infants.
Later, he became a familiar presence to local dwellers. He was responsible for delivering to the various watering holes in the city and there's even a picture of him – probably snapped sometime in the 1950s – perched on his horse at Patrick's Bridge, the reins gripped tightly in his hands and the precious cargo stored in the cart behind him. He's wearing a shirt, tie, blazer and a tilted trilby on his head. Around him, the bicycles and pedestrians go by. But the way the image is framed, Daniel is a striking, imposing and memorable figure.
Also, it's a rare collector's item. A photograph of my grandfather and a window – however tiny – into who he was.
When I was little, I'd always sit next to my Mum at mass. Bored, I'd stare at the altar and the two pillars on either side. I'd imagine them as goalposts and how I'd outfox the goalkeeper/priest with an expertly curled shot to the far corner.
Later, but still bored, there were other things that passed more time.
Mum would always bring her own missal to church. It had a navy cover and was filled with memorial cards of friends and family. Always, I'd take them out and flick through them.
The cards were all identical, as if everybody got them done in the same place. On the front was a photograph with the person's name, age and their date of death. On the back, there was always some biblical verse or a poem. Some faces – the younger ones – I recognised. And others I didn't.
The majority of people in the photographs seemed so old, their faces hardened. And the ones I always seemed to focus on were my grandparents.
I never met any of them. To me, they were mythical, curious figures. Growing up, you'd hear references but that was it. You could see them in my parents' wedding album but they were almost lost in the crowd. I do remember looking at both my grandfathers – resplendent in their top hats and tails in the mid-1960s – and drawing an immediate contrast. My Dad's father wore glasses and seemed smaller, almost diminutive. Daniel was bald but tall and debonair. There appeared a breezy elegance. An assurance to the way he carried himself.
There were other aspects of his life that I knew about. I knew he married Molly and they had two girls – Mary was the oldest and then Joan, my Mum, came along a few years later. I knew they lived above a bakery. I knew they went to deepest, darkest west Cork on their honeymoon and loved it so much that, ever since, three generations of our family have been immersed in Union Hall and its surrounding areas since birth. I knew that Molly referred to her husband as Danny.
But, up until my Mum's death, that was about it. Afterwards, some new fragments of information came to light. Mum, a classical music buff, had long wondered about a certain piece of music her father used to sing as a party piece. She remembered the melody but not the name until one day several years ago when she heard Toselli's Serenade on Lyric FM.
And on her final journey at The Island Crematorium, she was accompanied by Mario Lanza who serenaded her with that song the entire way.
In the subsequent days and weeks, I learned more about Danny.
Thanks to Plunkett Carter, the esteemed historian and authoritative voice on Cork football history, I found out just how much of a talented footballer my grandfather was.
Danny played the game in the immediate aftermath of the Civil War, the era of the Irish Free State. Inevitably, in the early years of organised soccer (the Munster Football Association was initially formed in 1901), the presence of British soldiers in particular pockets of the country led to various clubs being formed. Writing in Cork Soccer Memories, Plunkett paints an incredible picture of what local sport was like at a time when atmosphere was fraught and rivalry went far beyond what happened on the pitch.
"Soccer was, at the time, very popular in Sunday's Well which was then a very strong nationalist area," he writes.
"Before hurling became the leading sport in the area, the nationalistic sports enthusiasts gave vent to their feelings on the soccer field where Vincent's often took on Barrackton Utd, a team composed mainly of British soldiers stationed in Cork and naturally loyalist in political outlook."
There was a famous occasion in the Camp Field when the game was drawing to a close with the teams level at two-all, and a Barrackton forward gained possession and broke through the Vincent's defence. He had only the goalie to beat when he hesitated to pick his spot. Just as he was about to shoot, a Vincent's supporter, sensing the danger, suddenly produced a revolver and shot the ball! That ensured that the game ended in a draw and the honour of Vincent's remained untarnished."
Before the first World War, the military sides dominated Munster junior football. Barrackton won the provincial Tyler Cup twice in a decade while the likes of Royal Artillery and Haulbowline – where the British Navy had a base – were also victorious.
But, in the 1920s, the most successful junior team was St. Vincent's, captained by my grandfather.
Playing in green and black, the club was only founded in 1922 – the same year the Munster Football Association was reformed – and while the Civil War still raged. Vincent's disbanded just a decade later but, between 1926 and 1929, they managed to claim three Munster titles and reach a national decider: the equivalent of today's FAI Junior Cup final.
The medal my Mum wore so proudly on our lapel was from the 1926 Munster victory over Limerick outfit Dalcassians. But Danny didn't just captain Vincent's to provincial crowns. He was also skipper for the Free State Junior Cup clash against Dublin side Brunswick in 1926.
Over the last few weeks, I'd wake to various emails from the intrepid and dedicated Plunkett, who sat in front of dizzying microfilm units, spooled through various newspaper archive and copied anything of relevance pertaining to my grandfather.
He even sent on a photograph of him.
It was taken before that Free State final in 1926. Danny is in the back-row, fourth from the left. Three things stand out: the beauty of the striped jerseys, his height (he's the tallest on the team) and also the way he drapes his arms around his team-mates on either side, something nobody else is doing. As captain, perhaps he was merely leading by example. But, what struck me as I tried to decipher as much as I could, was that my grandfather was just 21 at the time and still handed the armband. Despite his lack of years, his personality clearly lent itself to leadership. Others looked to him for inspiration.
Despite the game taking place at the Victoria Cross grounds in Cork, Vincent's lost. Over 5,000 fans were in attendance, including a substantial Brunswick crowd who, according to the press report, 'travelled by special train from the metropolis'.
Vincent's attackers came in for criticism but Danny, operating as a fullback, was praised for his performance. The game was decided by a solitary goal and it came from one of Vincent's own players. After a decent start, it set them back considerably.
"Up to the time of this score, the Cork team was much the more aggressive, but the unfortunate reverse damped their ardour to a considerable extent," went the match description, sitting curiously alongside a death notice of a Denis Healy from Dunmanway and the stock market updates from America.
Still, the defeat was an early indicator of Cork junior teams' difficulties on the national stage. The competition has been running since 1924 and only a handful of Leeside clubs have ever won the trophy. Damningly, the most recent was Rockville in 1945 and no Cork team has even reached the final in over 30 years.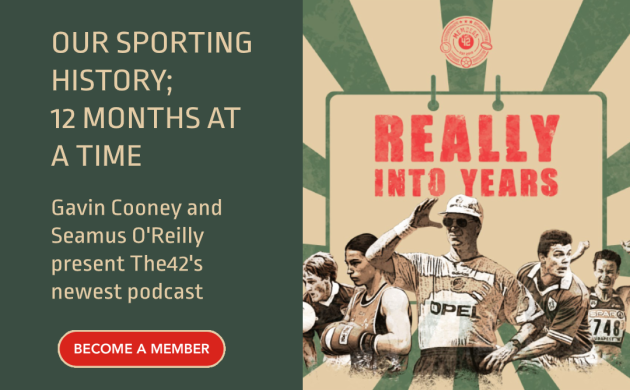 So, the mere fact Vincent's qualified for the 1926 showdown was a relative triumph.
Danny was an excellent defender and his performances for Vincent's ensured he also represented Munster in a Junior Interprovincial clash against Leinster in the mid-1920s.
Alongside ads for the Cork & Kerry Creamery Company and the super-silk Mattamac coat  ('favourably known and worn all over the World'), was the team announcement in the local press and Danny was one of four Vincent's players selected to represent the province.
But, the timing was more than a little curious. The game against Leinster took place on a Sunday, 24 hours after Danny and his Vincent's team played a local cup final against Victoria Celtic.
Given the circumstances (two Celtic players were also involved), it was understandable that Munster suffered a 3-1 loss but Danny's defensive prowess was again noted.
Vincent's won Munster titles again in 1927 and 1929 but there wouldn't be another march towards national success.
I'm not sure when Danny decided to step away from soccer or when he served a ban but he'd already accomplished so much so quickly. It wasn't long before he married and started a family and his priorities probably changed. By the time my Mum was born, it was already over a decade since the Free State final and certainly a distant memory for him.
But, he was proud of the accomplishment. He was so proud that he kept onto that medal.
And he passed on his love for the game to his family.
Even to this day, my Dad isn't a particularly keen sports fan. He's much too active to sit down and dedicate two hours of his day to a match. He could be doing important things like painting the house or cutting the grass. He'll watch the news and listen to the radio and hear the main headlines. He'll try his best and offer basic updates when I call but my Mum always prided herself on her in-depth knowledge of Cork sports history.
Before marrying my father, she worked in the iconic Matthews sports store and she'd regale you with stories of watching Raich Carter down the Mardyke in 1953 and how wonderful it was to see Noel Cantwell lift the FA Cup as Manchester United captain a decade later. Usually, she'd also veer into some tale of how Cantwell was an old friend and if I remembered the Cantwells who lived on Redemption Road (I never did) because they were related.
She'd tell you about all the nights spent in the company of lifelong friends Joe and Noreen Hartnett on the Commons Road and how Christy Ring, who she adored, would regularly drop by for tea and chats.
She'd discuss, at length, the inner-workings of the Cork Hibs side managed by Dave Bacuzzi and the wizardry of Dave 'Wiggy' Wigginton. Later, she loved Dave Barry and how he brought such a local quality to Cork City in the mid-90s. She was immensely proud when the team's left-back Gareth Cronin, the son of another good friend, came to our house regularly to get some extra accountancy tutorials from my brother.
After accumulating the research on my grandfather and flicking through everything, I wondered what my Mum would have thought about Danny's football profile. The wins, the accolades, the praise. But she never really cared too much about that stuff. She liked to impress, certainly. But for her, it was important to be well-read, intelligent, sharp and always elegant. For her, quality was never to be measured in trophies.
And then I came across one local columnist and his views on various Vincent's players. For him, Danny Dunlea – my grandfather – was a player 'of style'.
She would've loved that.
Immeasurable thanks and eternal gratitude to the remarkable Plunkett Carter for his help with this article.  
The42 is on Instagram! Tap the button below on your phone to follow us!