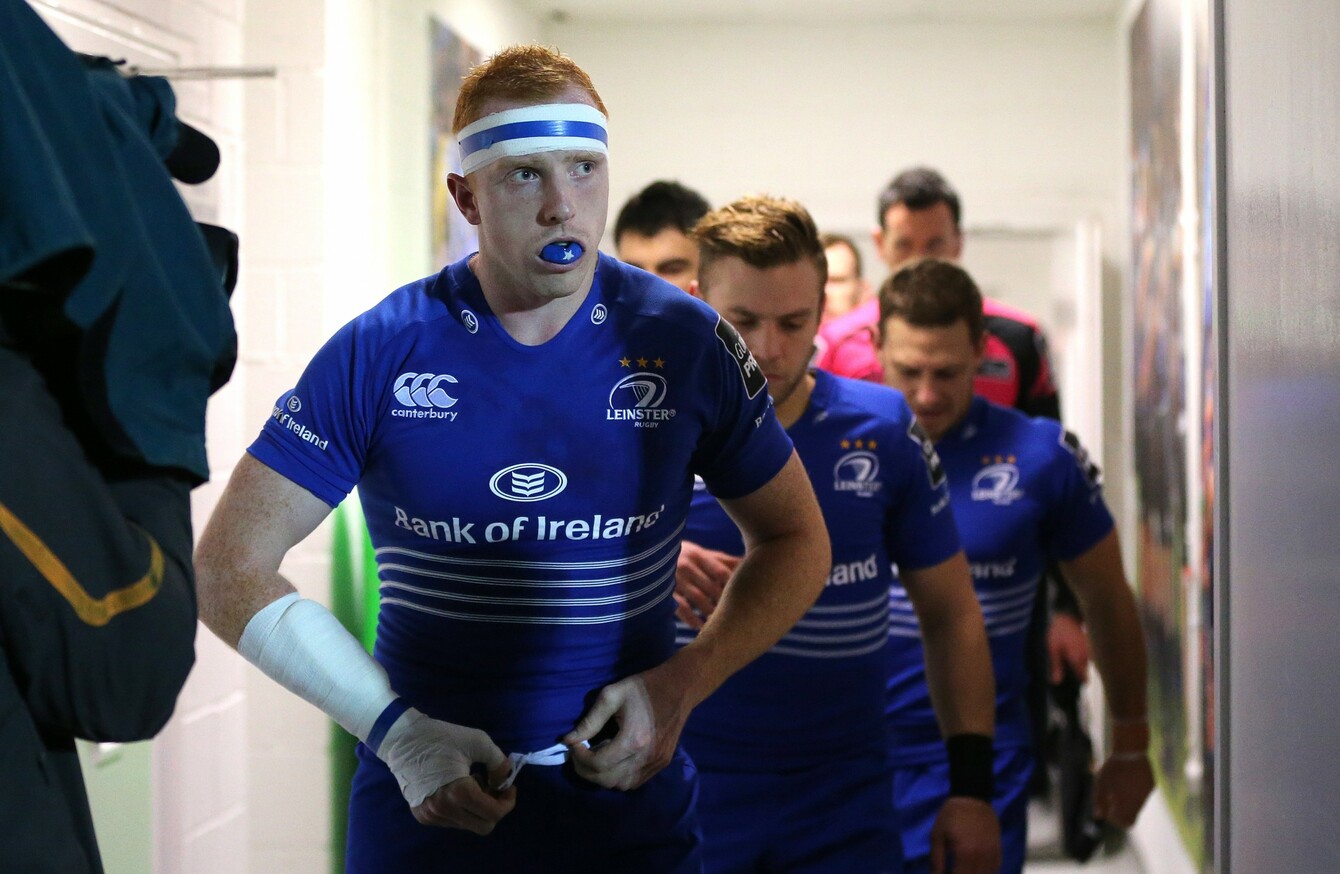 Fanning played 34 times for Leinster, scoring seven tries.
Image: Cathal Noonan/INPHO
Fanning played 34 times for Leinster, scoring seven tries.
Image: Cathal Noonan/INPHO
LEINSTER WINGER DARRAGH Fanning admits he shed a tear in Leo Cullen's office as he told the head coach of his decision to walk away from the professional game.
The province yesterday announced the 29-year-old would be released from his contract at the end of this month to allow him concentrate on opportunities outside of the sport.
"It was a tough, tough decision," he tells The42, as we sit in his new restaurant. "All the support over the last few weeks from my friends, family, my girlfriend. They knew what was going on and they were supporting me either way."
Fanning, who spent two seasons with Leinster, is spearheading a new food chain, Zambrero, which opens its doors in Ireland for the first time today.
It's been a project Fanning has been working on for the last 18 months and as all the hard work comes to fruition, he came to the realisation that it was something he needed to concentrate his full energies on.
"I feel like crying on one hand with sadness but also with joy with getting the restaurant open," he continues. "It's been a roller coaster few years. I told all the lads yesterday. It's been the best three years of my life and the memories I have I'll never forget it.
"In the end, I just made the decision that I felt was right for me at this time and it's a great opportunity for me with Zambrero. I didn't want to turn around after five years and say why didn't I give it a proper crack.
"Without writing myself off, I've probably had my day in the sun with Leinster and I played 20 games last year to one game this year so the writing was probably on the wall.
"I'm an emotional guy, I even shed a tear in Leo's office a couple of weeks ago when we spoke about this and I made the decision with him. It was tough to tell some of the lads, some of them knew it was on the cards, I officially told them yesterday."
The former St Mary's College student was taken on by the province on a trial basis after he'd returned from a brief stay in Australia to spend a year out west with Connacht.
From there, his career exploded. He impressed enough to earn a contract before seizing his opportunity with both hands. 34 appearances in the blue followed while he won Pro12 and B&I Cup titles in his first season and finished joint top try scorer last term.
"Leinster were so good to me," Fanning adds. We were both able to leave very amicably in the end, I left my contract with year and a half early and now I'm just going to focus on this. I'll keep playing rugby with my club.
"Going forward my life is probably in Zambrero. My business partner, Shaun McCarthy, approached me about 18 months ago. He and his wife had just had their first child so I rang him when they were in hospital to congratulate them and he said he wanted to ring me to chat about an opportunity.
"So I thought I was going to be godfather, thinking to myself brilliant, they feel I'm a mature influence. But he rang me about an opportunity to go into business. Fast forward to now and I rolled the first burrito off the line yesterday and it was like having my own baby."
After breaking through under Matt O'Connor and establishing himself on the Leinster wing last year, he had found opportunities difficult to come by this season and featured just once for Leo Cullen's side.
Be part
of the team
Access exclusive podcasts, interviews and analysis with a monthly or annual membership.
Become a Member
While he was finding it hard to force his way into the reckoning, the easy option would have been to ride it out and stay until his contract ran out in June 2017.
But Fanning realised his dream by pulling on a blue jersey and he walks away satisfied with what he's achieved.
"When you're on the pitch with Rob Kearney, Ian Madigan and Brian O'Driscoll winning silverware with Leinster – I mean you're in the back garden dreaming of this stuff, pretending to be these players when you're younger.
"I've no shame in admitting I wasn't the most naturally gifted rugby player in the world but hard work beats talent every day of the week and I've always worked off that. I did work really, really hard to get to where I was and when I got there I think I justified my selection. I didn't just turn up and make up the numbers.
"I went into Leinster on a six-week trial and people thought I was mad – what are you doing, your 27, they'll flog you for six weeks and will get rid of you.
"But I knew if I got in I would back myself what I could do and at the end of the day if I got a bit of free gear I'd be happy but I knew what I was capable of.
"Even still when I want in I was thinking one cap. One cap for Leinster would be dream for me, my Dad played for Leinster and Leinster is my province. If I had have pulled on a Leinster jersey once I would have been happy but the friendships I've made have been amazing."
Fanning has used his contacts in the rugby world to get his business off the ground and up and running. All of his suppliers or associates are friends from rugby and he hopes several of his now former team-mates will support him in this new venture.
And it was ultimately a chance conversation with Jamie Heaslip which sparked his interest in business.
"I'd slag Jamie a lot of the time because he literally has his toe in every pie in the city but he you have to," he explained. "We're not professional footballers or in the NFL or NBA, you're not getting paid money where you can pack up after five years and live off it.
"Jamie, for instance, I had a coffee with him in Italy last year and it only hit home when he was asking about work options after rugby and I was a bit naive in thinking why would he have to work after rugby?
"He's probably one of Ireland's best number eights, he's captained his country, the province, so surely he has millions in the bank. But no he doesn't and fair enough he's got a great set-up and will be comfortable but that won't last him for the rest of his life.
"There are other guys like Eoin O'Malley and Kevin McLaughlin who had to retire through injury so I think I'm getting out at a lucky time and I'm fit and healthy.
"I have big plans now and I'll see where they take me."
The42 is on Snapchat! Tap the button below on your phone to add!