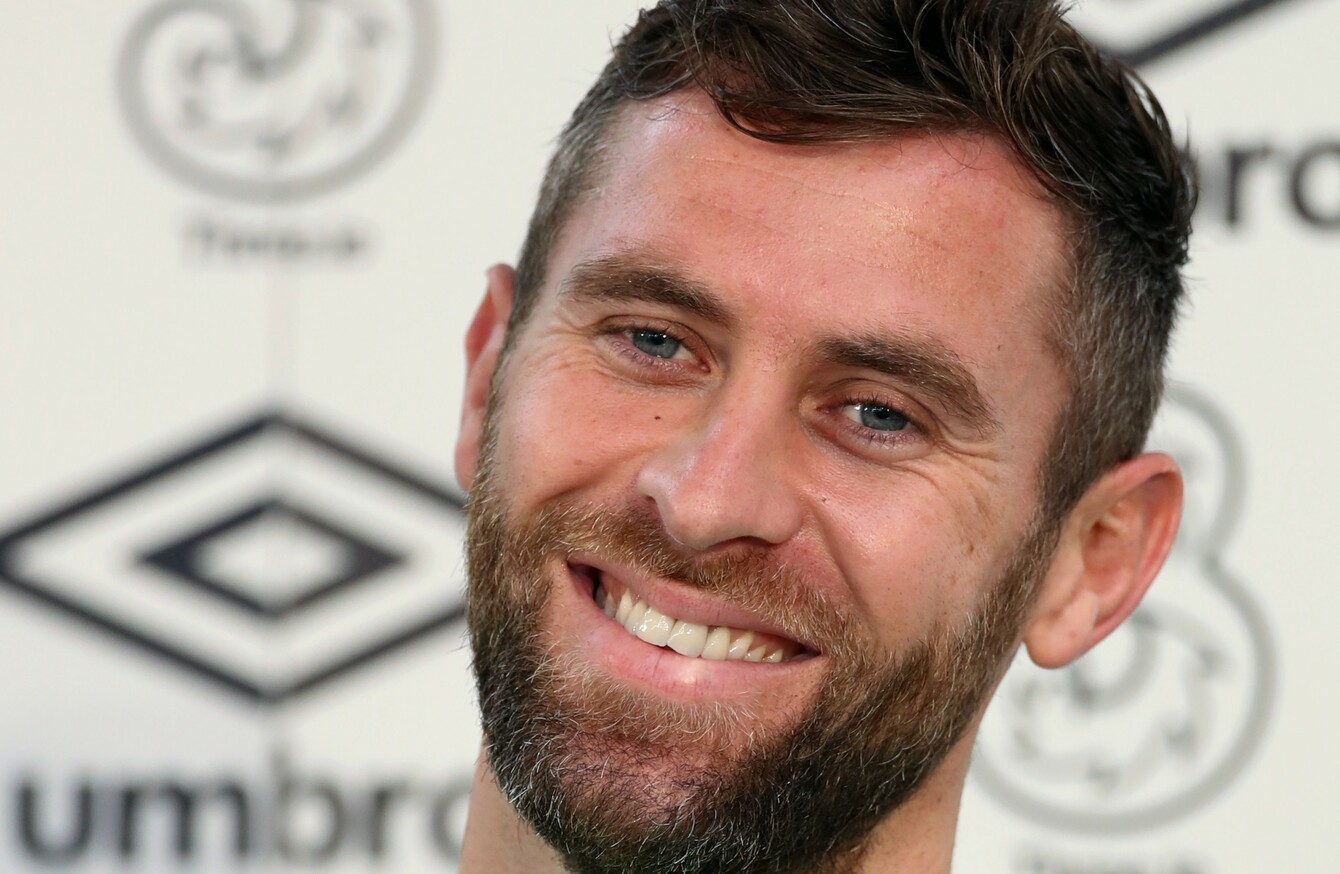 Daryl Murphy pictured during a press conference at the Stade de Montbauron, Versailles.
Image: Chris Radburn
Daryl Murphy pictured during a press conference at the Stade de Montbauron, Versailles.
Image: Chris Radburn
- Paul Fennessy reports from Versailles
IRELAND STRIKER DARYL Murphy is hoping for a "strong referee" when Ireland take on France in Lyon in the second-round Euro 2016 match on Sunday.
The Boys in Green have been denied strong penalty shouts in their last two matches — against Belgium, Shane Long's claims were ignored despite what looked like a kick to the face by at least one Belgian defender (see picture below), while James McClean's protests were also ignored the other night, after he was brought down in the box by Italy's Federico Bernardeschi.
Moreover, with French fans set to comfortably outnumber Irish at the game, and with Didier Deschamps' side's status as tournament hosts, some critics have expressed concern that Ireland once again are unlikely to get the rub of the green in terms of decisions.
Murphy, however, has played down concerns about the officials.
"We've had a few decisions that we thought might have been penalties, but they're gone, you get on with it. You can't change the referee's mind," he said.
We'd like a strong referee (against France), which I'm sure we'll have. Just to be fair with both teams, that's all you can ask.
"They've a tough job, it's hard to get everything right, but I think we'll be alright."
Despite still haven't not scored in 22 caps for Ireland, the 33-year-old striker feels he is improving.
"It was definitely my best performance," he said of Wednesday night's momentous clash with Italy.
The fact that it was such a big game, I needed to produce and be on my A game. The manager had faith in me to start me and I knew what I needed to do, and I thought I did as well as I could. I held the ball up as well as I could — they're very good defenders, so it was a hard game."
Unlike against Italy in Lille, Ireland fans will be overwhelmingly outnumbered by French in the Parc Olympique Lyonnais this weekend, with the majority of tickets for the game going to the host nation.
Nevertheless, the Waterford native believes Ireland could still potentially use this situation to their advantage.
"It's like that for any away team if you keep the home team quiet for a while.
If you're not conceding, they're not playing too well. The home team want to attack, the fans want to be impressed, especially from the home nation, they're going to want their team to be right at it from the start.
"If we're at it and causing them problems, we all know how fans are. They can quickly be silenced, and it's something we can do."
And finally, Murphy was asked the inevitable 2009 Thierry Henry handball incident-related question. Would it be a factor on Sunday, as goalscorer that night William Gallas has suggested, despite others in the Ireland camp already dismissing its significance? Would Martin O'Neill, as one French critic suggested, be wise to play the Irish team a video of the 2009 game for motivational purposes?
"We've not thought about it," Murphy clarified. "It's been mentioned but we can't go into a game thinking about that.
We know what we need to do, we need to focus on what we can do to hurt them — play as well as we played the other night, prepare as well as we can.
"Everything has to be spot on for us going into the game. We can't have any distractions."