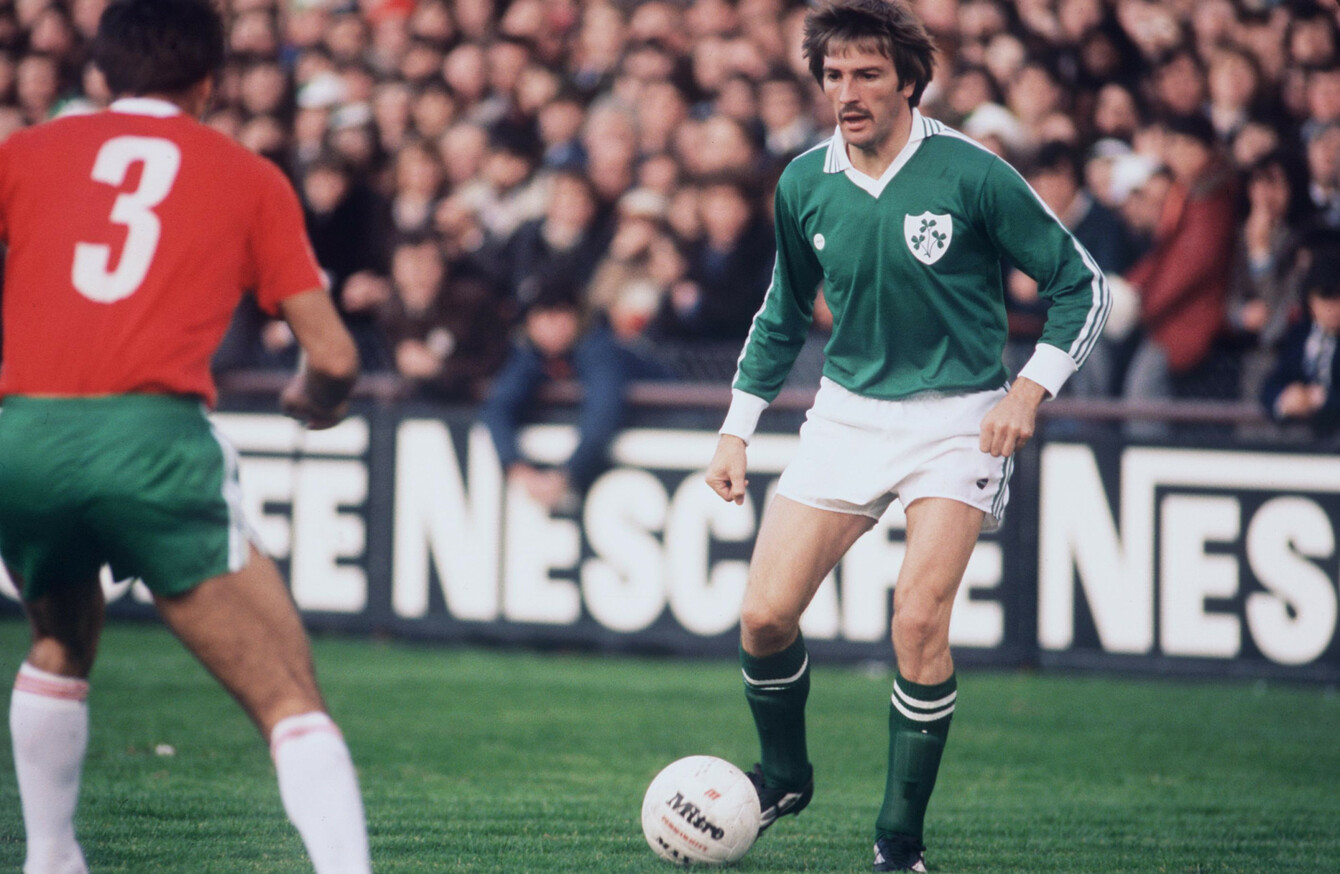 Ireland and Liverpool star Steve Heighway pictured on the ball.
Image: EMPICS Sport
Ireland and Liverpool star Steve Heighway pictured on the ball.
Image: EMPICS Sport
BELOW IS AN extract from Boy Wonder: Tales from the Sidelines of an Irish Childhood by Dave Hannigan.
I got my first pair of soccer boots at age seven. They were hand-me-downs. Not just ordinary hand-me-downs, these were heirlooms that came replete with an entertaining backstory and an illustrious heritage.
According to my mother, they had belonged briefly to Tom, even if I had no memory of him ever wearing them. And before that, she said they had been worn by her own younger brothers, my uncles Ger and Tommy.
All three of the previous owners who had played in the boots before me then were, in her parlance, 'known all over Cork as grand players'. With these on my feet, the implication was that I would be too.
I bought into my mother's belief that I was next in line to the throne of greatness. She was equal parts mother and fledgling sports psychologist.
The boots were certainly unique. Apart from various other attributes, they were white. In a time before football footwear turned gaudily technicolour, they stood out among all the black.
When I say they were white, of course, I mean they began life that colour but the ravages of use had made them more of a watery beige by the time they came into my possession. No matter. They were still louder than any other pair on the field. Every field.
Dodgy colour aside, they also had black moulded soles, four studs at the back, seven at the front, and, even more strangely, the phrase 'Made in England' stamped in between.
Fashioned from the type of hard industrial and damn near indestructible plastic that environmental scientists estimate will take a thousand years to biodegrade, they were stiff and heavy.
In the spirit of the time, this, ahem, firmness to the touch was sold to me as a positive. It would, my brother told me, perhaps prompted by our mother, allow me to hit the ball way harder than everybody else. That sounded logical enough to my seven-year-old brain.
They had other virtues too. Steve Heighway's autograph, barely visible in gold ink, was written on the outside of the upper, just beneath a crest. Not his actual autograph, of course, but one that had been embossed there by a machine in a factory. Again, the fact my boots were personally endorsed by the moustachioed Liverpool and Ireland winger was used to convince me of their merits. This sales pitch worked too.
I hated Liverpool, but I knew Heighway's name. I'd seen him on Match of the Day a few times and the fact he played for Ireland impressed me too.
Not that it mattered either way. I had no choice. These were the boots I was given. These were the boots that were available. These were the boots I would wear. Regardless.
This much was hammered home to me when I tried them on. They were too big. Way too big. They were size 2 when I was still struggling to fill out a child's size 12 shoe. That's a lot of room for growth. No problem. An Evening Echo was soon being torn apart and inserted into the toe of each boot.
Another fitting. Slightly better this time but still more than a little spacious. Fret not. Another pair of football socks were sourced upstairs. With two pairs on, the fit was quite snug, according to my mother, who, crucially, wasn't the person wearing them.
In actual fact, my toes were still barely reaching the folded-up newsprint — but I knew there was no point in complaining. Instead, I went out the front to sprint up and down the lawn to get the feel of them, then I started trying to solo a punctured plastic soccer ball toe to hand — a skill more difficult to pull off than it sounds.
The new, old boots were needed for my debut as a Gaelic footballer. For two years I had traipsed after Tom as he played for a team with the unwieldy name of Glasheen/Wilton in the street leagues at Bishopstown GAA club. Now, I was finally old enough to make my bow in that competition.
Be part
of the team
Access exclusive podcasts, interviews and analysis with a monthly or annual membership.
Become a Member
It was U10 but the team was run by Mr Healy from our school, and he knew that what I lacked for in size and talent I would make up for with enthusiasm.
Not to mention that they were always struggling to field 15 players anyway and he knew I'd turn up.
The squad convened on Sunday mornings at the bottom of the school hill. I loved every part of the ritual. I walked up the road on my own, Gola gear bag slung over my shoulder, barely looking seven but attempting to swagger like I was 17.
Once enough players sauntered along, we were piled into two cars, one driven by Mr Healy, the other by whichever parent had enlisted to help us. Off we went.
For me, this was an essential part of the glamour of getting involved. Travelling in strange cars to a match. Like a real player.
On a real team. There was a buzz too about getting togged out in an actual dressing-room, the air thick with the smell of toejam, flecks of caked mud pockmarking the floor. The details were important because at last I was getting my chance.
'Top of the left,' said Mr Healy when he put his hands on my shoulders.
'Top of the left,' I repeated back to him, as if trying to reassure us both.
I put on the hairy black shirt my brother had worn the previous two seasons and I felt fantastic. At least until I looked around and noticed the footwear of my team-mates. None of their boots were mostly beige or any diluted variation of white.
All of them were wearing the type of brands that cluttered up the ad section of SHOOT!: Adidas, Puma, Gola. Still, nobody else was flaunting a Steve Heighway signature and, literally, following in the footsteps of their family. That thought consoled me at least until disaster struck.
As we walked from the dressing-room to the field one of the older kids noticed my distinctive footwear and immediately christened me 'Little Boots'.
They weren't little, I wanted to shout but didn't. They are size 2. It's just the colour makes them look smaller. I should have spoke out when I had the chance. It took me two years to shake off that name.
Boy Wonder: Tales from the Sidelines of an Irish Childhood by Dave Hannigan is published by Gill Books. More info here.
The42 has just published its first book, Behind The Lines, a collection of some of the year's best sports stories. Pick up your copy in Eason's, or order it here today (€10):