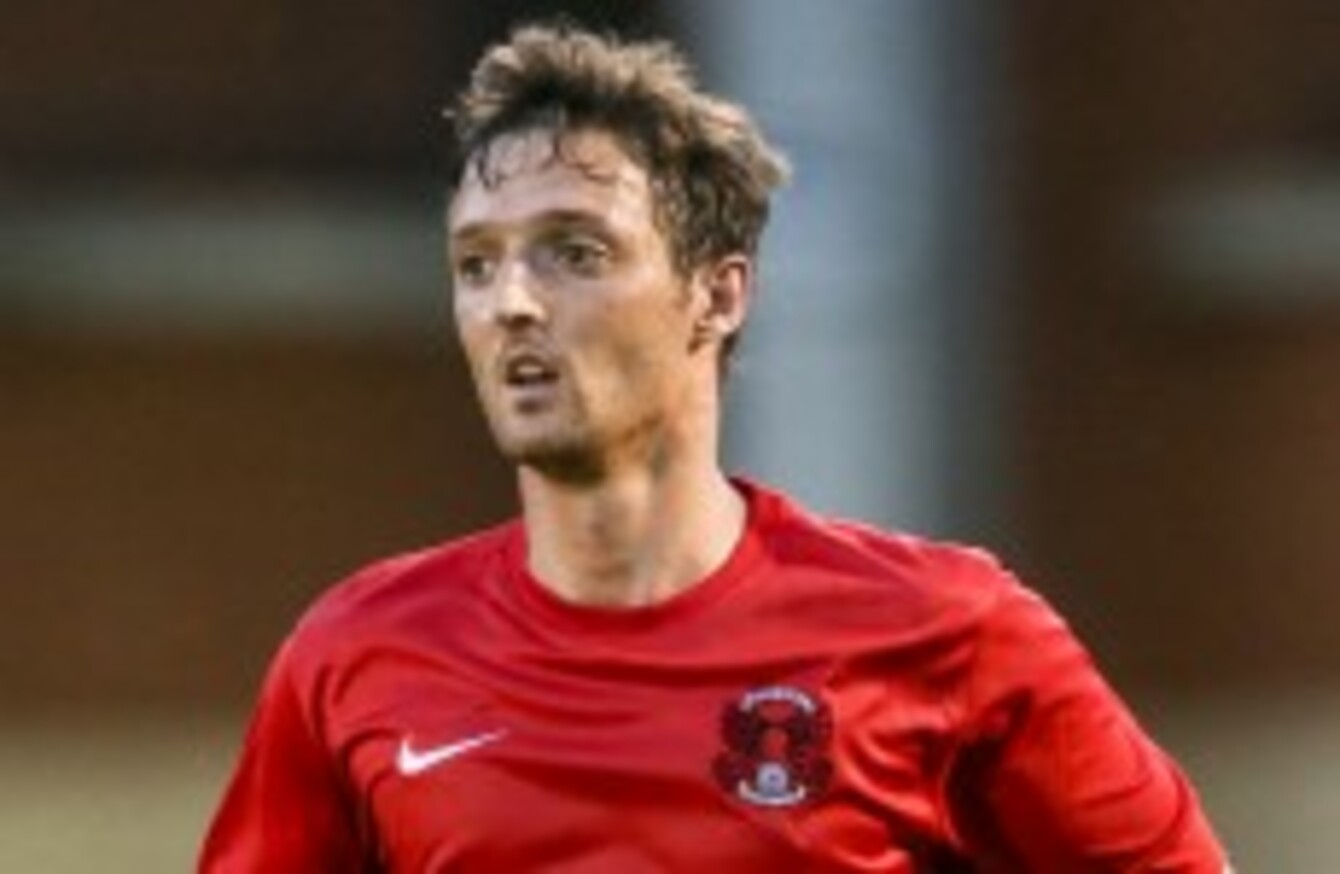 Mooney is back after seven weeks on the sidelines.
Image: : John Walton/EMPICS Sport
Mooney is back after seven weeks on the sidelines.
Image: : John Walton/EMPICS Sport
HE MAY HAVE missed the past seven weeks through injury, but Dave Mooney remains the most prolific Irishman in English football this season.
The Dubliner couldn't stop scoring during the opening three months of the current campaign — finding the back of the net 15 times in 24 games as Leyton Orient made their intentions as League One title contenders clear.
Alongside the experienced Jamaican Kevin Lisbie, the pair struck up a formidable strike partnership until Mooney was ruled out of action at the beginning of December.
"It was a bad one," Mooney told TheScore.ie. "Thankfully I went to see the top people in London and they managed to sort me out a lot quicker than expected.
"Luckily we've got good physios and doctors here. It mended a lot quicker then first diagnosed so I'm ecstatic to be back involved.
"Because it was a bone injury it can take three months but thankfully I returned in less than eight weeks.
I've been champing at the bit as the team was doing well and you think 'I could've scored today'. It was a double whammy, I'm missing out on being involved in top of the table clashes as well as scoring goals."
Having recovered ahead of schedule, Mooney was named on the bench as Orient hosted Coventry on Tuesday night.
Manager Russell Slade had informed him that he would get on for the final 10-15 minutes and, sure enough, on 77 minutes Mooney was introduced in place of Lisbie. And four minutes later, he marked his return by making it 2-0… with just his second touch.

YouTube credit: Leyton Orient Football Club
"My first touch was to control it and my second was to hit it," he explains. "It was a greasy night and I was watching from the sideline and said to myself that I'd just hit one because you just don't know.
"Whatever way I caught the ball it moved in the air and I caught Joe Murphy out a little bit and it squeezed in the corner. I was delighted because I would've taken one off my backside to be fair.
"It was a good return for myself personally. As soon as you come back you want to get that goal. I wasn't expecting to get it straight away but thankfully I have and got that little monkey off my back and I can concentrate on trying to build on the tally I have."
It is clear that confidence in the former Shamrock Rovers, Longford Town and Cork City frontman, who departed the League of Ireland for Reading in 2008, is sky high right now.
Life hasn't always been so good and, hover, and he endured his fair share of dark days over the past five years.
Branded by some as 'the next Kevin Doyle' due to the obvious similarities in their career paths, Mooney was given few opportunities with the Royals and found himself farmed out for a series of loan spells.
Orient boss Russell Slade hugs Mooney on Tuesday. Credit: Stephen Pond/EMPICS Sport
He became a free agent in the summer of 2011 before being picked up by Orient.
"It does affect you, no matter what slant you want to put on it," he admits. "The Reading experience wasn't great but it's a learning curve and you've got to learn with disappointments as much as you do with all the highs.
"It's not easy, I had a young family as well at the time. When you're uprooting and the wife and kids are trying to settle into a new area again it is tough.
"As Irish we like to feel at home and settled because we're all home birds. From that point of view, once we were set up in our house the rest has taken care of itself and it has worked out well at Leyton Orient.
I'm just enjoying the highs at the moment because you know the lows aren't too far around the corner.
"Confidence is major in football,' he adds. "When people are confident things just happen. I can't really put my finger on anything, I'm just working hard and am enjoying it.
"I've been at Orient two and a half years, I get on with the manager and all of the lads and have got a great partnership with Kevin Lisbie. The two of us did really well the first half of the season."
One of the ways he deals with rough spells is through talking with sports psychologists and, in particular, former Armagh football Enda McNulty — these days works as a performance coach and runs Motiv8.
"I know him since I was in secondary school, he was a Gaelic football coach. He did a bit with us when I was at Longford and again when I was with Cork through Alan Mathews.
When I was going through those low dips I got Enda's number from Alan and we've been speaking ever since. It has paid off massively for me and I can't thank him enough. It's just phone calls but there's that personal touch because I know him years.
"It makes a big difference when you've got a familiar voice on the other end of the phone. One that's going to keep you on your toes and guide you in the right direction."
Mooney during his Cork City days. Credit: INPHO/Neil Danton
Going into today's meeting with fifth-placed Rotherham, the Os trail league leaders Brentford by two points with a game in hand. From a personal point of view, Mooney is just one goal of the top scorer charts despite his recent absence.
So with that in mind he is relishing the coming months and believes their main objective has to be the league title.
"It looks like it's going to be between the top three for those two automatic places. I think you need to aim to win the league because if you aim for second then you can only finish second or third but if you aim to win it you're giving yourself a chance.
"We've been going great, we've got a game in hand and we still have to play Brentford and Wolves at home, which may or may not work out in your favour because sometimes it's easier to play away.
"The play-offs are a great way to go up but you don't want to really be in them if you can help it because they're a lottery. How many times do you see the team that finishes sixth go up?
On a personal note, it's about playing catch-up in terms of fitness before I can start games. There's a bit of work in terms of catching up on fitness and chasing the league goalscorer charts."
Last season, Paddy Madden's goals earned Yeovil Town promotion to the Championship and he was rewarded with his first senior international cap.
But does Mooney realistically believe that something similar could happen to him with new manager Martin O'Neill?
"It's every footballers dream to play for Ireland and it would be fantastic for me and my family but first and foremost I think I have to be playing in the Championship.
"If I can get in the Championship next year with Leyton Orient or whoever then I'm giving myself the best chance to be involved in a squad but I do think it's important that you're playing at a higher level than League One. So hopefully we can do that.
"To be an international playing for Leyton Orient in the Championship probably would've been a pipe dream two years ago and for that to become a reality would be fantastic."