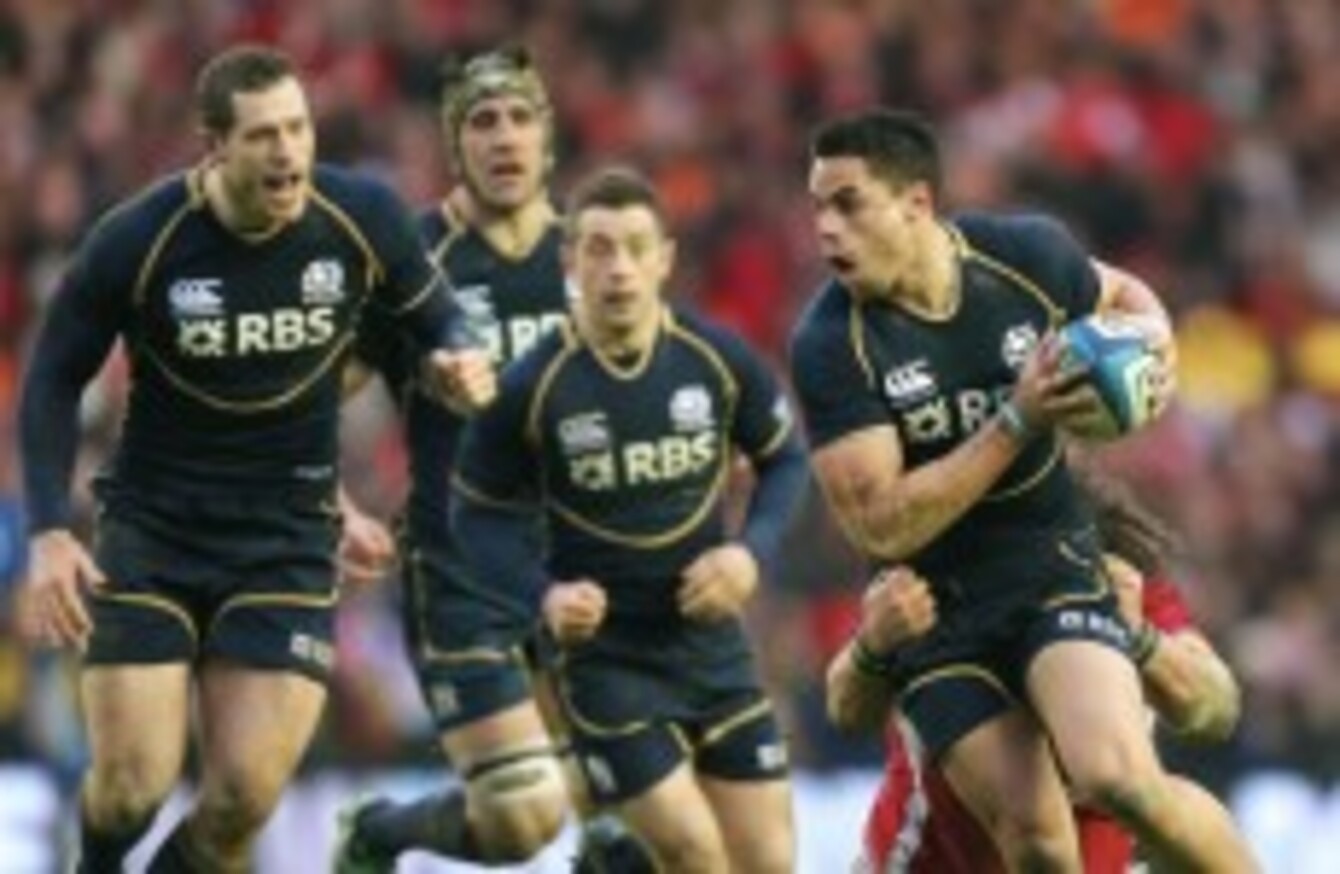 Sean Maitland [right] will be hoping to run in tries for Scotland.
Image: ©INPHO/James Crombie
Sean Maitland [right] will be hoping to run in tries for Scotland.
Image: ©INPHO/James Crombie
WITH GREGOR TOWNSEND in control of proceedings, Scotland became accustomed to a certain dominance over Ireland in the second half of the 1990s.
While the current Glasgow Warriors head coach doubled up as a centre from time to time, as well as stepping into fullback when need, his most valued body of work came with the number 10 on his back. Townsend was Scotland's out-half and a man the rugby people of the nation could rely on.
From 1994 until 2001, the Scots played Ireland eight times and won six of those encounters, drawing once and losing 44-22 in that famous match at Lansdowne Road in 2000. Townsend was involved in every single one of those eight games, providing direction and attacking flair, largely from out-half.
How Scotland would love to have a clear-cut first-choice number 10 like him now. Interim head coach Scott Johnson has plumped for Duncan Weir for Sunday's clash in Dublin, but many commentators would have preferred to see Ruaridh Jackson named in that position.
As The Scotsman's Rugby Correspondant, David Ferguson, told TheScore.ie, neither had been an outstanding candidate.
Duncan Weir has hardly played for Glasgow and when he has, he hasn't played very well. So we expected Ruadhri Jackson to be in; he's been starting more games for Glasgow and he's been playing ok. Nothing brilliant but he's been playing ok.
"Johnson has explained that he wants to play a particular game against Ireland. He knows the type of game he wants to play, and feels Duncan Weir is better suited to that than Jackson. It's interesting because Weir is more of a kicking stand-off than Jackson, who is more of a runner."
Weir helped Scotland to victory over Ireland last season. ©INPHO/Dan Sheridan.
Ferguson explains that Scotland's team management have been at pains to underline the improving nature of Weir's passing and running threat, but his suspicion is that Johnson wants to "keep the ball out of Scotland's half at all costs" on Sunday.
While the out-half situation is a worrying one both in the short and long-term for Scottish rugby, there is comfort in the fact that the traditional "grunt and steel" up front appear to be present in this year's vintage.
"The strength would be the pack really. It's been a strange year, because there have been a number of injuries throughout the past year. They capped three or four boys in last year's Six Nations, they capped another 10 on tour in the summer.
"We knew that it was going to be a year of experimentation. I suppose it was always going to be about which boys stood up. Tim Swinson was one who stood up well last year, he's now keeping Richie Gray out of the team.
The pack's pretty strong and they've got a little bit of steel about them; Tim Swinson, Jim Hamilton, Ryan Wilson are all good players. The way Scott Johnson put it in his own inimitable fashion today was that 'some players need a torch to go to dark places, these guys go there naturally.'"
Ferguson is hopeful that the likes of Swinson and Hamilton can provide clean possession for Scotland's backs to work with, but underlines that scoring tries has been an issue for Scotland in recent seasons.
Creating chances has not been the problem, rather turning those opportunities into points on the scoreboard. That profligate nature has not been helped by injuries to key attacking players in the backline.
"That tends to be a perennial issue for us. When Stuart Hogg came into the team a couple of years ago, and Matt Scott, we started to see a bit more finishing. In November, it's not a coincidence that neither Hogg nor Scott weren't there when the tries weren't coming.
"Hogg hasn't played for Scotland since last year's Six Nation, so he's back. That'll make a difference to both creating chances and finishing them. Sean Maitland is a decent finisher when he plays on the wing, but through the Autumn Tests he had to play at fullback.
Hogg is a real threat from fullback for the Scots. ©INPHO/Billy Stickland.
"We're still lacking Tim Visser, who has finishing power. Tries have been an issue, but injuries have played a part."
Expectations in Scotland ahead of this campaign are somewhat muted, despite a third placed finish in the Six Nations in 2013. Ferguson underlines that the draw hasn't been overly kind to Johnson's side this year, despite home fixtures against England and France.
"It's a really tough one because Ireland away and England at home are a really tough way to start. The expectation is that Scotland match what they did last year, when they won two matches.
I don't think the majority of the people in Scotland will be expecting much more from this squad because there are still several young players there. I mean look at that midfield, Duncan Taylor and Alex Dunbar, going up against a pretty strong midfield this weekend."
The arrival of Vern Cotter at the end of the season as head coach may be exactly the element that Scotland are missing currently. With a promising group of players, the New Zealander will be expected to lead a period of progress.
Johnson's spell in charge has been "hard to judge," according to Ferguson, given the injuries, the need to expose inexperienced players and the loss of four key men to the Lions last summer. The Aussie has "gone down well with the squad" and is now tasked with leaving it in good shape for Cotter.
"There's a question mark over Cotter at international level; how will he cope? But you know what people are like; if Scotland win games, nobody will care who's coaching."
- David Ferguson is the Rugby Correspondent for The Scotsman.