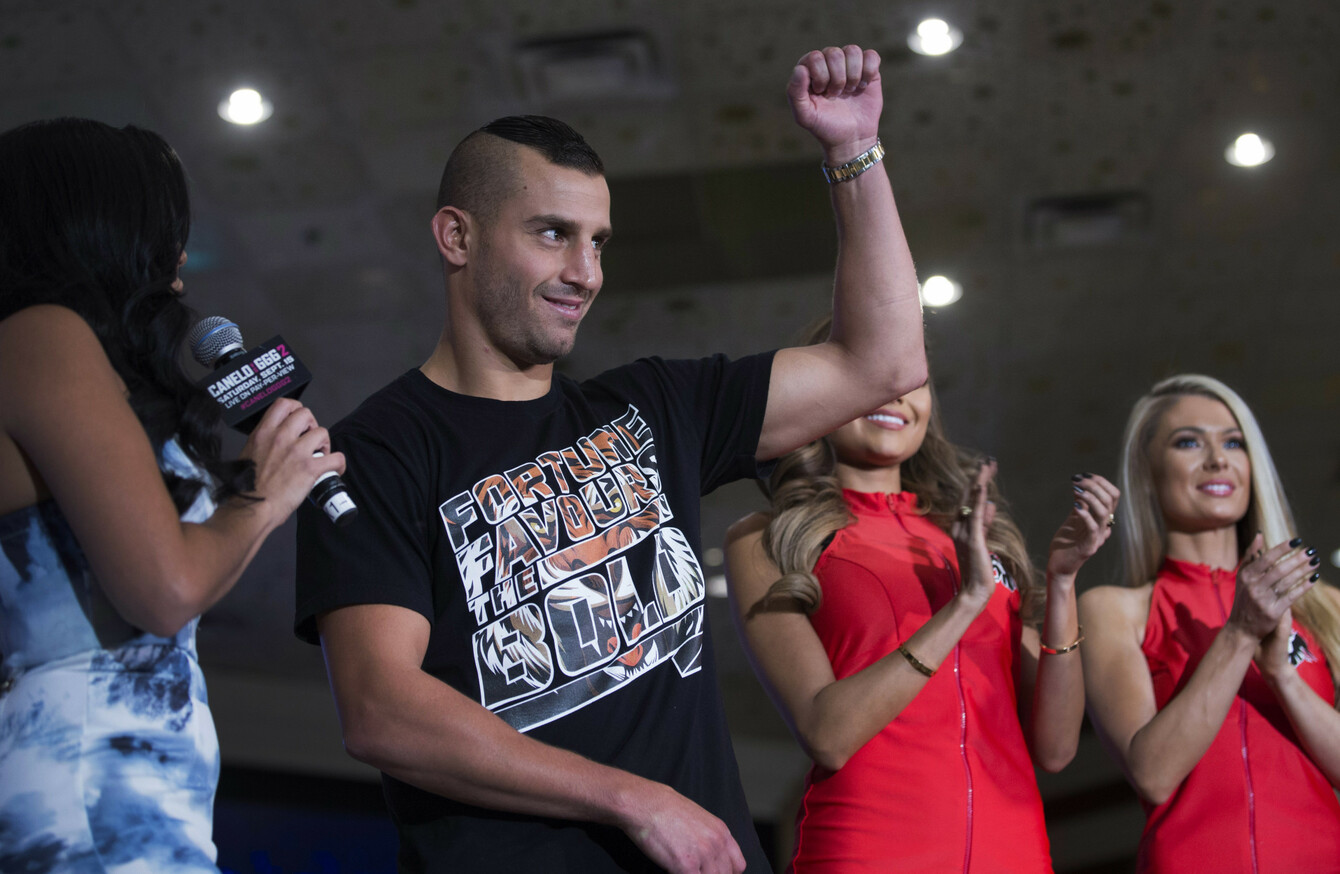 David Lemieux in Las Vegas on Thursday
Image: Steve Marcus
David Lemieux in Las Vegas on Thursday
Image: Steve Marcus
Declan Taylor reports from Las Vegas
DAVID LEMIEUX SAYS he wants to inflict life-changing damage upon Gary 'Spike' O'Sullivan when they finally meet at the T-Mobile Arena in Las Vegas on Saturday.
The pair have made no secret of their dislike for each other and had to be pulled apart by security guards when their head-to-head photograph opportunity after Thursday's final press conference threatened to boil over.
O'Sullivan, 34, this week suggested that the French Canadian former world champion lacks class following months of back-and-forth on social media.
And Lemieux lived up to the accusation with a dark and troubling suggestion that he wants to cause O'Sullivan serious physical injury during their anticipated bout.
"I want to damage him, for life," Lemieux said.
"He's a tough guy so he might make it to five rounds, but we'll see. It's definitely not going the distance, I won't let that happen.
"But I want to torture him a bit before. He is a very disrespectful guy, he has no class. I'm going to give him a lot less mercy.
"I'm not worried about doing a few rounds, but I know when I start landing my shots I will be breaking some bones in there.
"I'm going to break all his bones. Viewers' discretion is advised. Whoever is sensitive, please be careful.
"If there are kids around, don't let them watch, it's going to be brutal."
Verbal sparring during fight week is customary but Lemieux's latest comments crossed the accepted boundary of standard 'trash talk'.
When asked why exactly he has developed such a disturbing dislike for O'Sullivan he replied: "Yeah, I want to cut his head off.
"He's a very disrespectful guy. He has no class, he's a very trashy type of guy.
"He comes out and talks all kinds of things on social media. But I'm staying focused.
"I think he's scared. He talks a lot of shit. He's a garbage talker and I'll shut him up on Saturday.
"He's not a humble guy but I'll humble him on Saturday."
The pair know that a win on Saturday is likely to set up a December title shot against either Gennady Golovkin or Saul 'Canelo' Alvarez, who headline Saturday's show just off the famous Strip.
Victory for Spike would continue the remarkable turn around in his career, which seemed to be over following his 2015 defeat to Chris Eubank Jr.
He became affiliated with Golden Boy Promotions, who also look after Canelo, when he signed up to face Antoine Douglas in Montreal in December. He upset the odds that night by stopping the highly touted American within seven rounds.
Also on that card in Canada was Lemieux, who lost to Spike's former opponent and now close friend Billy Joe Saunders in the main event.
In fact, O'Sullivan and Lemieux crossed paths during fight week that week, Lemieux has revealed.
"Actually he asked me for a picture," said the 29-year-old, currently 39-4.
"I didn't know him back then. I said 'yeah sure', just like I would say to any other fan I would give a picture to.
"He didn't open his mouth so I didn't know him, now he opens his mouth I can see what kind of trash he is. I'll take care of him on Saturday.
"That time in Montreal he fought Antoine Douglas who is a 147lber, really. Only a welterweight. This time he's fighting a real man right now so it's going to be a different thing.
"He's a big lion when it's a smaller opponent, a weaker man, but let's see how he reacts with a real middleweight."
O'Sullivan, however, remembers their meeting very differently.
"He's correct in that I asked for a picture but he's not the brightest is he?" The Mahon puncher said.
"I knew he was a potential opponent for me so what I was doing was actually sizing him up for height and weight.
"I got a feel for him that day and I said to my coach Paschal Collins after the photograph 'that guy is small, he feels weak'.
"But acted like a fan? A fan of what? He's a fucking piece of shit. How can you be a fan of the man?"
On Lemieux's desire to cause life changing damage, O'Sullivan added: "It's a terrible comment.
"It just sums up the sort of man he is – very classless. He's an absolute scumbag.
"To say things about permanently damaging an opponent is not right. I would never go into a fight to do damage someone permanently.
"We've all got family, children, mothers and fathers. To say this is bad for boxing."
The42 is on Instagram! Tap the button below on your phone to follow us!