IT IS FAR from common for a highly acclaimed novelist to write one football novel, let alone two, yet David Peace is clearly the exception that proves the rule.
In 2006, the Yorkshire-born writer published The Damned United, a popular and controversial novel, which would be later be made into a film, and was based around Brian Clough's brief and unsuccessful stint as manager of Leeds United.
Now, the author has chosen to portray another giant of the game in Bill Shankly – the legendary Liverpool manager.
Shankly is still remembered fondly by football fans of a certain age, partially due to quotes such as his most famous remark: "Some people believe football is a matter of life and death… I can assure you it is much, much more important than that."
However, Peace explains that part of his motivation for undertaking the arduous task of writing a 720-page novel on the legendary Scot was his feeling that many of the finer details about his life had been overshadowed by the occasional, well-documented quip.
"It was such an inspiring and revolutionary thing he did, coming to Liverpool in 1959 until he retired in 1974," he explains. "I know in Liverpool in Anfield this story is well known. Growing up outside of Merseyside and not supporting Liverpool football club – to me Bill Shankly has been reduced to witticisms. He's a very witty man, so it's understandable.

"But I certainly wasn't aware of the state that Liverpool football club had been in in 1959 in the second division. And the way he went there, changed everything and revolutionised the club. The Liverpool football club we know now – one of the most famous clubs in the world. Not just him, but the way he was able to inspire all the people around him – the players and particularly the supporters. Don Revie did a similar thing at Leeds and Brian Clough at Nottingham Forest. But I do think there was something particularly unique about Bill Shankly."
Moreover, Peace is unsure as to why so few serious novelists have written about characters like Shankly and football in general, especially as there is a clear desire for such stories to be told.
"I do find it quite surprising given the obsession that so many of us have with football. And I do think the reason the supporters keep coming again and again is because most of it takes place in the imagination.
"One thing I've found is that people in football – players or managers and also football journalists, they don't particularly care for people who are just supporters writing about it. I don't know if it's a peculiarly English trait, but there's this whole thing about how unless you've been a footballer, you shouldn't write about football."
He continues: "When people tended to write about it – and Nick Hornby did very successfully as a fan – they tend to do so from a fan's point of view. The drama and the excitement, what happens behind the scenes, is what appeals to me. You're always wondering what does go on in the dressing room. What does go on in the boardroom. When I'm doing the book signings, people often come up to me and say, 'will you write a book about Hibs or Hearts'… I'm in Edinburgh at the moment. But every club has these great stories."
(Shankly often referred to Anfield as his "home" – S&G/S&G and Barratts/EMPICS Sport)
The reaction to Red or Dead, as Peace acknowledges, has proved somewhat divisive thus far. Writing in The Financial Times, Simon Kuper was harsh in his criticism, complaining that "often the novel reads like a statistical football annual rewritten by someone studying for an MA in creative writing". However, The Guardian was far kinder in its appraisal of the book, suggesting that it was "so hypnotic that even the football-averse might enjoy it," while The Observer went so far as to call it "a masterpiece".
Peace, meanwhile, concedes that even die-hard Liverpool fans will not necessarily enjoy it.
"I didn't sit down writing it, hoping that it would be obscure or avant garde or off-putting," he says. "I've been saying 'it's not for everyone' since people started telling me it's not for everyone. What I'm saying is this is my attempt to paint a portrait of Bill Shankly, written in the style that I tried to emotionally convey. What he went through in those 15 years before his retirement.
"What I meant was that, if they're interested, people should have a look at it before reading it. I hope it is for everyone. But some people disagree."
One of the reasons for this reaction is Red or Dead's unconventional style, with repetition being used excessively. It even opens with the words: "Repetition. Repetition. Repetition." So what prompted Peace to write it in this manner?
"It's a novel," he says. "To me, it's a historical novel. I was trying to paint a portrait of Bill Shankly – my impression of Bill Shankly. One of the things I wanted to convey was the sacrifice and struggle that went on to create the club. Day in, day out, week in, week out. Season after season, year after year. For the reader, I wanted to convey the emotional highs and lows and the toll that must take on people. And football has these repetitions. We're about to start the new Premier League season – and in many ways, it's the same games over and over again. Those repetitions are almost like a ritual and those repetitions were Bill Shankly's life for 16 years.
"And I do think that if you write a sentence like 'Bill Shankly trained every day for 15 years with the team'. That sentence doesn't do justice as to exactly what that entails. In the repetition, I was really trying to convey, as he himself said, this kind of relentless river that went on and on. There was no stepping out of it. It drained and exhausted him in the end, but it was also sustaining him at the same time."
Peace himself is no stranger to exhausting experiences. He explains how his previous football-related book, The Damned United, had initially been undertaken as a reaction to the arduous process of writing GB84 – his intensely-told account of the miners' strike. He imagined that The Damned United would be "a bit of a release, to recharge my batteries". However, his research ultimately prompted him to focus on the level of intensity in Clough's character, and if that experience in itself wasn't unsettling, the subsequent controversy surrounding it undoubtedly was.
Former Irish international footballer and current RTÉ soccer pundit, Johnny Giles, took exception with the way some of the characters, including himself, were portrayed in the book. The argument led to a High Court dispute, with Faber and Faber consequently being forced to remove the passages of the novel that were deemed to be offensive or untrue
"Never in my wildest dreams did I believe it would become as popular as it became or that it'd be made into a film or anything like that. I also never anticipated it'd be at all controversial," Peace recalls. "I'd written about corruption in West Yorkshire, I'd written about the miners' strike. I was quite prepared if those books were seen as controversial, which they were. But I was taken aback by the level of controversy that surrounded The Damned United.
YouTube credit: FilmTrailersChannel
"Coming to this book, Red or Dead, there wasn't any apprehension because of the controversy with The Damned United. The apprehension was whether or not it was still possible to do justice to Bill Shankly, and I did feel a tremendous sense of responsibility. This was a great man and one who people on Merseyside had tremendous reverence and affection for. And I just didn't want [to be seen to] cheat or deceive in my impression of the man."
Returning to the topic of The Damned United, he says: "That [darkness] came out through the research into the book. Before I wrote it, I'd been inspired by reading Clough's autobiography. And it did seem that this was the worst 44 days of this man's life [partly due to] a tremendous amount of paranoia on his part. And so, the darkness came from the research and what he actually said about that time. There is also the second part – the other narrative which tells of how he came to be at Leeds. Parts of that could be similar to Red or Dead – the rise of Derby County, but then it explodes. I think because of the nature of the way Brian Clough left Derby County and what happened to him at Leeds United, because of that story and that material, it is a much darker book."
The success of The Damned United in spite of, or perhaps partially due to, the controversy surrounding it, ultimately led to it being turned into a popular film starring Michael Sheen and Colm Meaney. While Peace acknowledges that the movie is significantly different to his original vision, his overall impression of it is positive.
"For a while, I did actually resist watching it," he reveals. "It's very different from the book. For me, it's a great thing if the book is filmed. I did think it's very light and it wasn't quite how I imagined it'd be. But actually, I watched it again with my son, who's like 16 years old. Him and his friends really enjoyed the film. And then some of his friends wanted to read the book and so forth. As a writer, [it's a positive] if a film can bring more people to your book – and I don't mean in terms of sales. Some people have said they saw The Damned United the film and read the book and then bought GB84. So it's a bit churlish for the writer to complain then."
Peace lived in Tokyo from 1994 to 2009, before subsequently moving back to Yorkshire, yet he insists that being away from Britain did not strongly impact upon his writing style or his depiction of archetypally British subjects such as Brian Clough or Liverpool FC. Nevertheless, it did at least play a big role in helping him to avoid procrastination.
"With Red or Dead, in Tokyo, I was able to completely immerse myself in that book – with a year of research and a year of writing. Constantly listening to tape after tape of Bill Shankly – I'm not tempted to spend the afternoon watching Sky Sports News, for example."
Exclusive Six
Nations Analysis
Get Murray Kinsella's exclusive analysis of Ireland's Six Nations campaign this spring
Become a Member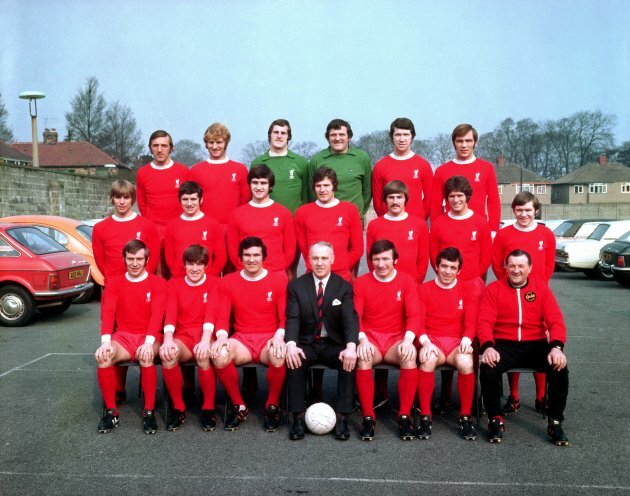 (The Liverpool first team squad in 1971: [back row, l-r] Peter Thompson, Alec Lindsay, Ray Clemence, Tommy Lawrence, Chris Lawler, Ian Ross; [middle row, l-r] Alun Evans, John McLaughlin, Larry Lloyd, John Toshack, Steve Heighway, Phil Boersma, Brian Hall; [front row, l-r] Bobby Graham, Emlyn Hughes, Ron Yeats, manager Bill Shankly, Tommy Smith, Ian Callaghan, coach Bob Paisley)
The book, however, is very much concerned with a sense of place and a person's home. Indeed the phrase "At home. At Anfield" is often repeated over the course of the novel. Was there a sense that it was somehow more than a football stadium?
"For Bill Shankly, absolutely. There was a famous anecdote about how, when he used to check into hotels, you'd have to sign where you live and he'd always write 'Anfield.' And people would say 'no, but where do you live?' and he'd say 'that is where I live'.
"I write 'Bill goes into the Anfield dressing room'. And people would say: 'Why do you keep repeating 'the Anfield dressing room". It wasn't just any dressing room, it wasn't just any stadium – it was Anfield. It was almost like a mythical sacred place. It took off. And it was a home for him. This is why there's the contrast with the domestic scenes as well – the silence of the house, the noise of the ground. It struck me – the extremes of his life. It's not a negative thing about his real house, because that was what sustained him."
And having written about two highly successful managers who have been gradually immortalised in the annals of the game, does he see certain similar personality traits between these rare individuals?
"I wasn't really aware when writing The Damned United that… Bill Shankly is in The Damned United… but I wasn't aware of their relationship. Clough looked up to Shankly and actually, Revie. What Shankly had done at Liverpool and what Revie had done at Leeds was what he set out to do.
"I also think Brian Clough picked up some of the mannerisms of Shankly in dealing with the press. Shankly would always refer to Jock Stein as John or Bertie Mee as Bertram. And Brian Clough used the same thing. It was not Kenny Burns, it was Kenneth Burns. And when Bill Shankly was retired, they spoke quite often on the phone.
"But generally, in terms of football managers and personality traits, one of the fascinating things about Bill Shankly is he had this tremendous sense of it being a communal effort. The groundsman, the bootroom, the players and the supporters – everyone helping each other and that was how he saw it. He still stood slightly apart from that – possibly by the nature of the job. Brian Clough at least had Peter Taylor, which was a bit different. So Shankly, to a degree, was even more isolated than Brian Clough at times.
"It is an important point, though, that everything he did was not for Bill Shankly – it was always about not just the players, but the supporters."
YouTube credit: faberandfaber
David Peace will be talking to Paul Howard about his new book Red or Dead in Eason O'Connell St this Tuesday, August 20 at 6.30pm.