WELSH CENTRE JONATHAN Davies may have been the star of the show in the Lions' 47-17 win over the Waratahs today, but he insists there is plenty of improvement possible before next week's opening Test against Australia.
Davies had a hand in three tries before running in one of his own in Sydney. And, with his ability to play either inside or outside centre, the 25-year-old looks a sure bet to get the nod alongside Brian O'Driscoll next week.
"It was good to get my hands on the ball a bit more. I think the boys did very well up front. The power we have up front is quite dangerous and it gives an opportunities for us behind." Davies told SkySports.
"We still left a few tries on the pitch, I think, but I think it was a good job done. I just think with how dangerous our back-line is; the likes of Simon (Zebo), George (North), Alex (Cuthbert), we've got to make sure we put these guys in space and have time on the ball. So we're always putting a lot of emphasis on us."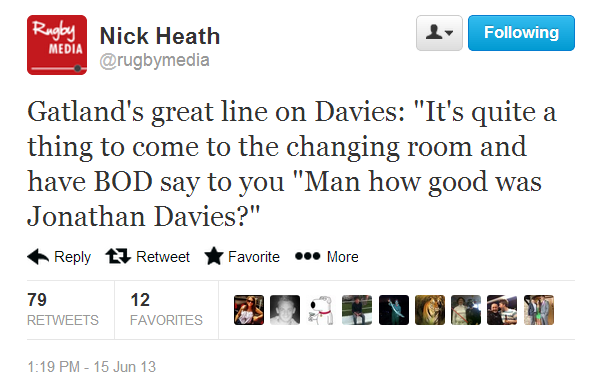 Interviewed by Will Greenwood, Davies admitted to some concerning aspects when the Lions' defence was stretched, but he remained confident that the issues would be solved by greater communication.
"I just  think we need to make sure we're all on the same page. I think at times we have one going up, one staying off. We just have to make sure there's more communication and this week we'll work hard and make sure we nail those things."
He added: "With the power we've got in the likes of Jamie (Roberts) and Manu (Tuilagi). They give go-forward, and the experience and great form Brian has, We just have to keep working hard as a unit and keep pushing ourselves."