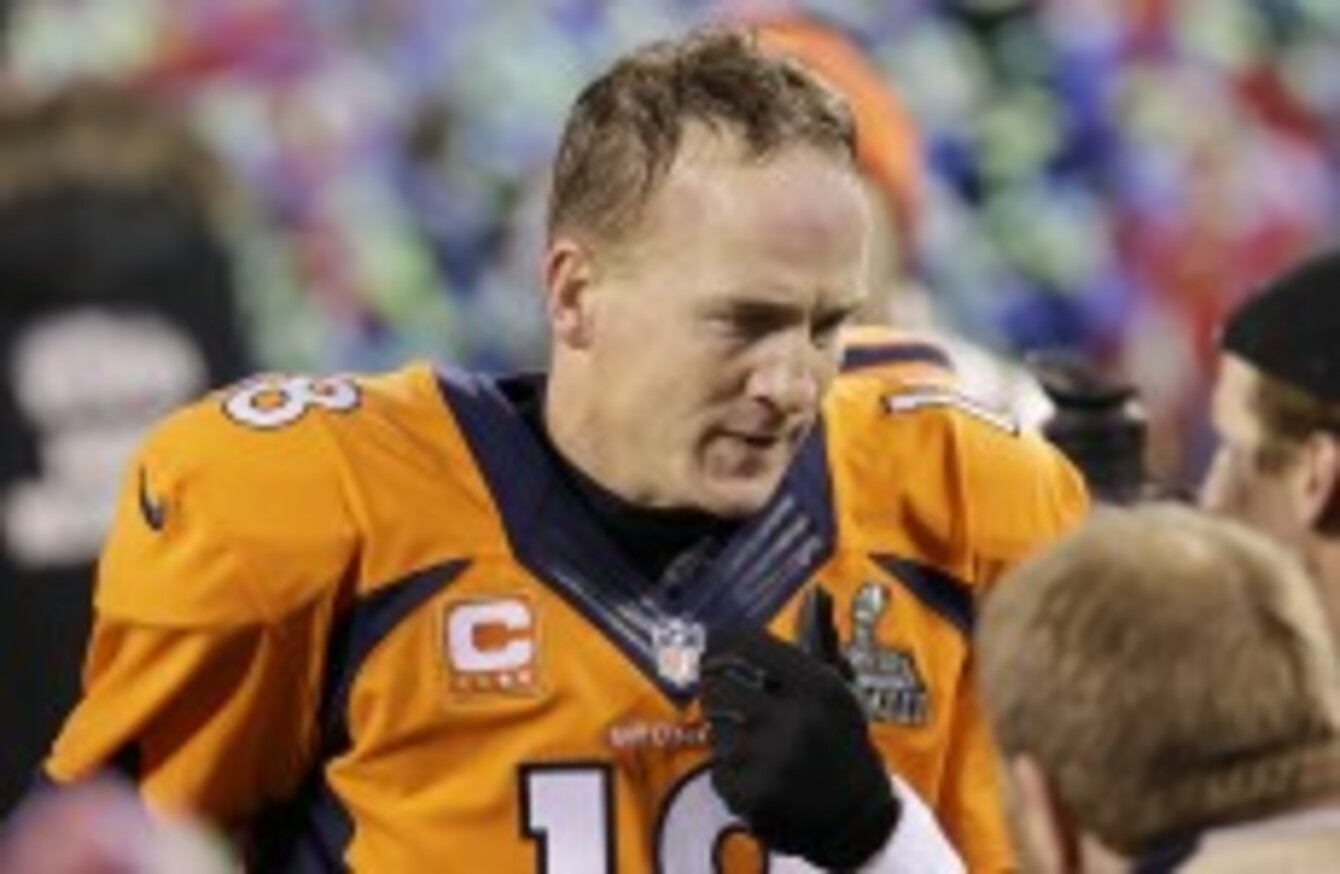 Manning leaves the field after the heavy defeat in New Jersey.
Image: Chris O'Meara/AP/Press Association Images
Manning leaves the field after the heavy defeat in New Jersey.
Image: Chris O'Meara/AP/Press Association Images
PEYTON MANNING PLANS to use Denver's humbling 43-8 loss to Seattle in Super Bowl 48 last night as motivation to lead the Broncos back to next season's championship game.
And the 37-year-old quarterback, at the heart of the most prolific scoring offense in NFL history this season, has no plans to quit after the humiliating defeat.
"It doesn't change anything as far as what I want to do," Manning said. "Hopefully we use this to fuel us in the off-season and into next season as well."
Denver surrendered four turnovers in a defeat that matched the third-worst loss in Super Bowl history, trailing only Denver's 55-10 loss to San Francisco in 1990 and Chicago's 46-10 romp over New England in 1986.
It doesn't feel real. It almost feels like a nightmare," Denver defensive tackle Terrance Knighton said. "Don't let the score make any judgment on the team. It will definitely motivate us. We will just have to go out next year and redeem ourselves."
Manning completed a Super Bowl record 34 passes for 280 yards but threw two costly interceptions, one returned for a touchdown by Most Valuable Player Malcolm Smith and the other to set up a scoring drive.
"He had a great season, a record-breaking season, and he just came up a little short," Broncos coach John Fox said of Manning.
Fox dismissed those who doubt Manning has what it takes to win a title as he did in 2007 with Indianapolis.
"I can't really say it out loud. I would get in trouble. Ludicrous would be proper English," Fox said of that suggestion. "When you are minus-four in a turnover margin against a great team like Seattle, sometimes this is what you get."
Manning set NFL passing records with 55 touchdowns and 5,477 yards in the regular season, but struggled Sunday to gain key yards against the top-rated NFL defense of Seattle.
"He had his best year in his whole career at 37," Denver receiver Wes Welker said. "I wouldn't say he's really slowing down."
Welker suffered his third Super Bowl defeat, having lost two with New England.
"It can be a cruel game sometimes," Welker said. "You just have to roll with it. It's frustrating."
The Seahawks' Malcolm Smith celebrates with the Vince Lombardi trophy. Ted S. Warren/AP/Press Association Images.
Denver was undone on the first play from scrimmage when the snap by center Manny Ramirez went over Manning's head and into the end zone for a safety and a 2-0 Seattle lead.
"Due to the noise, no one could hear me," Manning said. "As I walked to the line of scrimmage to make a change, the ball was snapped. Just a noise issue that really caused that play to happen.
For whatever reason we couldn't get much going after that. We got behind early on and could never make a run to catch up. We needed to play really well in order to win and we didn't come anywhere close to that."
Denver running back Knowshon Moreno is already longing for next season. "We're not going to let it deter us or discourage us," he said.
"After you lose the Super Bowl, you're left with a hunger and desire that's not going anywhere. It's the same hunger that will follow us into the off-season and we will work as hard next season until we get back.
"Losing this game is something I will take with me the rest of my life. But at the same time I will get over it and be inspired by it."