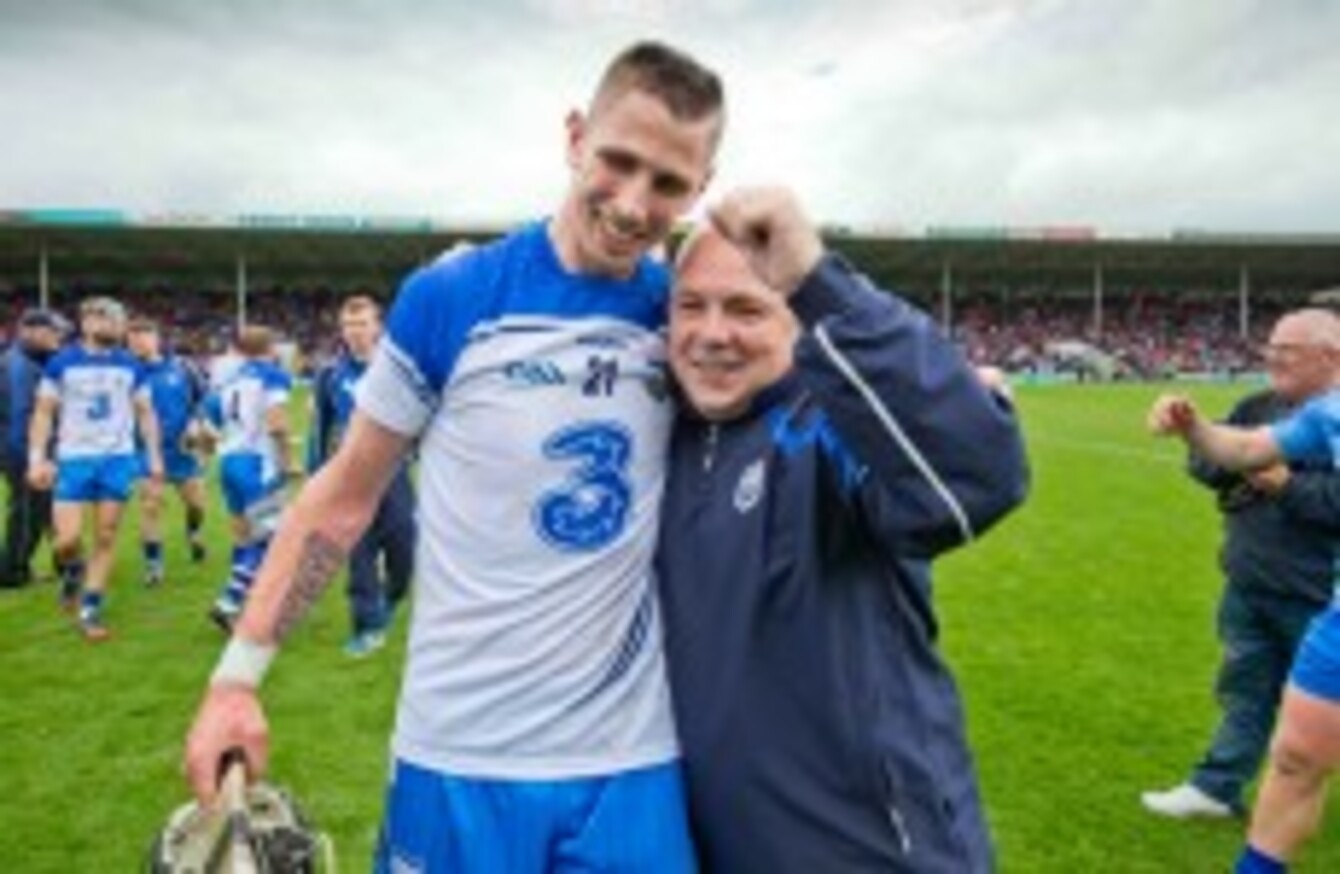 McGrath and Maurice Shanahan celebrate as Waterford march on.
Image: Morgan Treacy/INPHO
McGrath and Maurice Shanahan celebrate as Waterford march on.
Image: Morgan Treacy/INPHO
DEREK MCGRATH LEFT Waterford's All-Ireland fate in his players' hands at half-time.
The Déise trailed Dublin by one point at the break but stormed back to book their place in the semi-finals against Kilkenny.
Before the start of the second half, McGrath and his selectors withdrew from the dressing room while the players rallied themselves.
It paid dividends as Waterford outscored Dublin by 1-7 to 0-2 in the third quarter and ran out five-point winners.
McGrath said: "You hear most managers and coaches talking about a player-driven environment. I think that managers get far too much credit when things go right and far too much criticism when things go wrong.
"Sometimes, with the players, it is not that you want them to take over, but they are the ones that sacrificed a huge amount.
They just made a promise to each other that this 35 minutes, they will put everything into it.
"They are like every other inter-county team. They have worked extremely hard since last October and that brings a certain amount of pressure on you too when you could be out after this 35 minutes.
"They delivered under that pressure, which is a very good sign."
All-Ireland champions Kilkenny are the next stop on Waterford's remarkable rollercoaster ride, and McGrath can't help but recall the last competitive meeting between the sides — a 20-point league defeat in March 2014.
We had some fairly strong words to say in the dressing-room after that, not looking for faults but just looking at what direction we wanted to go – and we had an idea as a management, myself and Dan in particular, where we wanted to go into the future.
"So it is great and a massive achievement where the boys are in an All-Ireland semi-final."
He added: "The only pressure is the pressure that you put on yourself. We are going up to Croke Park and we are going to be as competitive as we can be against a force that seem to be able to cope with these five-week breaks better than anyone else.
"It is great to look forward for the people of Waterford, a semi-final against Kilkenny, great for the people in the city and around that area. There will be a bit of banter in the coming weeks.
"We can learn a lot from Kilkenny and their whole approach, the absolute savagery and ravenous nature when it comes to winning, and their humility when they win."