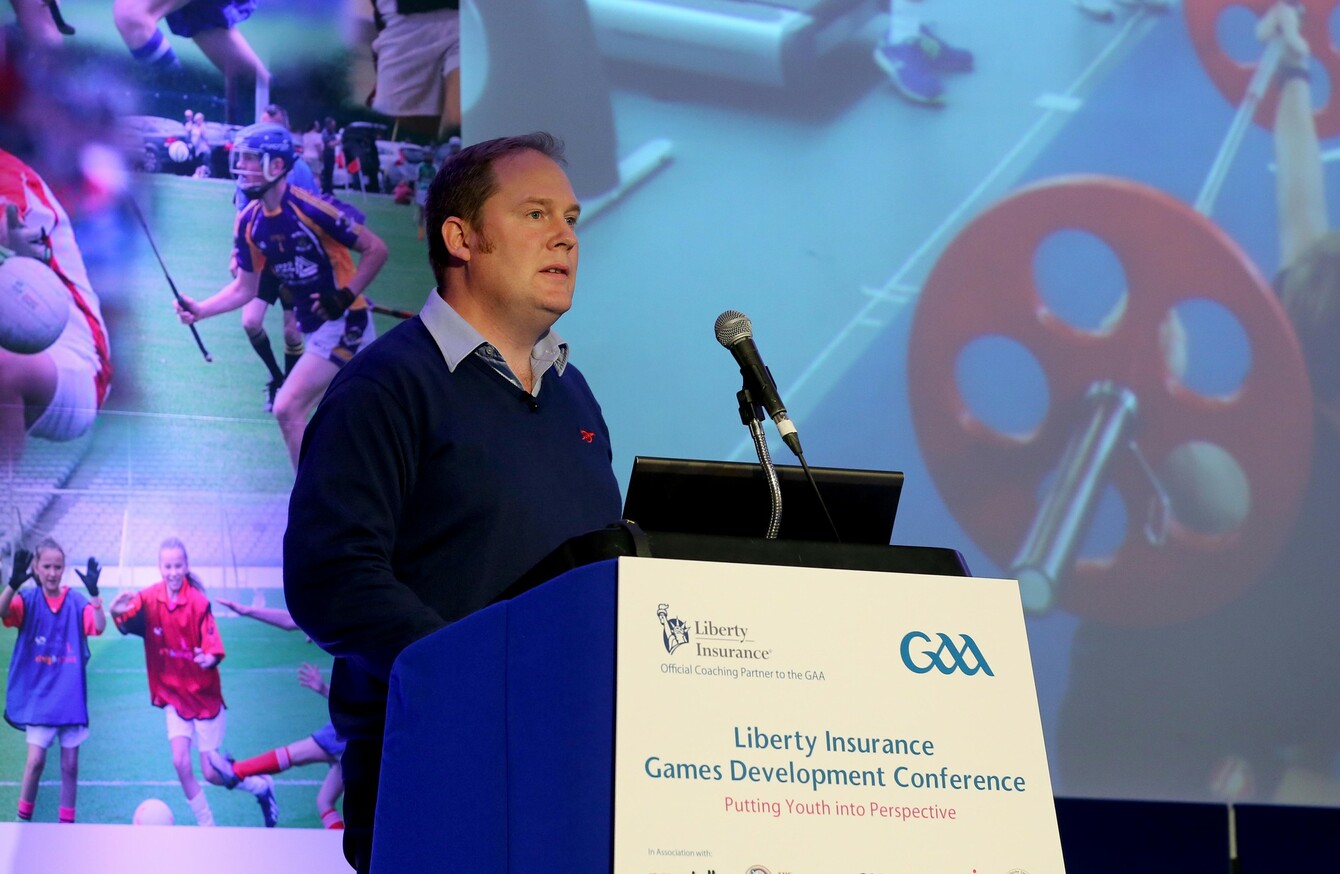 Galway man Des Ryan is head of sports medicine and athletic development at Arsenal FC.
Image: Ryan Byrne/INPHO
Galway man Des Ryan is head of sports medicine and athletic development at Arsenal FC.
Image: Ryan Byrne/INPHO
THE HEAD OF athletic development at Arsenal's youth Academy has warned that physical demands on many young Irish players are not sustainable.
Speaking at last weekend 'Developing & Maximising Youth Potential' conference, Galway native Des Ryan said that every single club, GAA or otherwise, should appoint a strength and conditioning coach to address the 'workload issue.'
Addressing the same conference, a US-based expert said that he was "shocked" when he learned about the demands placed on GAA players.
"Between school, club and, in some young GAA players' cases, county, the workload for many players is not sustainable as every manager wants 100%," said Ryan.
"But if there's a consolation it is that people are beginning to know it's not right.
"Eventually, through the principle of long-term player development, system alignment and integration, proper planning will be put in place that is player-centric and not centred ono the individual needs or desires of each manager that the young player is working under.
"This will ensure that these young players are not over-played, they will stay longer in sport and there will be less chance of getting injured."
With Ryan spearheading a massive sea change at Arsenal, the amount of muscle injuries sustained by young players in the Academy there has been cut in half over the last three years.
And he explained how parents have a key role to play in managing their children's playing workload. 
"Given that young players here will be play for so many different teams and two or more codes, then parents have a key role to play in their son or daughter's wellbeing.
"Every coach will want 100% involvement but there's no way this can happen or else burnout is an inevitability.  That's where the parents have stepped in.
"Every club should invest in a strength and conditioner and he should have a meeting with the player and outline what's good and what's not.
"The player, together with his parents and coaches, then can make an informed decision based on what he or she can do, not what is wanted of him or her."
Gary Schofield, a US expert in youth athletic development who is current National S & C Association High School Coach of the Year, said he was shocked when he learned of the workload.
"That's horrific. The reality is the coach keeps his job by winning and he wants to have the player at the best of their ability.
"From my perspective, I don't want the athlete to be as good as he or she can be. It's not how great you are at 15 because that can result in the body being abused.
"What we want is allow our athletes to progress. Success at this age group should be based on the development of that athlete. Coaches need to be reviewed on the development of the athlete rather than wins and losses.
"There was a recent article in in England in which they asked why England youth players are injured at a higher rate.
"The simple reason was they are playing way too much and based on the figures I am hearing about Ireland, the same might be the case here.
"The youth athlete doesn't have the body to handle the physical loads we are putting on them."
Schofield also revealed some of the key injury influences on young players at development stage, with research showing that if young athletes get less than 7.5 hours sleep at night it increases the likelihood of injury by 1.7 times, while the injury rate during the high academic period is 2.1 times the average rate.
Conference organiser and Setanta College founder Liam Hennessy, the former Ireland rugby team fitness coach, welcomed debate on the issue.
"It's time we had this type of debate. The workload on some young players is far too much and counterproductive.
"They have to be put at the centre of any programme and not the coach's needs.
"There needs to be alignment, cooperation and compromise on the part of all the stakeholders and without that a lot of young players are never going to reach their potential and could even be lost to sport altogether."