Updated at 21.30
DARRAGH Ó SÉ tells a good yarn about Dick Clerkin.
On a winter's night in 2008, around the time Monaghan's fortunes were beginning to rise under Seamus McEnaney, Ó Sé's phone buzzed with a call from the Farney boss.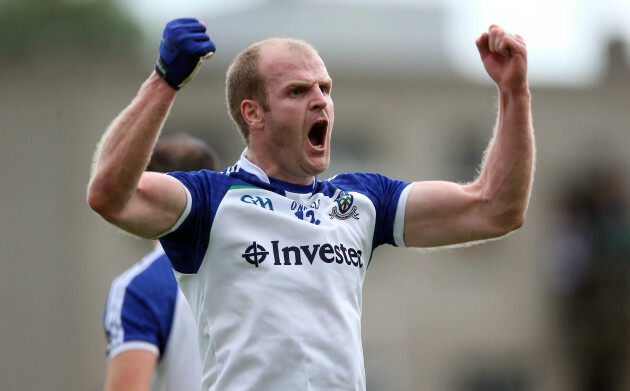 Donall Farmer / INPHO Donall Farmer / INPHO / INPHO
He had an unusual request for the Kerry midfielder.
Monaghan were making a big fundraising drive that year, with an upcoming white-collar boxing night their showpiece event.
Clerkin and Ó Sé had clashed during their county's championship meetings in the previous two years, and Banty's grand plan was for the pair to face-off for three rounds in the evening's main event.
Ó Sé couldn't believe his ears.
"Did he really think I was going to leave Dick train away for six weeks before toddling up there to Monaghan to be absolutely decorated inside in the ring?" he wrote in his Irish Times column three years ago.
"Give me some bit of credit. I'd be thick enough the odd time but there was no way I was putting my hand up for that one. I laughed it out of town."
The idea of facing Clerkin – who recently hung up his boots after 17 years at the top – in the ring was laughable, even for a grizzled veteran like Ó Sé.
The 35-year-old Currin man was widely regarded as an aggressive, combative midfielder who characterised Monaghan's identity. As he reflects on his career, that's not a label he's entirely comfortable with.
"I probably played a lot more football in my latter years than I might have in previous years, when was all very much (focused) on work-rate and high intensity," Clerkin tells The42.
(I started) getting into scoring positions, getting a few scores, and using the ball a bit more. I enjoyed that because that's the way I would have played my club football.
"I would have been a heavy scorer with the club and playing that typical role around the middle of the field. That's my natural game. It was nice to be able to play more of that in the latter years.
"That's how I would have started as well. I actually took the frees in Banty's first year, believe it or not."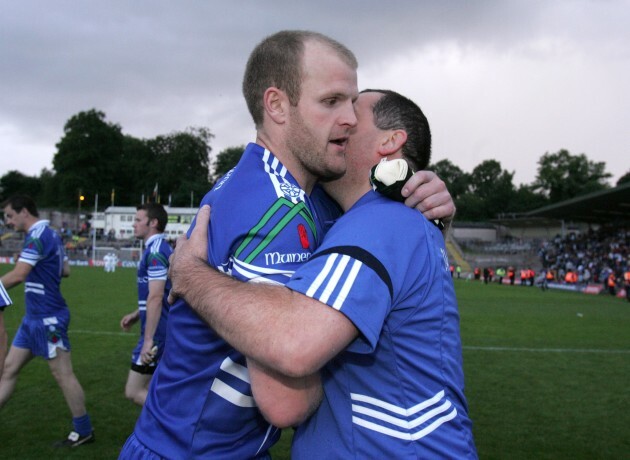 James Crombie / INPHO Clerkin celebrates a Monaghan victory in 2009 with Seamus McEnaney. James Crombie / INPHO / INPHO
McEnaney's 2005 arrival in Monaghan brought about a rapid rise in the fortunes of the Farney Army. Clerkin's inter-county career to that point had been largely unsuccessful.
He had yet to play a championship game in Croke Park. In his first six Ulster campaigns, they managed just two wins – both quarter-final victories.
What changed when Banty came in? They made a decision as a squad to counter the notion that Monaghan were a soft touch and started to compete on the physicality stakes with the big sides up north like Tyrone and Armagh.
We probably recognised as a team around '05 or '06 that, 'we're going to try to compete with the big boys. If we just rely on playing nice football we're only going to get so far. We're going to have to try to level the playing field any way we could.'
"It was a collective decision," continues Clerkin. "Banty had his physical, intense, robust style of play with a high work-rate.
"There was a focus on, if teams had key players, you weren't afraid to man-mark them and almost sacrifice your own game to try and nullify key players. We rowed-in with that and committed to that approach. It got us success in many ways.
"Games around '07, '08, '09 when we first came on the scene. I certainly wouldn't look back and say it was my best football but I've no regrets. It was a decision we took, it was a decision I took.
"It wasn't something that was necessarily in my game from the start.
"Looking back if we had have played a wee bit more expansive football we might have been able to get the balance a wee bit better. But that's easy to say with hindsight."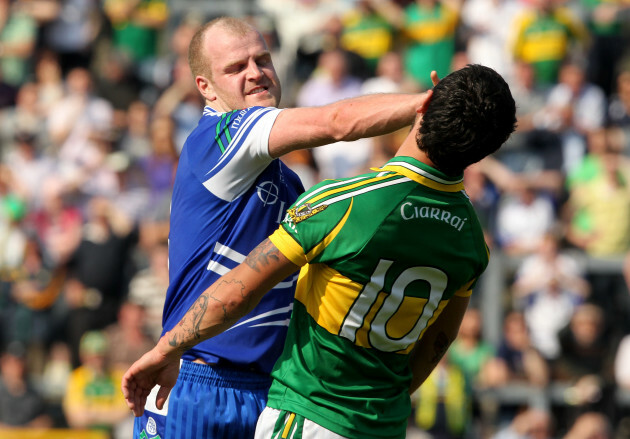 James Crombie Clerkin had a couple of fiery encounters with Kerry players. Here he clashes with Paul Galvin in 2010. James Crombie
In Declan Bogue's 2011 book, This Is Our Year, Clerkin spoke about his regrets over the overly robust player he became. Five years on, he now accepts that sacrificing his game for the benefit of the team was necessary for Monaghan to succeed.
"I probably have to accept at this stage that people will remember me more for the physicality and that way of playing.
When Monaghan first came to the fore in the late '00s that's what people saw of me. First impressions last I suppose and, whilst I'd like to think I changed that perception over the last few years, that's largely how I played for Monaghan and you have to accept that.
"But I've no regrets and I never had any problem for sacrificing my own natural game and possibly my name at times for the jersey and (did) whatever had to be done to get us to where we needed to get to. I've no issues with that. I've big enough shoulders to carry any criticism that might come with that.
"My father (Hugo) before me would have played a very similar role. (He) played midfield with Monaghan for years in the 80s (and) people probably see us similar – as a steady influence around midfield.
"I had absolutely no issues styling myself on him. If that's how I'm remembered then I'm happy enough with that."
Clerkin went on to feature in a record 169 senior games for Monaghan since 1999, scoring 3-107. He would play in five Ulster finals, winning two.
Monaghan's Ulster title victory in 2013, their first provincial success in 25 years, is what many consider Clerkin's emblematic moment in the blue and white.
Relief was the overriding feeling as the then-13-year veteran finally lifted a major honour with his county.
It was sort of, 'Jesus, thank God we got that job done,' he says. "It didn't really matter at that stage what the performance was. We had so many near misses and moral victories in games that we should have won and didn't.
"We didn't really care. Then there was the euphoria and the rest after that. It was just a really good day."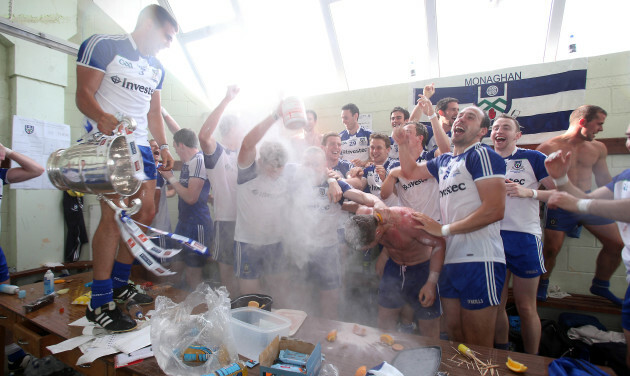 Donall Farmer / INPHO The Monaghan team celebrate their 2013 Ulster title in the dressing room in Clones. Donall Farmer / INPHO / INPHO
But the aftermath of the win was tinged with a sense of dissatisfaction.
"What would have annoyed me with that: that was the All-Ireland champions that we comprehensively beat in a provincial final. People never really gave us enough credit for that victory.
That was the Donegal invincible team that nobody could see a way around – and that's everybody from Kerry, Cork, Tyrone – and we wiped the floor with them in a provincial final. They hadn't lost in the previous 10 or 12 Ulster championship games and people wiped it off as a one-off.
He continues: "I thought that was a wee bit unfair because you don't beat a team who are supposed to be that good, that easy by luck. And I think we validated that by how we followed it up by getting to the final the next year.
"We sort of let ourselves down with the performance (in 2014) and Donegal played the better football, but then we came back and won it again (in 2015). I think that validated the first victory that people wrote off as a once-off. That was pleasing from a collective point of view.
"We were able to come back and sustain that level. You can't take that away from us. That was important. Sometimes you just need that validation.
"There was probably more of an element of satisfaction with the second one, in so far that the first one was just that relief elation type of thing. The second was for us almost, the other one was for everyone else who had to suffer the previous defeats."
So what does the future hold for Dick Clerkin? A columnist with the Irish Examiner, he has strong views on the GAA and has spoken out in the past about championship structures, the black card and players retiring early.
James Crombie / INPHO James Crombie / INPHO / INPHO
During his playing days, Clerkin purposefully stayed away from writing about individual games. That's an approach that's likely to continue.
"I would just write about topics and general stuff, as opposed to commenting on games. I would probably still follow that path because there's enough people writing match summaries and match previews. I think it's fairly saturated.
"I enjoy looking at general GAA issues from a different point of view, having been involved in it. If I'm to continue writing, which I hope I do, you'll open up a column from me and it's not just a rehash of what's said by 10 other different people.
"It'll be looking at it a bit different and that then helps you stay away from commenting. I might still be still a wee bit close from the Monaghan point of view, but if you're working for Sky, you're going to have to call it straight as best as you can see.
I don't think you need to be unnecessarily critical or dramatic just for the sake of it. There's a lot of that starting to creep into the game. I don't like it. It's not necessary. I think it's lazy. It's not something I think sits well with the GAA and what the GAA is."
The Healthy and Safety manager has no plans for an autobiography yet, but it wouldn't be a surprise to see Clerkin's book released in time for the 2017 Christmas market. He feels his story would be relevant to most inter-county footballers.
"In some ways it's a natural conclusion when you retire. I do think that Monaghan have a very good story. I think it's probably more relevant for inter-county players what we have done than say the Kerrys or Dublins or Tyrones, which is all about winning All-Irelands.
"The reality is the vast, vast majority of inter-county players have never reached those heights, but the vast majority of inter-county players could in theory replicate what we've done.
"We were in the gutter or mid-tier as much as anyone. So it's probably a good story that's a bit more relevant. Will I put pen-to-paper on it? I don't know. I'll see.
"I'm certainly not thinking about it at the minute but if it is a story that somebody deems as worth writing then it might be something that could interest me."
The42 is on Snapchat! Tap the button below on your phone to add!