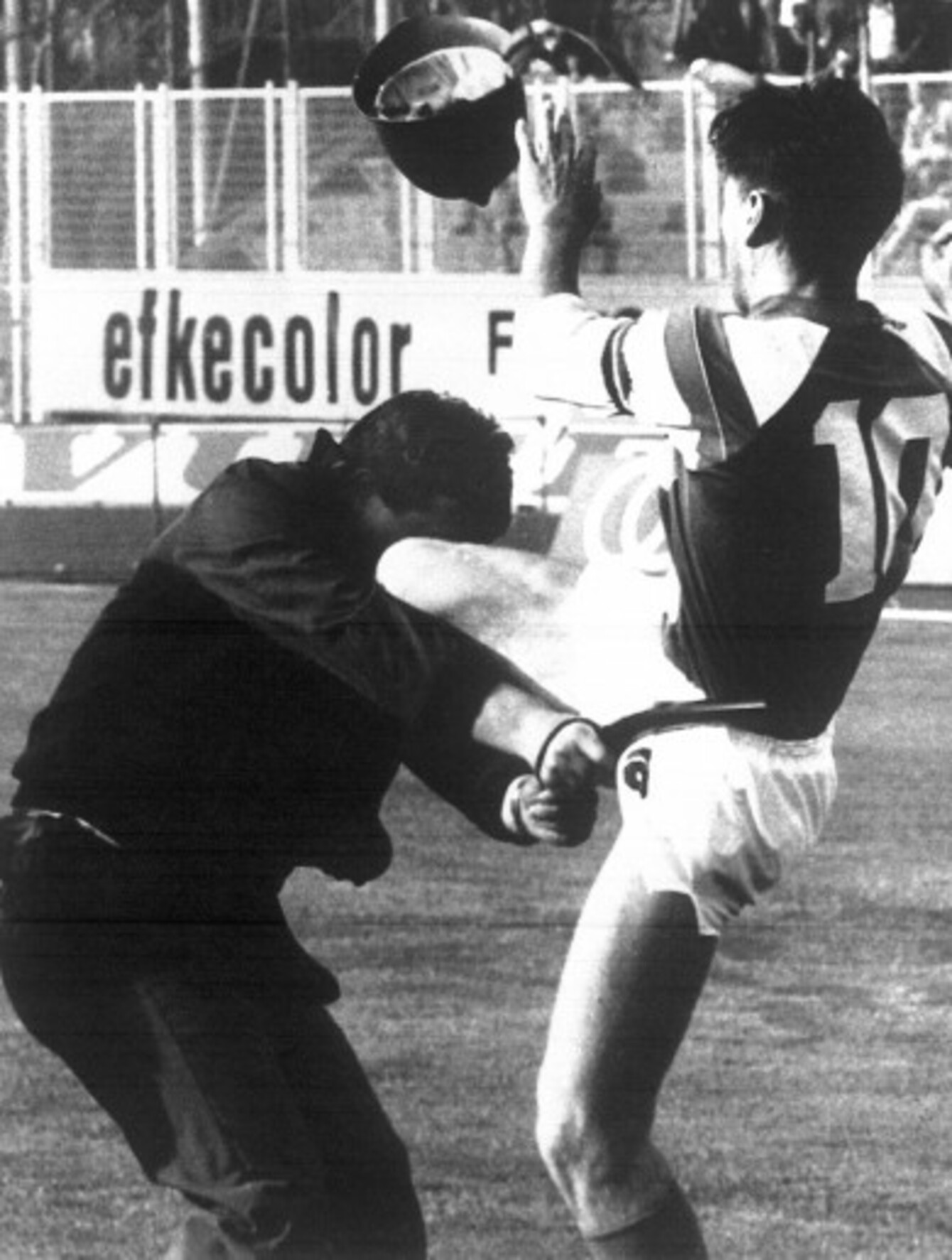 Dinamo Zagreb's captain, Zvonimir Boban, attacks a police officer during soccer fan riots, prior to their match against Red Star Belgrade, Zagreb, Croatia, May. 13, 1990.
Image: AP/Press Association Images
Dinamo Zagreb's captain, Zvonimir Boban, attacks a police officer during soccer fan riots, prior to their match against Red Star Belgrade, Zagreb, Croatia, May. 13, 1990.
Image: AP/Press Association Images
IT WAS ALREADY one of the main Yugoslav league derbies for decades but the now notorious match between Dinamo Zagreb and Red Star Belgrade on May 13, 1990 became a symbol of the bloody conflict in the Balkans.
The match at Dinamo's Maksimir Stadium — where Croatia play Serbia for the first time as independent nations in a World Cup qualifying tie tomorrow — could not have come at a worse time.
Just one week after the game, Croatia's pro-independence parties won the first multi-party elections in Yugoslavia, fuelling ethnic tensions between Zagreb and Belgrade, which was opposed to dismantling the communist federation.
Both teams were well known for their fanatical supporters: Red Star's "Delije" or "hardmen", who would later become a core of Serbia's paramilitaries fighting in Croatia and Bosnia, and Dinamo's Bad Blue Boys, backed Zagreb's bid for independence.
Even before the match began, tensions had been building.
"That day smelt of trouble," recalled Renato, a Red Star fan. There were frequent skirmishes in side streets despite the heavy police presence and an estimated 3,000 Red Star fans arrived in Zagreb from Belgrade, many of them looking for a fight.
Rival supporters packed into the ground, with hardcore Red Star fans — led by Zeljko "Arkan" Raznatovic, later to become a feared Serbian paramilitary leader — chanting Serbian nationalist songs with Dinamo supporters yelling insults in return.
The "Delije" began tearing up seats and throwing them at Dinamo fans. Police, although present in large numbers, did not react.
But when visiting fans managed to break loose, smashing the protective fence separating them from the Dinamo contingent, instead of separating the fans, the police chased and charged the Croatian supporters.
The fight spilled out to the pitch.
Pitch battle
"All hell broke loose," said Milan, a Red Star supporter who tried to avoid the brawls.
For a while, "the grass on the pitch could not be seen, as everything was covered with bricks and debris from the stands," Dinamo defender Vlado Capljic said at the time.
But Dinamo's then 21-year old captain Zvonimir Boban saw a home fan being brutally beaten by police. He jumped on a police officer and hit him with a kung-fu-style kick, knocking him down and allowing the fan to run away. The crowd chanted "Boban, Boban" and "murderers" to every police attack on the fans, remembered Dean Bauer, then a 23-year old journalism student.
"It was grotesque: the music went on playing, while the speaker read commercials as if nothing was happening," he added.

YouTube:
AmadeusLegend
Red Star players were escorted off the pitch. After almost 90 minutes, police used tear gas to disperse the crowd and later escorted Serbian fans away. More than 100 fans were arrested and 117 policemen were injured, as well as 39 Red Star fans and 37 Dinamo supporters.
The kick made Boban a national hero, with many Croats seeing it as a symbol of Zagreb's discontent with Belgrade-dominated politics in the former Yugoslavia.
"It certainly marked both my life and my sports career, it was as if I matured overnight," Boban, who went on to play for AC Milan and make 51 appearances for Croatia, said of the incident in a 2002 interview.
Many people consider Dinamo Zagreb v Red Star Belgrade as the "real" start of the four-year war. What is beyond doubt is that it was a sign of things to come.
"After the game, it was clear to everyone what will follow," said former Red Star and Yugoslavia winger Dragan Dzajic. "On that sunny spring day, it was clear that an era had come to an end and another, brutal and bloody, was about to begin," added Bauer.
A year later, the war in Croatia broke out, the first in a series of conflicts that tore apart the former Yugoslavia.