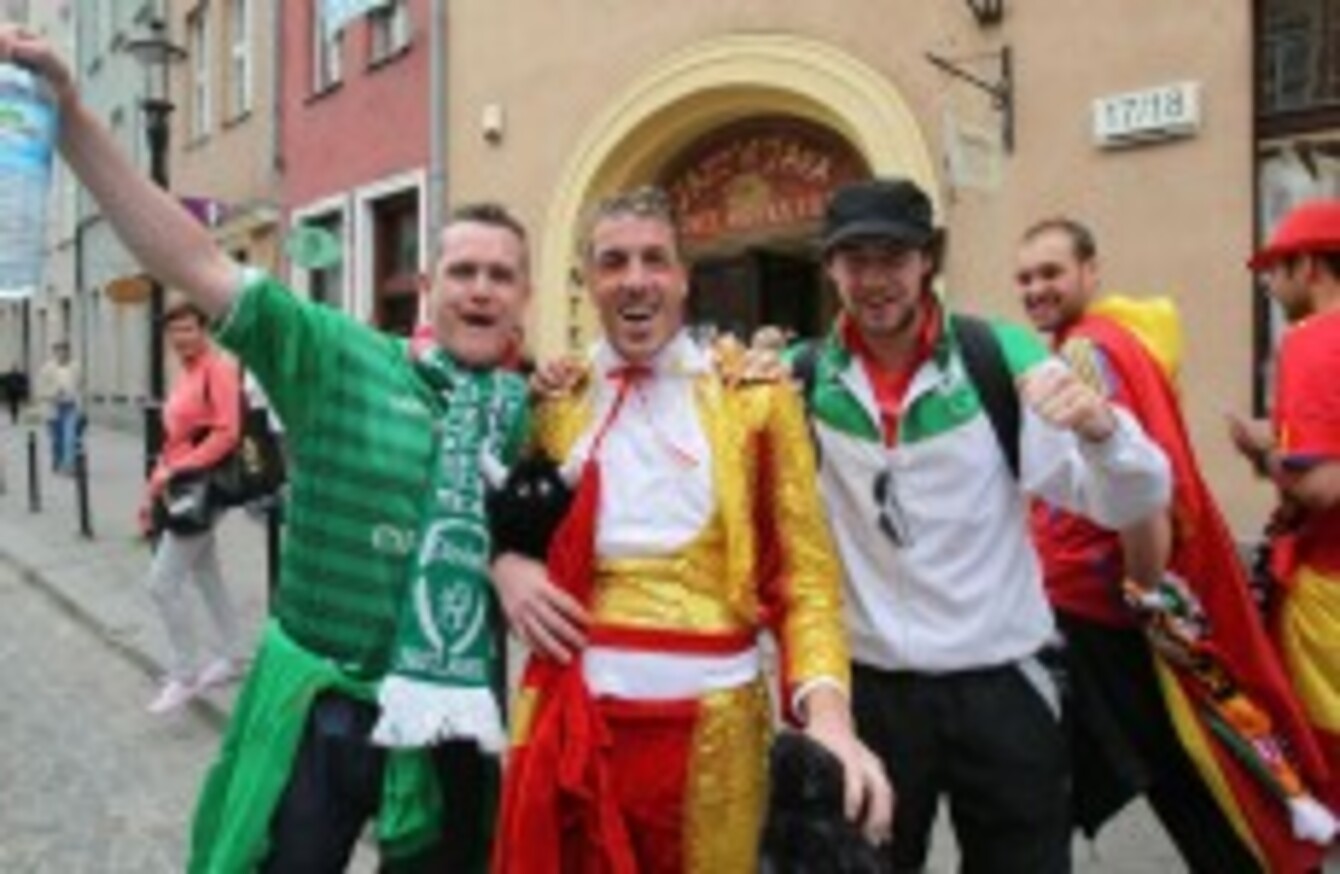 Ireland and Spain fans in Gdansk today.
Image: Niall Carson/PA Wire/Press Association Images
Ireland and Spain fans in Gdansk today.
Image: Niall Carson/PA Wire/Press Association Images
First off, an apology. I'm going to break a bit of journalist convention in this piece and use the word 'I' an awful lot. Or perhaps it should be the Spanish version, 'yo'.
Because, as you can probably guess from the hybrid name, I'm half-Irish, half-Spanish.
And, obviously, this creates something of a quandary tonight.
To be honest, it always has. Although I grew up in Greystones and have always spoken with an Irish accent – which automatically makes people assume you're "more" Irish – my mother always spoke to me in Spanish as a child and I used to spend entire summers over there. As such, I've always felt exactly what I describe myself: Irish-Spanish.
In truth, the concept of dual nationality is a little hard to describe to anyone unless you've got it. It's not unlike having two counties in GAA… but much less fluid.
At the very least, though, it at least provides a bit of fluidity in terms of international tournament. One of my first memories of such events was after Ireland drew with Egypt 0-0 in Italia 90 and, in a local pub, a friend of my dad turning to me and going, "well, at least you've got Spain".
It was much the same three years later, when Julio Salinas ran riot at Lansdowne Road in a 3-1 Spanish win that threatened Ireland's place at the 1994 World Cup.
Interestingly, during that very tournament, I found myself as one of the few people in a bar on Spanish soil actually supporting the Spanish team. My mother, you see, is from Navarra – a province with considerable Basque influence. And, on this particular day – during the quarter-final against Italy – the bar was full of rabidly anti-Spanish Basques. Cheers went up when Mauro Tassotti smashed Luis Enrique in the face. Roars did when Roberto Baggio scored a late, late goal.
Of course, eight years later, Robbie Keane hit a similar goal against Spain on a similar stage. That day, however, I didn't really roar and wasn't really sad. It was an odd feeling. I honestly didn't know who I wanted to go through, so I watched the game with a strange flatness.
And it's the curious aspect of tonight, too.
The only aspect of the game I will actually be emotionally invested in will be getting the 2,000 words I have to file for the final whistle in on time.
For once, the manner in which sports journalism can deaden the emotion around an event will be welcome. I won't have to make a choice.
What are they
really like?
Rare insights on sport's biggest names from the writers who know them best. Listen to Behind the Lines podcast.
Become a Member
Of course, I'll be absolutely delighted if Ireland claim one of the most incredible victories in their history. Similarly, I'll be pleased if Spain get the win that may yet propel them to a truly historic achievement of three trophies in a row.
But both scenarios will be tempered.
Worse, a draw is probably my least desired result. It could well put both teams out. And, obviously, I want at least one of them to go through.
For that, I can make no apologies.