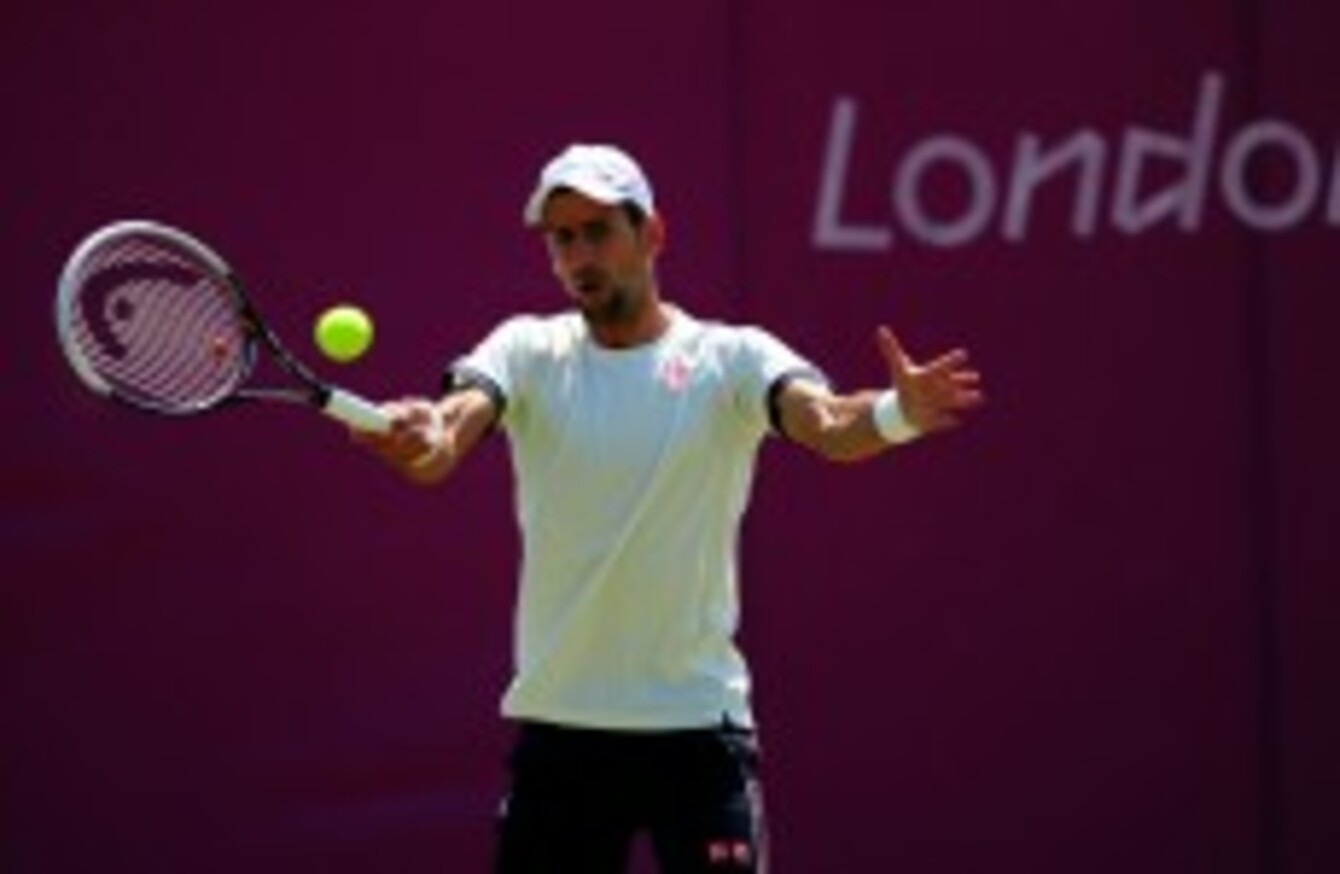 Image: Adam Davy/PA Wire/Press Association Images
Image: Adam Davy/PA Wire/Press Association Images
NOVAK DJOKOVIC HAS warned Roger Federer there is no chance he will suffer an Olympic hangover despite losing his Wimbledon title and world number one ranking to the Swiss great.
Djokovic was forced to surrender his Wimbledon crown earlier this month as Federer defeated the Serb in the semi-finals and went on to knock him off the top of the world rankings by winning the title for a record-equalling seventh time.
The 25-year-old is seeded to meet Federer in the final of the Olympic tennis event, which is being held at the All England Club from Saturday, and the world number two is desperate to make amends for his Wimbledon exit.
After a remarkable 2011, when he recorded one of the greatest individual seasons in tennis history and a dominant start to 2012, Djokovic has come up short in the last two Grand Slams, losing to Rafael Nadal in the French Open final and Federer at Wimbledon.
But he insists his desire to return to the top remains as strong as ever.
"I have nothing to worry about or be disappointed about. I have recovered from Wimbledon and I'm very excited to be part of these Games," Djokovic said on Thursday.
"Pressure is always present for every professional athlete. It is just a question of how you deal with that pressure and how you manage situations.
"Roger deserves to be where he is at this point. He won the most important tournament in the world to become number one and it is not the first time he has been there.
"I was very fortunate to become number one last year and to realise my childhood dream of winning Wimbledon.
"But I still feel there is a lot more to come from me. I am physically fit and obviously motivation is no problem."
Djokovic, who has been drawn to play Italy's Fabio Fognini in the first round of the Olympics, concedes Federer is the favourite to win gold.
Shock
But he believes the schedule and unique atmosphere of the Olympics — unlike the best of five set Grand Slams, the men's event will be played over three sets until the final — means more shocks are likely.
"Roger, as a recent Wimbledon winner, stands probably the best chance to win the gold, because of his career, his success and his history. He is the number one favourite, then you have (Andy) Murray, myself and (Jo-Wilfried) Tsonga," Djokovic said.
"But the Olympics is different to other tennis events. You don't represent yourself. It is playing for your country and it feels like a team competition."
Like many of his rivals, Djokovic has opted to stay near Wimbledon rather than risk being stuck in traffic on the long journey from the Athletes' Village in east London to the All England Club on the other side of the capital.
But Djokovic, who won a bronze medal on his only other appearance at the Games in Beijing in 2008, is still a huge fan of the Olympic spirit.
"It is great to be alongside all the best athletes in the world. On Wednesday I came with all the tennis team from Wimbledon to pay a visit to the Athletes' Village," Djokovic said.
"We saw an incredible amount of athletes going around and it is just a different feeling. You can see so many excited faces and see that everyone has an extra motivation."
While Djokovic can't wait to get back on court for the first time since Wimbledon, before that he has the honour of carrying the Serbian flag at Friday's opening ceremony.
"It's a unique experience. Maybe once in a lifetime," he said. "I want to enjoy every moment of it.
"I know there are many other athletes who are equally deserving of the chance to carry the flag. It is an experience that will have a special place in my heart."