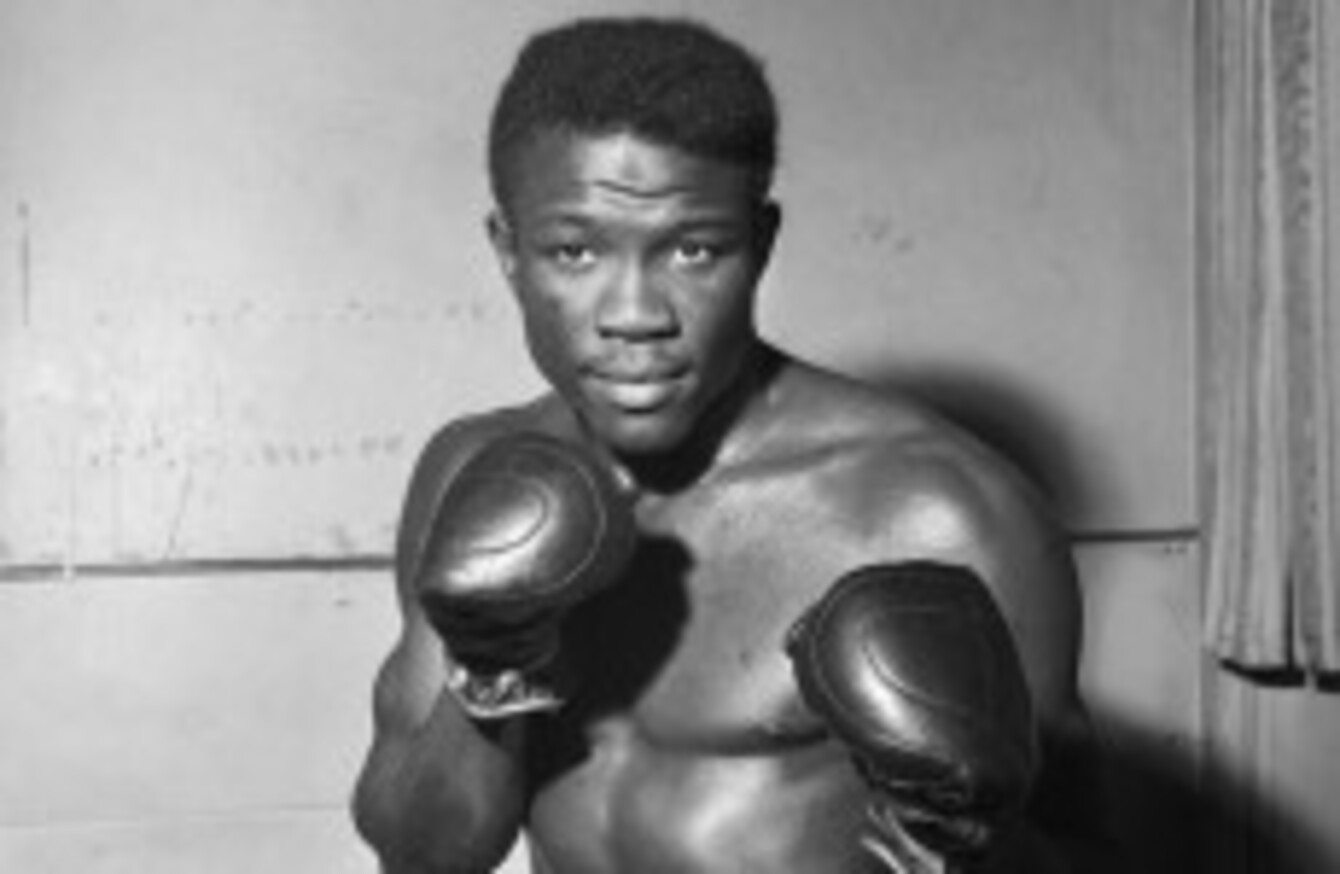 World welter-weight champion Emile Griffith pictured in 1964.
Image: PA ARCHIVE IMAGES
World welter-weight champion Emile Griffith pictured in 1964.
Image: PA ARCHIVE IMAGES
"CHAMPION, GENTLEMAN, SEXUAL pioneer" — these were the words used to describe Emile Griffith by boxing writer Robert Ecksel, after the former world champion passed away at the age of 75 on 23 July 2013.
The legendary boxer is the primary subject of a new book, A Man's World: The Double Life of Emile Griffith by Donald McRae, and it's easy to see why, given that as well as being one of the most talented boxers of his generation, he was an extremely fascinating and complex character to boot.
Born in the US Virgin Islands, Griffith's father abandoned the family not long after his son's birth, while during the future star's childhood, he was also molested by an older man purporting to be his 'uncle' — a trauma that would stay with the youngster for the rest of his life.
Griffith was a reluctant fighter too. He dreamed of becoming a milliner (or hat-maker) rather than a boxer, and as a teenager, he fell into the sport essentially by accident. Working in a hat factory on a steamy day, the owner of the establishment in question asked Griffith to work shirtless. Consequently, after noticing the young man's impressive physique, the owner, who was a former amateur boxer, took him to the gym of trainer Gil Clancy.
The young fighter still held out hopes for a life as a hat-maker, but quickly discovered he had a great talent for boxing, soon also realising that he could make considerably more money should he be successful in this pursuit.
Early in his career, Griffith participated in a series of fights for the Welterweight title with Cuban boxer Benny 'The Kid' Paret. Griffith won the first fight with a knockout before Paret regained the belt following a controversial split decision.
(Gil Clancy applies petroleum jelly to the face of welter-weight champion Emile Griffith, before a training session at the Thomas A Beckett gym in London.)
The third fight between the two fierce rivals would go down as one of the most infamous nights in boxing history. Griffith was gay and this was considered even more of a stigma for an athlete then than it is now.
In the 1950s and 60s, homosexuality was banned in all but one state (Illinois). People could be jailed for many years for being found guilty of engaging in homosexual behaviour. The American Psychiatric Association regarded being gay as a mental disorder — a diagnosis that they only changed in 1973. In short, for Griffith, the double-edged sword of being black and gay inevitably made life pretty lonely and difficult at times during this deeply conservative era.
Griffith's homosexuality was the worst-kept secret in boxing at the time. However, while many sports journalists were aware of his orientation (members of the press even once entered into his dressing room to find him kissing another man after a fight in Britain), they were unwilling to confirm it in print — society, they felt, simply wasn't ready for what would have been largely considered as a shocking and unsettling revelation.
"In the 1960s, boxing had such a profound meaning," McRae tells The42. "It had such an impact on culture and society.
"[Homosexuality] was such a taboo subject that it just could not be covered… For the newspapers, it could be alluded to — people would say 'wow, he's so flamboyant,' but they couldn't talk openly about his sexuality.
"He also went into gay bars and clubs openly, he never went in the backdoor or the sidedoor. He always went in the front door. He was quite open about it. But because it was such a conservative society, he could never use the word 'gay' when talking about himself."
And while newspaper men treated the matter sensitively, his boxing rival, Paret, had no such concerns. At the weigh-in for the third fight, the Cuban fighter humiliated and infuriated Griffith by calling him a 'marcion' (a derogatory name for a homosexual in Spanish).
(Griffith pictured at the weigh-in with Benny 'The Kid' Paret prior to their infamous fight)
Still seething from this hurtful remark, Griffith took his anger out on Paret during the fight on 24 March 1962, with the Cuban boxer dying from injuries sustained as a result of this most violent of bouts. Griffith, meanwhile, expressed deep remorse once the seriousness of the situation became apparent, and even unsuccessfully attempted to visit Paret on his deathbed.
The outcome of this notorious fight devastated and haunted Griffith for the remainder of his life. He constantly had to put up with people branding him a 'killer' and felt enormous guilt for what he had done, while Paret supporters — convinced that the action was intentional — took to sending Griffith hate mail.
The incident caused shockwaves not only in boxing but across America at large. The celebrated writer Norman Mailer famously said that the closing stages of the fight was the hardest he had ever seen one man hit another. The American TV station ABC — who had televised the fight — cancelled all plans for future boxing broadcasts, and the sport would not return to free-to-air TV again until the 1970s.
Many argued that Griffith, although he competed in numerous fights thereafter before eventually retiring in 1977,  was never the same fighter again, and McRae concurs with this viewpoint.
"I spent a lot of time watching the old fights, and you could see that he just did not want to hurt his opponent," he says. "Clearly, he wanted to win, but there was a fear that he was going to do the same damage. His knock-out ratio diminished hugely after that fight.
"Over my years as a writer, I've met many boxers who have unfortunately been involved in fatalities. Whether it's someone like Barry McGuigan or Chris Eubank, who sent Michael Watson into a coma for many months. And Michael has never been the same since.
"Some fighters just never get over what they have done. Others have been able to put it to one side. But Emile was such a sensitive person that he took it to heart. He never forgave himself for what had happened."
(Cuban-born Benny 'The Kid' Paret, 25-years-old, is carried from the ring at Madison Square Garden, New York, on 24 March, 1962)
He continues: "Some fighters can be compassionate, but he was totally different in that sense. He was fighting quite a limited journeyman towards the end of his career and he was winning quite comfortably. He started to boost the opponent and say 'come on' as they're fighting, 'you don't need to go down, you can make it to the end.'
"The guy became quite a close friend because he couldn't believe that Emile had attempted to inspire him as they were fighting each other. So he was a lovely person by all accounts. I didn't find anyone who had anything bad to say. He was such a gentle person and he was also a good boxer — this was the ambivalence at the heart of him."
As if the Paret tragedy wasn't enough, Griffith would also witness death up close two more times in boxing. A year and a day after the Cuban star's death, Griffith was on the same card where another former world champion fighter, Davey Moore, who would be immortalised in a song by Bob Dylan, died in the ring. In addition, 16 years later, when Griffith had become a trainer, Willie Classen died following injuries sustained in the ring by the former star's fighter, Wilford Scypion.
Source: #BobDylan/YouTube
These tragedies added another layer of sadness to the overriding sense of melancholy that was never too far away from Griffith. It was as if death was stalking him, and the Paret fatality in particular permeated his dreams for decades. It was only in the 2000s, when he met Paret's son during the making of a documentary, Ring of Fire, that he was seemingly able to draw a degree of closure from the incident, with the younger man reassuring Griffith that "no hard feelings" were harboured over his father's death.
Source: intothisall/YouTube
Griffith's homosexuality too was an issue of much complexity. While hardly going out of his way to hide his love of gay clubs and culture, even as America became more enlightened in its attitude towards homosexuality as it moved into the 21st century, Griffith was reluctant to publicly identify himself as 'gay,' instead preferring to be perceived as 'bisexual'. He was even married to a woman (Sadie Donastorg) briefly, while McRae explains how a one-time girlfriend Esther Taylor was apparently oblivious to his true sexual orientation.
"50 years on, she can't believe that she didn't understand that he was gay. Other boyfriends and women she knew would be saying 'obviously, he's gay,' but she'd say 'no, he's a fighter, he's my boyfriend'. But she said all the signs were obviously there. She said she was an innocent young girl. She was only in her late teens when they started going out together. But she did stay in close contact with him, even when she worked out that he was never going to settle down with her, she was still loyal to him."
Despite not knowing the truth of the situation, Taylor agreed to participate in a photoshoot with Griffith in 1962 — around the time rumours of his homosexuality were going into overdrive — which deceptively portrayed the two of them as a couple who were very much in love.
McRae adds: "I said to Esther, looking back, did she feel bad doing this, and she said: 'No, all I was doing was helping him. People stop to think too much about what he was attempting to hide. I just knew he was in a lot of pain and that people were giving him a hard time. So I said if I could help him by pretending to be his girlfriend again, I would do that.'"
(Opponents Brian Curvis of Wales and Emile Griffith of the US Virgin Islands, shake hands at the weigh-in the day before their World Welterweight Championship fight at Wembley.)
But despite standing out in the ultra-macho boxing world, Griffith still earned the respect and admiration of many key figures in the sport, including Muhammad Ali (who he shared a gym with at one point) and Mike Tyson, while Joe Frazier was the best man at the wedding for his short-lived heterosexual marriage.
McRae, though he is not gay himself, also feels an affinity with Griffith. The acclaimed sports journalist and writer, who is the only two-time winner of the William Hill Sports Book of the Year award, devotes a chapter at the end of the book that links Griffith with current boxer Orlando Cruz. McRae was the journalist who interviewed Cruz in 2012 after he became the first boxer to publicly come out as gay, and consequently, the parallels between himself and Griffith are obvious.
Yet McRae's memories of Griffith date as far back as the journalist's youth in South Africa.
"He came over to Johannesburg and he had a white trainer [Gil Clancy]," he explains. "The two of them were not alarmed to go into Soweto because of apartheid. He basically just stood up to the government and said that he they were not willing to accept [racism]. The government, which was a hardcore fascist government at the time, sort of gave into him.
"So that's when I became aware of quite a powerful black man. I was a white kid and I loved boxing anyway. I think it was only many years later when I understood what had happened between him and Benny Paret… So I've had an ongoing interest in him as a person."
(In this 8 June, 1963 file photo, Emile Griffith is hoisted by handlers in ring after split decision victory over Luis Rodriguez for the Welterweight world championship at New York's Madison Square Garden)
McRae even got to meet Griffith and his long-term boyfriend Luis Rodrigo shortly before the legend's death. As is the sad fate of so many former boxing greats, however, Griffith was a shadow of his former self. Deep in the throes of dementia, he was much closer to resembling a dying man than a champion of the world.
"It was difficult," McRae recalls. "I couldn't have a conversation with him as such. But it was moving to sit with him and his partner [Luis], who he'd been with for more than 25 years. I had spoken to him beforehand and a lot of other people who knew Emile. So it was quite an emotional moment.
"In his many years as a boxer, I think he always felt he could have been doing something else. But boxing has a kind of power that once you're involved with it, it's hard to escape. Ultimately, he fought too many times and this caused dementia, which is quite a poignant fate for him to have suffered.
"Because of his interest in other things, it meant he met all kinds of people in fashion, music, books and obviously, the gay community do all kinds of flamboyant things. He didn't have the attitude for boxing initially, but he became comfortable fighting too. The two worlds are so opposite — hardcore boxers and the gay world — yet he seemed to be able to move between them and be comfortable in both ultimately."
These two seemingly disparate lifestyles are also contrasted memorably in the form of a vivid quote from Griffith on the front cover of the book — "I kill a man and most people forgive me. However, I love a man and many say this makes me an evil person." McRae elaborates on the context of this unforgettable line.
"He had a book with a close friend of his which came out in 2008. It was a taped interview, which I was subsequently able to listen to, and it just immediately for me distilled what his life was about.
"Yes, he did kill a man, and ultimately, all that was hard for him to forgive himself for, even if most people did forgive him and understood that he didn't actually mean for it to happen.
"But what was unforgiveable for so many people in his life, whether it was his own family, or just members of society, was that he was gay and people would consider that to be evil. And that was at the heart of his conflict with himself. He just found it so hard to understand that loving someone when it happened to be another man was considered to be worse than taking the life of someone else."
A Man's World: The Double Life of Emile Griffith is published by Simon and Schuster. More info here.