Liveblog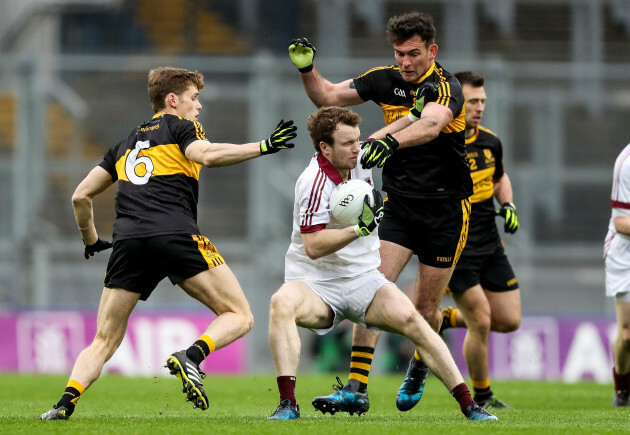 Source: Tommy Dickson/INPHO
All-Ireland senior club football final
Dr Crokes v Slaughtneil, Croke Park, 5pm
************************
Welcome to Croke Park for the main event as Dr Crokes and Slaughtneil bid for football glory.
Here's how Dr Crokes will start:
1. Shane Murphy
2. John Payne
3. Michael Moloney
4. Luke Quinn
5. David O'Leary
6. Gavin White
7. Fionn Fitzgearld
8. Ambrose O'Donovan
9. Alan O'Sullivan
10. Johnny Buckley
11. Gavin O'Shea
12. Brian Looney
13. Colm Cooper
14. Daithi Casey
15. Kieran O'Leary
The teams are lining up for the pre-match formalities and we'll be underway momentarily. Who do you fancy to win this?
And here's the Slaughtneil team:
Antoin McMullan
Francis McEldowney
Brendan Rodgers
Karl McKaigue
Paul McNeill
Chrissy McKaigue
Keelan Feeney
Patsy Bradley
Padraig Cassidy
Shane McGuigan
Paul Bradley
Meehaul McGrath
Christopher Bradley
Se McGuigan
Cormac O'Doherty
Brendan Rodgers is picking up Colm Cooper as expected. We're underway at HQ.
Dr Crokes 0-0 Slaughtneil 0-0
1 min – Chrissy McKaigue bombs forward and kicks an early wide for the Derry men.
Dr Crokes 0-0 Slaughtneil 0-1
2 mins – Shane McGuigan gives Slaughtneil the lead. Gavin O'Shea looks like he's starting at 11 but trying to drag Chrissy McKaigue into the wide channels when Crokes attack to leave a gap down the middle.
Dr Crokes 0-0 Slaughtneil 0-2
5 mins – Shane McGuigan kicks an early free wide. They've settled well and moments later Christopher Bradley gives them a two point lead.
Dr Crokes 0-1 Slaughtneil 0-2
6 mins – Brian Looney opens up Crokes' account after great approach play by Johnny Buckley. Crokes are aiming their kickouts at Buckley so far.
Dr Crokes 0-2 Slaughtneil 0-2
7 mins – Cooper swings over a free to level us up.
CHANCE! Gavin White races through from centre-back and drags his shot wide with the goal at his mercy. That would have been a glorious goal.
Dr Crokes 0-3 Slaughtneil 0-2
11 mins – Crokes lead for the first time today. Daithi Casey converts a free in front of the posts.
Slaughtneil are operating with a two-man full-forward line and Christopher Bradley is playing as a link man between them and the half-forwards.
Flag
GOAL! Padraig Cassidy rolls the ball into an empty net. Superb goal. Such an intelligent run there from the midfielder.
Cormac O'Doherty gave a brilliant lay-off to Cassidy there after a good kick-pass inside.
Patsy Bradley has gone down with an injury after sustaining a heavy bang from Fionn Fitzgerald.
Dr Crokes 0-3 Slaughtneil 1-3
16 mins – Slaughtneil are sitting deep and causing Crokes problems on the break. Bradley curls over a measure score to stretch their lead to three.
Dr Crokes 0-3 Slaughtneil 1-4
18 mins – McKaigue wins a free after a marvellous run forward and Paul Bradley sends it over.
Flag
GOAL! Cooper hits the net! Great run forward by Casey, who manages to turn the ball in the direction of Cooper. The Gooch doesn't miss from that range. Crokes trail by 1-3 to 1-4.
Dr Crokes 1-4 Slaughtneil 1-4
21 mins – Super game this. Casey's point from the right levels us up.
Cooper is the first player to score a goal against Antoin McMullan in the championship since 2015. It was quite the record!
Dr Crokes 1-4 Slaughtneil 1-5
25 mins – Corner back Francis McEldowney bombs on and slots one over. The Slaughtneil skipper leaves his team a point in front as we approach half-time.
Yellows for Cormac O'Doherty and John Payne for an off the ball incident.
Slaughtneil are setting up with 12 men protecting the scoring zone when Crokes attack.
We'll have three minutes of additional time.
Dr Crokes 1-6 Slaughtneil 1-5
30+2 mins – Another big run forward by Casey and Looney sends it over. Buckley collects the kickout and Looney applies the finish again.
Flag
RED CARD! Straight red for Padraig Cassidy who can have no complaints. He landed a nasty right punch into Kieran O'Leary's midriff after the play was stopped for a placed ball.
Flag
HALF-TIME: Dr Crokes 1-6 Slaughtneil 1-5
Source: Donall Farmer/INPHO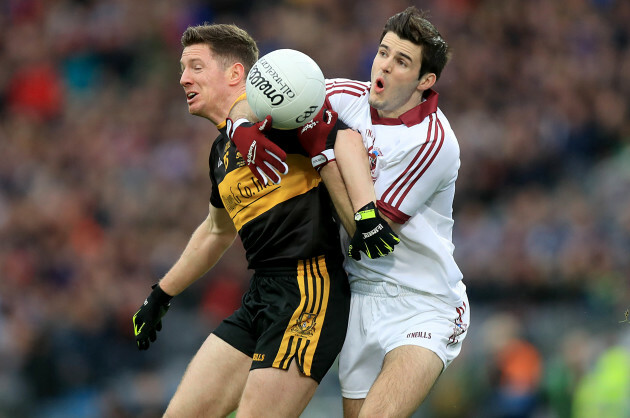 Source: Donall Farmer/INPHO
Today's attendance is 30,930.
We're back underway for the second-half. How will that red card affect Slaughtneil? We're about to find out.
Dr Crokes 1-6 Slaughtneil 1-5
32 mins – The Crokes forwards are doing a good job of fouling Slaughtneil when they try to come out with the ball in the full-back line.
Yellow cards for Shane McGuigan and Fionn Fitzgerald.
Dr Crokes 1-6 Slaughtneil 1-6
36 mins – A lot of niggly stuff going on as Slaughtneil are trying to run the ball and drawing fouls. Rodgers wins the free and the referee moves the ball forward after protests from Crokers. Paul Bradley applies the finish from the placed ball.
Dr Crokes 1-7 Slaughtneil 1-6
40 mins – A good free from Casey sends Crokes back in front.
Meanwhile, two subs are in for Crokes. Michael Burns replaces Alan O'Sullivan and Jordan Kiely comes in for Gavin O'Shea. Both players coming in were underage stars with the Kingdom.
We've had just two scores so far in this half, both from frees. Slaughtneil are understandably playing more defensive and trying to run the ball patiently and pick holes in the Kerry side's back line.
Dr Crokes 1-8 Slaughtneil 1-6
45 mins – Great score by Burns. That was a sweet strike.
Brian Cassidy comes in for Cormac O'Doherty on the Slaughtneil side.
Shane Doolan is on for David O'Leary as Crokes continue to run their bench and keep things fresh on the field.
Slaughtneil are being made work really hard for shooting opportunities and they look to be tiring out there. Crokes are making their strong bench count.
Dr Crokes 1-9 Slaughtneil 1-6
51 mins – Cooper curls over a free as Crokes extend their lead to three.
Dr Crokes 1-9 Slaughtneil 1-7
53 mins – Gerald Bradley comes in for Sé McGuigan. Paul Bradley connects well with a free to bring the gap back down to two.
Dr Crokes 1-9 Slaughtneil 1-7
55 mins – Goalkeeper Shane Murphy is summoned forward to take a free but it trails off wide. There's still life in Slaughtneil but they need scores to save the day.
Tony Brosnan comes in to replace Brian Looney for Crokes. Pasty Bradley comes back in wearing 29 after a change of jerseys.
Crokes are holding onto the ball now as they attempt to run the clock down.
Slaughtneil can't get their hands on the ball and we're into three minutes of added time. This is brilliant by Crokes but their opponents need to press up if they're going to win the ball back.
Eoin Brosnan makes an appearance off the bench for Casey. Christopher Brady comes on for Kieran O'Leary.
Flag
FULL-TIME: Dr Crokes 1-9 Slaughtneil 1-7
The Kerrymen have won the All-Ireland, their second ever title.
Contribute to this story: