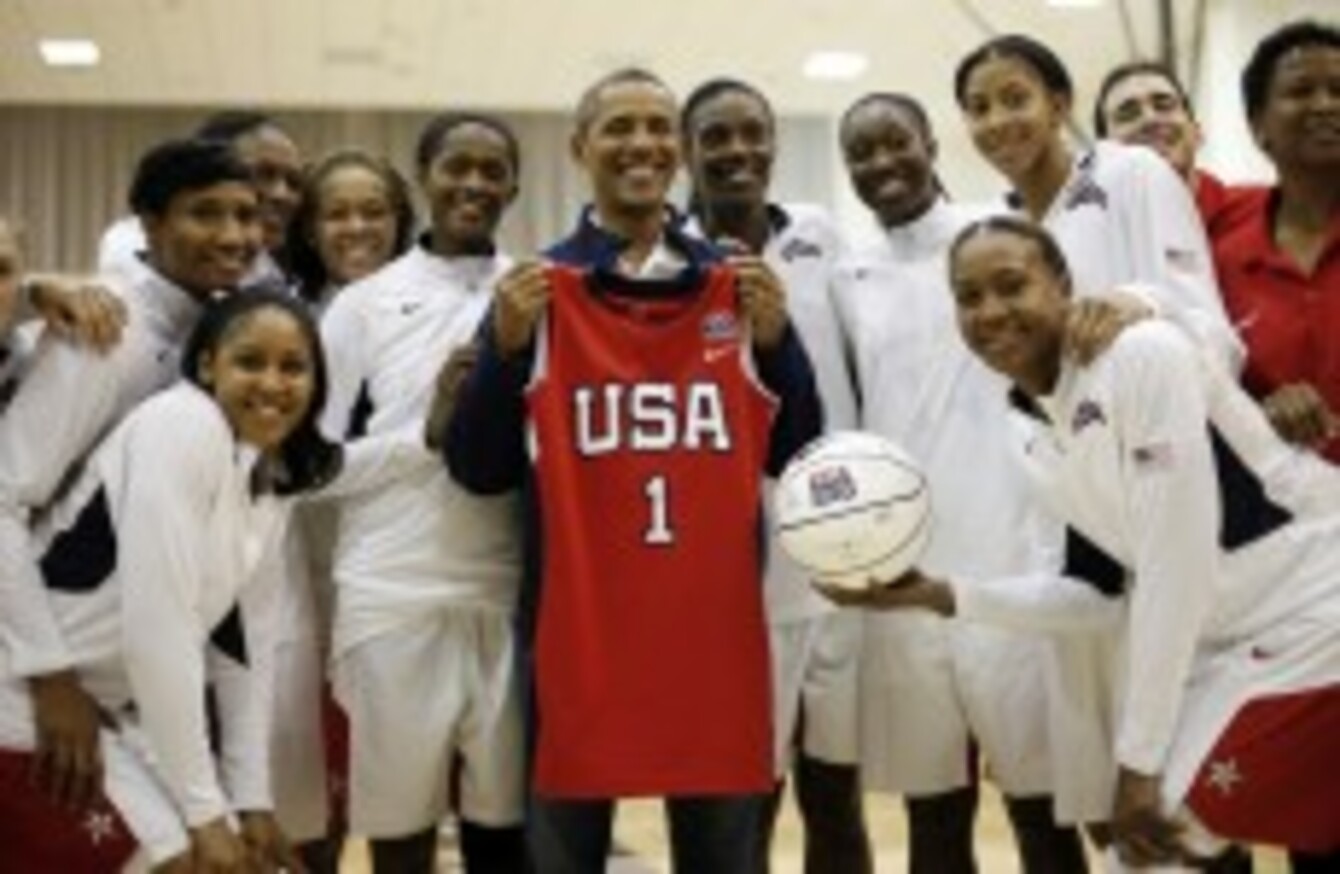 Obama posing with the Team USA women's players.
Image: Pablo Martinez Monsivais/AP/Press Association Images
Obama posing with the Team USA women's players.
Image: Pablo Martinez Monsivais/AP/Press Association Images
AMERICAN PRESIDENT BARACK Obama waded into the USA Olympic basketball debate Monday, saying the 1992 Dream Team with Michael Jordan and Charles Barkley would have beaten the 2012 Olympic team.
Obama said Monday he remembers a 1992 gold-medal winning USA team that looked unstoppable from the very first game.
"I got to go with the original Dream Team," said Obama during a halftime interview of the USA against Brazil exhibition game with American broadcaster ESPN.
"I suspect that Michael and Sir Charles would point out they were never down at any point in any of their games but this is a great team."
Obama got a bird's-eye view of the current USA national team Monday, sitting courtside at the Verizon Center arena with his family and Vice President Joe Biden.
Los Angeles Lakers star Kobe Bryant launched a debate recently when he said this year's Olympic team could have beaten the 1992 version which is known as the Dream Team because it included 11 future Hall of Fame players.
Jordan then scoffed at Bryant's boast, by saying "I absolutely laughed. For him to compare those two teams is not one of the smarter things he ever could have done."
Obama said the current team with Bryant and NBA finals MVP LeBron James would make its own mark on the Summer Games.
This is a great team with unbelievable talent," Obama said. "Kobe is a competitor so you expect him to do a little trash talking whenever the opportunity arises."
Obama and Biden sat down in their chairs to chants of "U-S-A" at the contest against Brazil. The game is a tune-up before the start of the London Games later this month.
Obama predicted the current Dream Team, even with all the injury problems they have had, would win the gold medal in London.
"No reason we shouldn't bring home the gold, we just have got to get focused," he said.
The USA got off to a slow start Monday. They were down 27-17 at the end of the first quarter before pulling away in the second en route to an 80-69 win. LeBron James led the Americans with 30 points and six rebounds.
Brazil came out with plenty of spark, jumping out to an early 10-point lead but then started turning the ball over in the second quarter as the USA seized control of the game.
"You forget how many players from Brazil are in the NBA," Obama said. "They got a good team and it took awhile for our guys get into a rhythm. They are so much deeper. You get a sense they are going to take over in the second half."
Obama is using the Olympics to show his patriotic side as he continues his 2012 re-election campaign.
The London Games is an opportunity for Obama's Republican rival, Mitt Romney, to talk up his leadership role during the 2002 Salt Lake City Olympics.
Obama is an avid basketball fan and coaches his daughters, Malia and Sasha, in their youth league games.
"Your heart is out there on the floor with them," he said of coaching the girls. "I get more excited than I ever did when I was playing.
"What you want to see in your kids — even if they are not going to be pro — is to take something seriously and learn how to put a lot into it."
-AFP