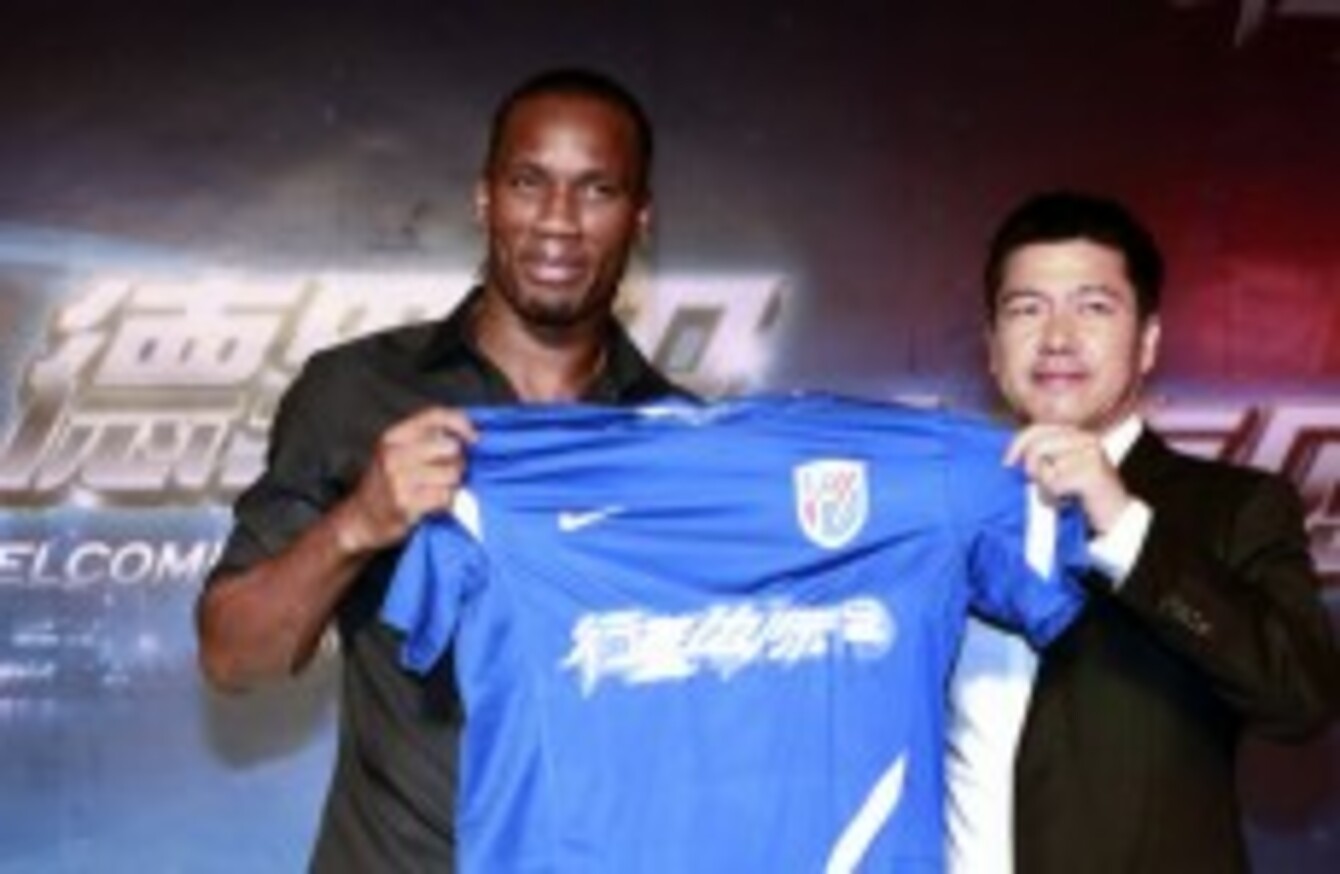 Image: Eugene Hoshiko/AP/Press Association Images
Image: Eugene Hoshiko/AP/Press Association Images
IVORY COAST STRIKER Didier Drogba was given a hero's welcome as he arrived in China on Saturday, to start a two-and-a-half year contract that is expected to make him one of football's highest-paid players.
Hundreds of fans, many clad in "Drogba 11″ shirts, greeted the former Chelsea star at Shanghai's Pudong airport, some carrying bouquets of flowers and others brandishing his name in English on placards.
"Let me tell you something, now we have Drogba, Shanghai is not a common city anymore, Shanghai is a world mega-city now," one fan, Lu Xiaobo, said after Drogba walked past the crowd, signing autographs and shaking hands.
The 34-year-old has signed with Shanghai Shenhua on a deal that Chinese and British media have said is worth 200,000 pounds ($314,000) a week, which would make him the highest-paid player in China and in the top bracket globally.
He is the latest in a fast-growing number of foreign stars to have been lured to China on enormous salaries that are typically funded by Chinese business titans.
Drogba will join French striker Nicolas Anelka, who signed with Shenhua in January on a deal believed to be nearly as high.
The fearsome strikers will work under former Argentine coach Sergio Batista, who joined the club in May. Shenhua is bankrolled by high-profile video-game tycoon Zhu Jun.
In the far south of the country, World Cup-winning coach Marcello Lippi is at the helm of ladder-leading Guangzhou Evergrande, and Nigerian striker Ayegbeni Yakubu has just signed with cross-town rival Guangzhou R&F.
Shanghai Shenhua play Beijing Guoan on Saturday night at home in what is regarded as one of the biggest fixtures on the Chinese domestic football calendar.
Drogba will not play on Saturday night but is expected to appear on the pitch to greet fans. He is also due to hold a press conference on Saturday afternoon.
Drogba will likely play his first game for his new side next week when Shenhua play Changchun away in the Chinese FA Cup, according to local press reports.
He and former team-mate Anelka face an uphill battle to redeem their new club's season. Half way through, Shanghai Shenhua sit just one point off the bottom of the 16-club Chinese Super League.
Drogba may be approaching the twilight of his career but he showed he is still a lethal striker with a match-winning role for Chelsea in the Champions League final in May.
The imposing target man said when the Shanghai deal was signed last month that he was excited about coming to China.
"I am looking forward to a new challenge and to experiencing a new culture, and I am excited about the new developments in the Chinese Super League," he said.
"I (also) hope to help promote Chinese football around the world and further improve the links between China and Africa."
Drogba scored 157 goals in 341 appearances for Chelsea after moving from Marseille in 2004.
The Chinese Football Association believes the domestic game, which has endured years of corruption and repeated failures by the national team, is set to take off thanks to the infusion of expensive talent such as Drogba.
"The high-level world-class players and coaches will be able to provide a learning opportunity to our domestic players and coaches," CFA spokesman Dong Hua told AFP.
"I hope our coaches and players can improve through this exchange and enhance the level of Chinese football as a whole."
However, critics say the money is being wasted, with the foreigners sometimes getting paid more than the salaries of the rest of the players combined, while grassroots football is being ignored.