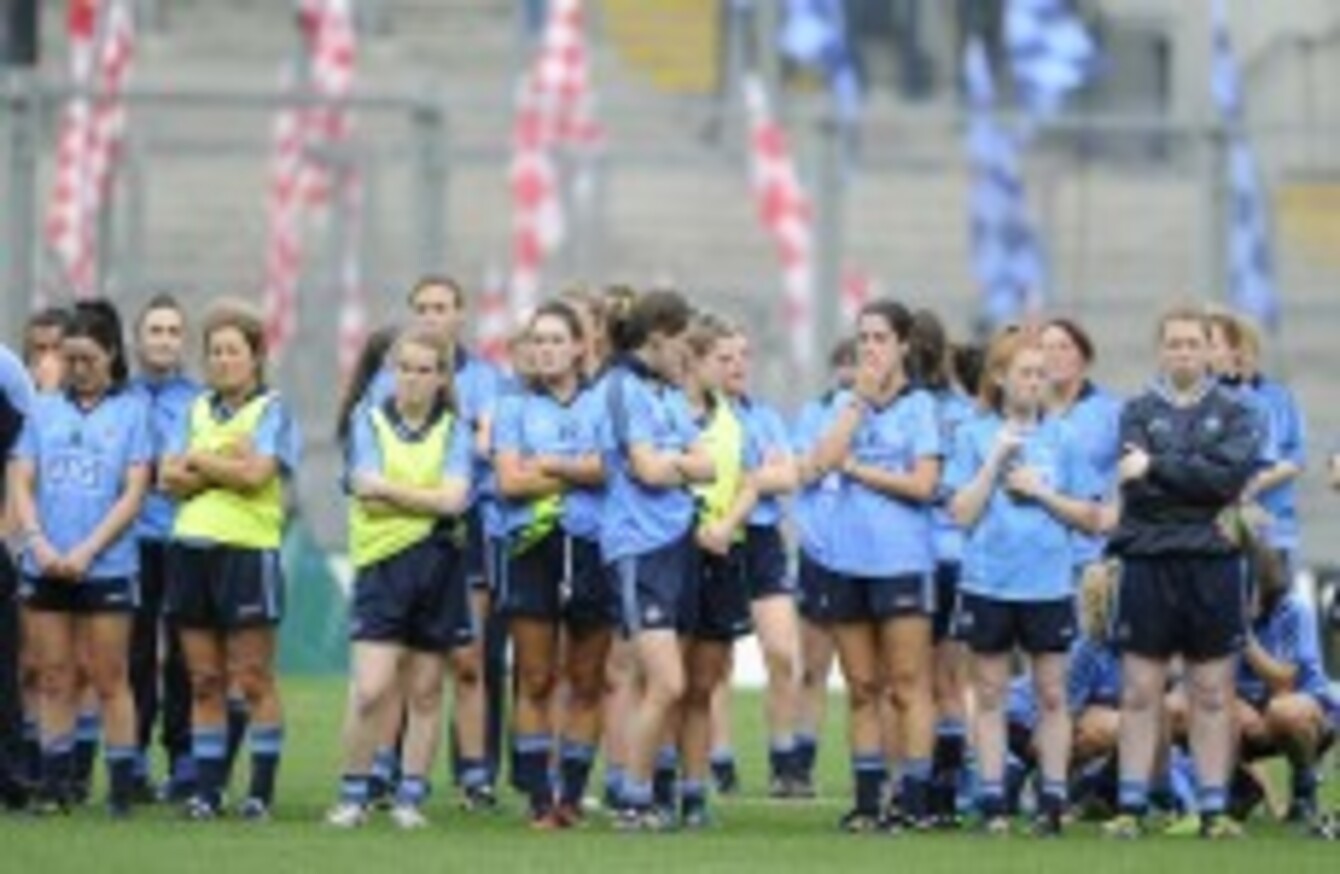 Cork beat Dublin 2-13 to 2-12 in the 2014 decider.
Image: Tommy Grealy/INPHO
Cork beat Dublin 2-13 to 2-12 in the 2014 decider.
Image: Tommy Grealy/INPHO
GREGORY MCGONIGLE MUST be sick at the sight of Cork's red army.
For the fourth time in five seasons, McGonigle will lead a team to Croke Park for the All-Ireland ladies senior football final on Sunday — and see the irrepressible Eamonn Ryan staring back at him from the opposite bench.
To this point the rivalry has been lopsided, played out in increasingly heartbreaking circumstances for the Derry native.
His first shot at toppling the Rebel dynasty ended in a two-point defeat as Monaghan boss in 2011.
When the Farney had their chance again two years later the margins were even tighter with only a late Valerie Mulcahy point separating the sides and sealing another three-in-a-row for Cork.
Last year was the most cruel of all. McGonigle said goodbye to Monaghan after three years in charge and moved to Dublin, guiding the Girls in Blue back to the decider for the first time since their All-Ireland win in 2010.
Ten points up with 20 minutes to play, Dublin were on the cusp of doing what no county has ever done — sending the Cork ladies home on finals day with an empty space in the luggage rack where the Brendan Martin Cup usually sits.
"At no stage did we think we were 10 points better," McGonigle says as he reflects on that frantic finale which saw Cork come back from the dead to pull off the great escape.
Parts of our play we would have been happy with, parts of our play we wouldn't have been happy with. Cork had kicked a lot of wides in the first-half; we had been very economical as regards the chances we had created and converted.
"A big change for them was moving Angela Walsh to midfield and they sort of got the run on us and subs coming in, Eimear Scally and Rhona Ní Bhuachalla.
"I think there was about three (minutes) to go when they got level and we went and kicked the next point through Siobhan Woods. I would have probably thought at that point that we had weathered the storm but Cork being Cork, they put us back to the pin of our collar."
Heartbreak doesn't come close to describing the feeling, but McGonigle rallied his troops who responded with a fourth straight Leinster title — and then saw off Monaghan and Armagh to earn a chance to make amends this Sunday.
"Obviously October wasn't a great month, but at the same time, I'm a firm believer that there's far worse things that happen in life than losing football matches.
"The good thing about our players is that they were a seriously committed group. Even the girls that went travelling or whatever, young girls went on a J1 this year, they still stayed for the 21s.
To me, if it wasn't a strong core group there, then it may have hurt the players more than it did. There's still that bit of hurt obviously but we're all healthy, nobody passed away and we've all had worse things happen to us in our life. I'd always have a very positive outlook on life.
While the crowd in Croke Park this weekend won't match the full house that watched Dublin beating Kerry in the men's decider, organisers would love to exceed the 30,710 that watched the Women's FA Cup final earlier this summer.
When it comes to the work that goes in behind the scenes, McGonigle insists that there isn't that much of a gap between the Boys and Girls in Blue.
"We would like to believe (so). Obviously we don't have 19 in our backroom team or whatever.
"If you look at nutrition, obviously we don't have a full-time nutritionist working with us but as regards we have a female in with us, Crionna Tobin, who would have work with Dublin hurlers previously and would have given talks and would have given girls stuff to do.
"We would have a nutrition page where the girls share their meals as regards what they're eating during the day. Again, Crionna would have an input into that, she'd be advising people to get in more carbs during the weeks of matches.
"Strength and conditioning, we'd be based out of DCU where the Dublin hurlers were as well. So all that sort of side of it.
But the only unfortunate thing is that Dublin girls don't be getting any mileage or stuff so you're asking girls to put in four to five nights a week and there's possibly not as much profile out of it either.
"But in fairness the girls don't see it as a sacrifice. They see it as an honour to get picked to represent Dublin and wear the Dublin jersey and so far we've had a reasonably successful season."