Liveblog
COULD DUBLIN COMPLETE a three-in-a-row of football league titles or would Cork win back their first crown since 2012? We were live from Croke Park will all the action from this year's Allianz decider which throws-in at 4pm.
Get in touch in the usual ways. Tweet us @The42GAA, find us on Facebook, send your emails to fintan@the42.ie or leave a comment below.
Result: Dublin 1-21 Cork 2-7
Let's get set for the big one in Croke Park then, shall we?
We've already seen Offaly, Armagh and Roscommon crowned league champions this weekend. Will Dublin clinch three-in-a-row in Division 1 or can Cork succeed for the first time since 2012? Throw-in is 4pm and is fast approaching.
Team news and there's one late Cork change with Noel Galvin in for Tom Clancy (Clonakilty) for Cork.
Dublin
1 Stephen Cluxton (Parnells)
2 Philip McMahon (Ballymun Kickhams)
3 Rory O'Carroll (Kilmacud Crokes
4 Jonny Cooper (Na Fianna)
5 James McCarthy (Ballymun Kickhams)
6 Cian O'Sullivan (Kilmacud Crokes)
7 Jack McCaffrey (Clontarf)
8 Denis Bastick (Templeogue Synge Street)
9 Brian Fenton (Raheny)
10 Paul Flynn (Fingallians)
11 Ciaran Kilkenny (Castleknock)
12 Diarmuid Connolly (St Vincents)
13 Dean Rock (Ballymun Kickhams)
14 Kevin McManamon (St Judes)
15 Bernard Brogan (Oliver Plunketts Eoghan Ruaidh)
Cork
1. Ken O'Halloran (Bishopstown)
18. Noel Galvin (Ballincollig)
3. Michael Shields (St. Finbarr's)
4. James Loughrey (Mallow)
5. Jamie O'Sullivan (Bishopstown)
6. Conor Dorman (Bishopstown)
7. Tomás Clancy (Fermoy)
8. Eoin Cadogan (Douglas)
9. Fintan Goold (Macroom)
10. Kevin O'Driscoll (Tadhg MacCarthaigh)
11. John O'Rourke (Carbery Rangers)
12. Colm O'Driscoll (Tadhg MacCarthaigh)
13. Colm O'Neill (Ballyclough)
14. Mark Collins (Castlehaven)
15. Brian Hurley (Castlehaven)
The Cork subs are:
Subs:
16. Paddy O'Shea (St. Vincent's)
17. Stephen O'Donoghue (Ballincollig)
19. Stephen Cronin (Nemo Rangers)
20. Brian O'Driscoll (Tadhg MacCarthaigh)
21. Daniel Goulding (Éire Óg)
22. Paul Kerrigan (Nemo Rangers)
23. Donal Óg Hodnett (O'Donovan Rossa)
24. John Hayes (Carbery Rangers)
25. Barry O'Driscoll (Nemo Rangers)
The Dublin subs are:
16. Sean Currie (Ballymun Kickhams)
17. Paddy Andrews (St Brigid's)
18. Tomas Brady (Na Fianna)
19. David Byrne (Naomh Olafs)
20. Cormac Costello (Whitehall Colmcille)
21. Darren Daly (Fingal Ravens)
22. Nicky Devereux (Ballinteer St Johns)
23. Michael Fitzsimons (Cuala)
24. Emmett Ó Conghaile (Lucan Sarsfields)
25. Philip Ryan (St Brigids)
26. John Small (Ballymun Kickhams)
Late Dublin change, Tomas Brady in for Paul Flynn.
Armagh's Padraig Hughes is the referee for this one.
Dublin 0-1 Cork 0-0
Eoin Cadogan is dispossessed, Dublin attack at pace through Diarmuid Connolly and his delivery finds Kevin McManamon who points.
Dublin 0-2 Cork 0-0
Philly McMahon delivers in a good ball on this occasion to Bernard Brogan who transfer to Dean Rock and he clips over a point.
CLOSE! Jamie O'Sullivan bangs in a long ball for Cork where Brian Hurley's audacious flick nearly yields a goal.
Diarmuid Connolly was down receiving treatment, looks he was hit with an elbow by Cork's Jamie O'Sullivan judging by the images on our screen here. He's back up now and play resumes.
Dublin 0-4 Cork 0-0
It's a lightning start here by Dublin. Dean Rock taps over a free and then Ciaran Kilkenny surges clear before fisting over another point. Cork can't get their hands on their own kickouts so far.
Paul Kerrgian in for Fintan Goold as a blood sub for Cork.
Dublin a little wasteful in front of goal in the last few minutes but they're still four clear. Cork bring back on Goold for Kerrigan.
Dublin 0-5 Cork 0-0
No mistake on this occasion as Rock converts a Dublin free after Kilkenny was fouled. Cork could really do with a score here to settle them.
Dublin 0-5 Cork 0-1
And Cork finally get that point they've been searching for. It's a simple free tapped over in front of the Hill by Colm O'Neill after Conor Dorman was fouled.
Dublin 0-6 Cork 0-1
Dublin continue to set the tempo. Bernard Brogan fouled on this occasion and it's Rock who does the needful from the free. They've hit five wides as well but definitely the better team so far.
Cork not getting it together up front as Brian Hurley's point effort drifts wide.
Dublin 0-7 Cork 0-1
Cork coughing up possession far too cheaply. Conor Dorman just saw his attempted pass blocked down by Brian Fenton. Dublin raided swiftly and it was Philly McMahon who blasted over a point.
Dublin 0-7 Cork 0-2
Colm O'Neill relieves some of the pressure on Cork as he arrows over a free after Kevin O'Driscoll was fouled.
Sub: Michael Fitzsimons in for Rory O'Carroll in the Dublin defence while Cork bring in Paul Kerrigan for Conor Dorman.
Dublin 0-7 Cork 0-3
O'Neill taps over another free for Cork, he was fouled himself on this occasion by his new marker Fitzsimons.
Cork aren't letting Dublin get too far ahead now, they'll hope to still be in this game by half-time.
Dublin 0-7 Cork 0-4
Again Fitzsimons fouls O'Neill, this time for a push on the back, and Hurley taps over the resultant free. Dublin three clear now.
Dublin 0-8 Cork 0-4
Dublin restore their double score advantage. McManamon is the creator and Kilkenny the finisher. Four points the margin once more.
Dublin 0-9 Cork 0-4
Bernard Brogan points and even better for Dublin, they've just been awarded a penalty after Tomas Brady was fouled.
Yellow cards for Cork's Michael Shields and Ken O'Halloran.
Goal for Dublin from Diarmuid Connolly!
Dublin 1-9 Cork 0-4
We might have said Cork were hanging in there but they look to be in trouble now. Connolly finishes clinically to the net and now that gap is a yawning one as they go eight clear.
Eight first-half wides as well for Dublin we should add.
Dublin 1-9 Cork 0-5 – half-time
A late Colm O'Neill pointed free for Cork before the break after Brian Hurley was fouled. But it's Dublin in the ascendancy, seven points clear and halfway there to clinching a third successive league title.
Here's the first-half scorers:
Dublin: Dean Rock  0-4 (0-4f), Diarmuid Connolly 1-0 (1-0 pen), Ciaran Kilkenny 0-2, Philly McMahon, Kevin McManamon, Bernard Brogan 0-1 each.
Cork: Colm O'Neill 0-4 (0-4f), Brian Hurley 0-1 (0-1f).
Back under way here for the second-half.
Half-time change with Dublin bringing in Paddy Andrews for Tomas Brady.
Sub: Cork forced into an early second-half change as Daniel Goulding comes in for the injured John O'Rourke.
How did the ball stay out of the Dublin net there?! The ball pings around the goalmouth a few times, Daniel Goulding hits the bar after Colm O'Neill plays it across and eventually it rolls loose and wide.
Dublin 1-10 Cork 0-5
Dublin nearly get through for a goal but Jack McCaffrey's shot hits the post. From the rebound Dublin recycle the ball and McCaffrey pops over a point.
Dublin 1-11 Cork 0-5
Rock with another point for Dublin, starting to look a little ominous for Cork as they trail by nine.
Dublin 1-13 Cork 0-5
It's Rock again and the gap is out to ten now. Cork can't win any ball on their quickest. Make that 11 as Brady points.
Sub: Paddy Andrews comes in for Tomas Brady for Dublin.
Dublin 1-15 Cork 0-5
Rock is the tormentor in chief of Dublin as he grabs his seventh point of the day and Bernard Brogan has just added another. The three-in-a-row looks firmly on the cards for Jim Gavin's side.
Goal for Cork from Mark Collins!
Dublin 1-15 Cork 1-5
Some respite for Cork as they get off the mark in the second-half. Brian Hurley prises open the Dublin defence by playing in his Castlehaven clubmate Collins and he rolls a shot low past Stephen Cluxton. Still ten points between them.
Sub: Barry O'Driscoll comes in for Cork for Colm O'Driscoll.
Dublin 1-16 Cork 1-6
Dublin's dominance in the scoring stakes is restored as Paddy Andrews grabs his first point of the day but that's cancelled out at the other end from Colm O'Neill.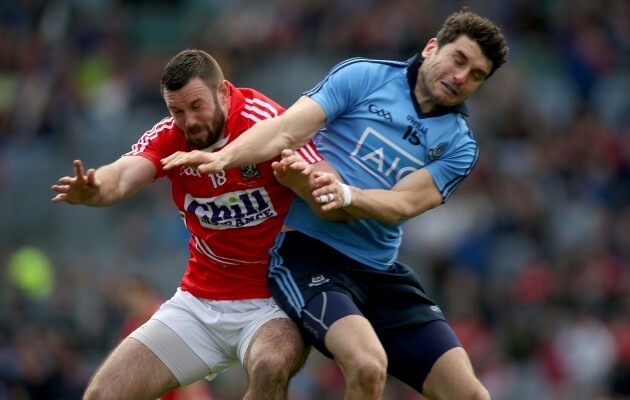 Dublin's Bernard Brogan and Cork's Noel Galvin. Source: Donall Farmer/INPHO
Sub: Donal Óg Hodnett on for Cork for Jamie O'Sullivan, Emmett O Conghaile comes in for Dublin for Denis Bastick.
Dublin 1-17 Cork 1-6
Dean Rock taps over another close-range free, that's 0-8 for him now today.
Sub: Cork bring in John Hayes for Mark Collins.
Sub: Dublin withdraw Diarmuid Connolly as Cormac Costello comes in.
Dublin 1-17 Cork 1-7
Colm O'Neill slots over a '45, that's 0-6 for him today but it doesn't look like Cork can generate enough scoring heat to halt Dublin.
Dublin 1-18 Cork 1-7
This looks a done deal. Paddy Andrews with his second point of the day as Dublin sail eleven clear.
Sub: Philly McMahon comes off for Dublin with John Small introduced.
Sub: Stephen Cronin is in for Cork for Noel Galvin.
Dublin 1-20 Cork 1-7
That's 20 white flags now raised by Dublin. Ciaran Kilkenny from play and Dean Rock from a free adding the finishing touches to what's been a dominant display.
Dublin 1-21 Cork 2-7
Late consolation goal for Cork from sub Daniel Goulding.
Man-of-the-match goes to Dublin's Jack McCaffrey.
Dublin are Division 1 football league champions
Full-Time: Dublin 1-21 Cork 2-7
And that's it, confirmation of a very impressive Dublin victory. They compete three-in-a-row under Jim Gavin's stewardship. That all from us, we'll be back later with more analysis.
Contribute to this story: