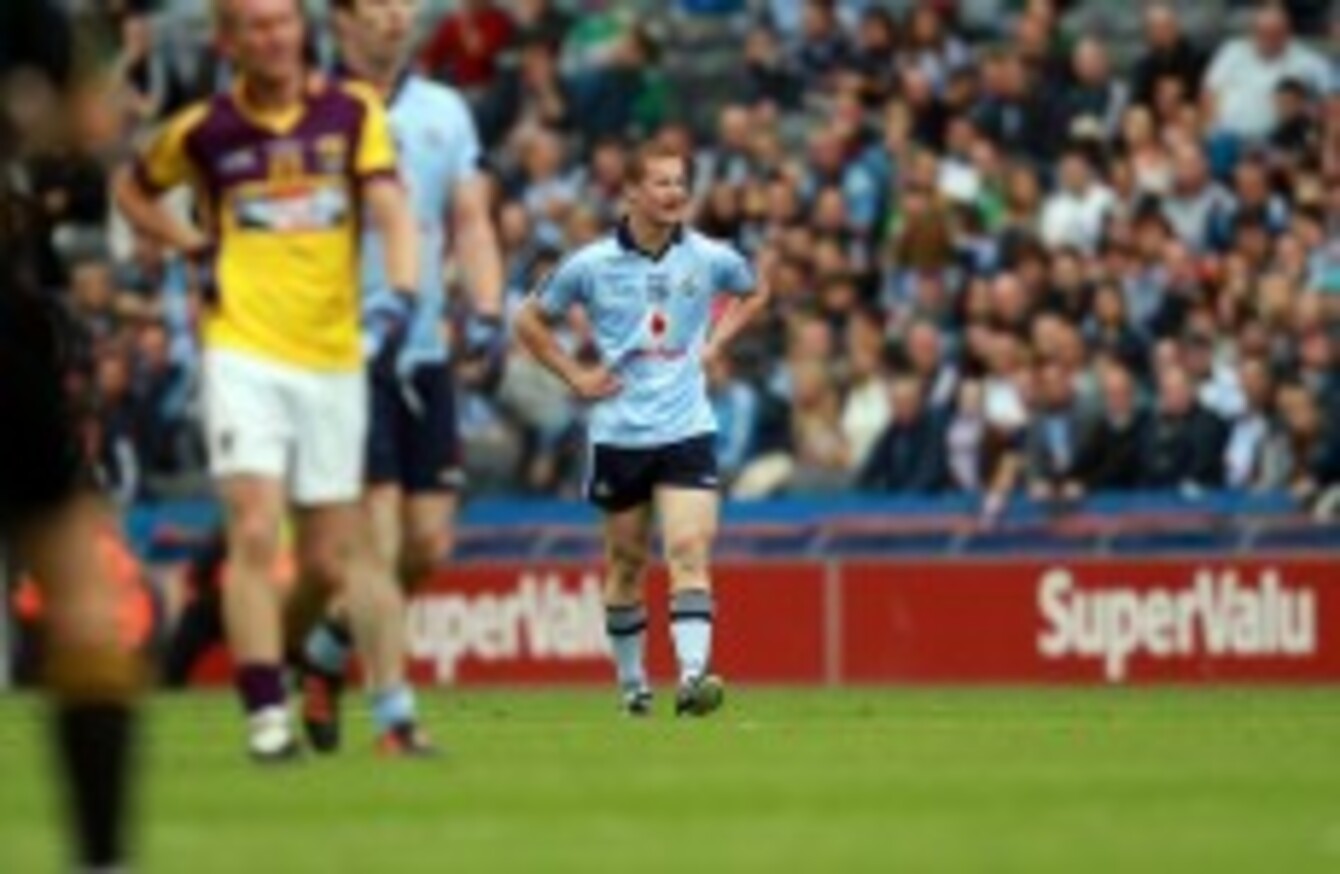 Impact: Ciaran Kilkenny got a short run-out in the Leinster semi-final against Wexford.
Image: ©INPHO/Donall Farmer
Impact: Ciaran Kilkenny got a short run-out in the Leinster semi-final against Wexford.
Image: ©INPHO/Donall Farmer
IT WAS A different type of buzz that flitted across Hill 16 in the lead-up to Sunday's Leinster SFC football final between Dublin and Meath. It wasn't the giddy nervousness which usually precedes a heavyweight showdown between two old provincial foes. Strangely, it focused on the team sheets.
With Diarmuid Connolly suspended following his sending off against Wexford and midfielder Michael Dara MacAuley named in an unorthodox full-forward role, the whispers suggested that Dubs boss Pat Gilroy might be about to pull a fast one and spring the capital's rising star Ciaran Kilkenny into Croker for a first Championship start.
It didn't happen — that's not Gilroy's style — but the fact that Dublin fans considered, accepted and even encouraged Kilkenny's introduction in some cases shows the esteem in which the 19-year-old is already held.
Along with Jack McCaffrey and Emmet O'Conghaile, Kilkenny is one of three U21 players brought onto the senior panel this season to strengthen the Dubs' bid to win back-to-back All-Ireland titles.
U21 selector Declan Darcy, no stranger to Championship Sundays in the blue jersey himself, feels that the trio could yet have a significant impact.
"They'll add a different attitude and they'll definitely make fellas look over their shoulder because these guys are not going in there just to be on the panel," D'Arcy told TheScore.ie yesterday.
Be part
of the team
Access exclusive podcasts, interviews and analysis with a monthly or annual membership.
Become a Member
"They want to get onto the Dublin team and win. That's the style of them. That's the type of player they are.
They're going to influence training and they're going to push up the standards and I think that needed to happen after last year, that fellas might have thought they needed to go through the motions again after last year but now if they're looking over their shoulder and seeing some young lad like Ciaran Kilkenny, everyone knows he could make his debut starting at some stage. The first six forwards are not sure of their place.
It was a bit of a surprise, Darcy added, that Kilkenny didn't feature at all in Sunday's win against the Royals but when Gilroy calls on him, the youngster will be ready.
"Obviously we'd like to keep him and make sure that he's ready when he does come but I still think he has everything in his game to influence a big game in Croke Park. I think he has the mental application for that.
"I think they could be blooded but at the same time, Pat's very much aware of where he's at with it and I don't think any of the three kids… I think with their application towards the game they could be put in at any stage. Now they're still young and they've an awful lot to learn but they're at that level I feel that they could come in at some stage."
Before long it may turn out to be a case of use 'em or lose 'em for Gilroy. Aussie Rules clubs have not been shy in making their admiration for the young trio known but Darcy feels that life Down Under may not be as glamorous as it seems from this distant remove.
I'm not too sure the Australian thing is everything that it's made out to be. There's a lot of permutations that have to fall for fellas to actually enjoy what they're going to do.

He [Kilkenny] would probably like to go and taste it and see what it's about but I'm not so sure it's going to be a long-term situation. Hopefully not from a Dublin point of view because the three lads, I'd say, would be all touted to go. It'd be be huge loss if we lost any of the three.