1 June: Leinster SFC quarter-final, Croke Park
Dublin 1-22 Westmeath 0-9
JIM GAVIN'S MEN got off to a rip-roaring start and led 0-8 to 0-0 after 19 minutes. John Heslin and Denis Glennon did their best to get Westmeath back into the contest but they closest they managed to gap by was five points.
Bernard Brogan scored seven points for Dublin and a late goal by Paddy Andrews only served to highlight the gap in class between the two sides.
Scorers for Dublin: Bernard Brogan 0-7 (0-5f), Paddy Andrews 1-3, Paul Flynn, Diarmuid Connolly 0-3 each, Dean Rock 0-2 (0-1f), Cian O'Sullivan, Paul Mannion, Jack McCaffrey, Ciaran Kilkenny 0-1 each.

Scorers for Westmeath: John Heslin 0-5 (0-5f), Denis Glennon 0-2, Kieran Martin, Denis Corroon 0-1 each.
30 June: Leinster SFC semi-final, Croke Park
Dublin 4-19 Kildare 1-9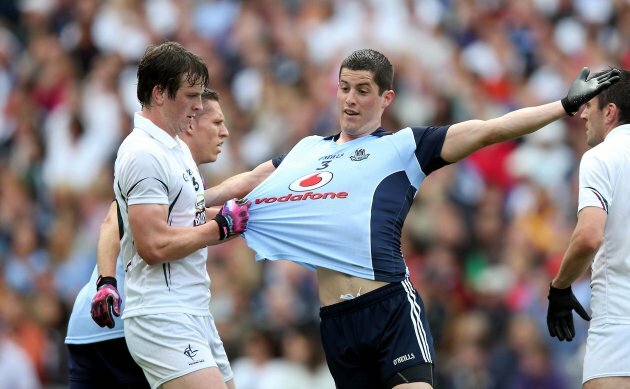 Rory O'Carroll with Paddy Brophy of Kildare. INPHO/Donall Farmer
The goals were beginning to flow now and Dublin put Kildare to the sword and won at a canter. Brogan, Eoghan O'Gara, Diarmuid Connolly and Paul Mannion all hit the net while goalkeeper Stephen Cluxton chipped in with four 45s.
The 19-point gap at the final whistle was all the more stark as the Lilywhites had actually romped into a 1-2 to 0-0 lead after eight minutes. The tide turned significantly blue from the moment Mannion got The Dubs' first goal.
Scorers for Dublin: Eoghan O'Gara 1-2, Paul Mannion, Bernard Brogan 1-1 each, Stephen Cluxton (0-4 '45), Ciaran Kilkenny 0-4 each, Diarmuid Connolly 1-0, Dean Rock 0-2 (0-2f), Ger Brennan, Paddy Andrews 0-1 each.

Scorers for Kildare: Paddy Brophy 1-1, Eoghan O'Flaherty 0-3 (0-1f), Paul Cribbin, Johnny Doyle (0-1f) 0-2 each, Sean Hurley 0-1.
14 July: Leinster SFC final, Croke Park
Dublin 2-15 Meath 0-14
Another slow start for Dublin and one that stretched until half-time. Stephen Bray and Michael Newman were to the fore as the Royal County led by two at the break.
Paul Flynn's goal gave Dublin some hope and Cluxton was needed to stead the ship with long-range efforts. Bernard Brogan struggled to make an impact but Mannion's late goal gave his side a cushion going into the final stages.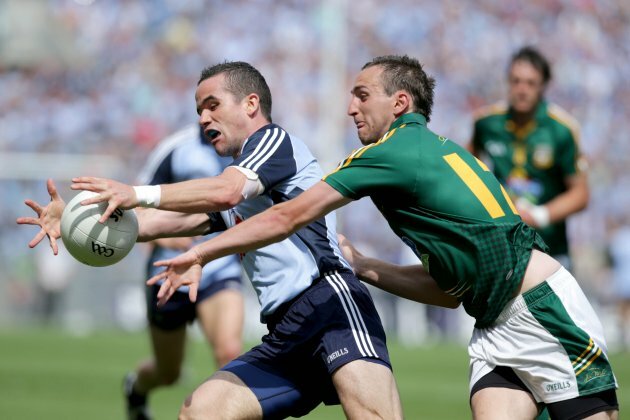 Meath's Graham Reilly with Ger Brennan. INPHO/Morgan Treacy
Scorers for Dublin: P Mannion 1-4 (2f), P Flynn 1-1, C Kilkenny, S Cluxton (2f, 1 45') all 0-3, D Rock 0-2 (1f), D Connolly, B Brogan all 0-1.

Scorers for Meath: M Newman 0-8 (6f), E Wallace, S Bray all 0-2, B Meade, J Sheridan all 0-1.
3 August: All-Ireland SFC quarter-final, Croke Park
Dublin 1-16 Cork 0-14
Dublin's need for goals almost proved their undoing against Cork as they spurned several chances for simple points by going for the white whale scores. The Rebels edged ahead midway through the first half but scores from Bernard Brogan and Diarmuid Connoll made it 0-9 0-7 at the break.
The Dubs were, once again, indebted to Cluxton's scoring contributions from the placed ball and Jack McCaffrey put his team four clear with a well-taken goal. Subs Dean Rock and Kevin McManamon hammered in the final nails as Cork were buried.
Scorers for Dublin: S Cluxton 0-6 (3fs, 3 45s), Jack McCaffrey 1-0, Paul Flynn 0-2, Dean Rock 0-2, Ciaran Kilkenny 0-2 ,MD MacAuley 0-1, Kevin McManamon 0-1, Denis Bastick 0-1, Bernard Brogan 0-1f.

Scorers for Cork: Daniel Goulding 0-5 (2fs, 145), Brian Hurley 0-3, Mark Collins 0-2 (1f), Ciaran Sheehan 0-1, John O'Rourke 0-1, James Loughrey 0-1, Damien Cahalane 0-1 (0-1 '45).
Paul Mannion is tackled by Thomas Clancy of Cork. INPHO/Ryan Byrne
1 September: All-Ireland SFC semi-final, Croke Park
Dublin 3-18 Kerry 3-11
In a pulsating encounter that was described as 'game of the decade' by many that were lucky enough to watch it, Dublin scored 2-2 in the final five minutes. Gavin's troops were slow out of the blocks and trailed 2-2 to 0-3 after 12 minutes.
Mannion got a goal back before James O'Donoghue slotted home from the penalty spot to put The Kingdom in charge. Bernard Brogan was back on form and Dean Rock was making another telling contribution off the bench. Kevin McManamon, the Kerry "heartbreaker" from 2011, rasped in a crucial goal late on before O'Gara compounded The Kingdom's misery.
Scorers for Dublin: B Brogan 0-6 (2f), D Connolly 0-4 (1f), P Mannion, K McManamon, E O'Gara all 1-0, D Rock 0-2, MacAuley, O'Sullivan, Kilkenny, Cluxton (1f), Andrews, McMahon all 0-1.

Scorers for Kerry: J O'Donoghue 2-3, Cooper 0-4 (2f), D Walsh 1-0, P Galvin 0-2, Declan O'Sullivan, Darran O'Sullivan all 0-1.
22 September: All-Ireland SFC final, Croke Park…. to be decided.