Liveblog
Result: Dublin 2-14 Kildare 0-17
************
Afternoon all and welcome to Navan. We're building up to the 2016 EirGrid Leinster U21 football final as reigning champions Dublin face Kildare in a repeat of last year's decider.
Here's the teams named to start, we'll let you know if there's any pre-match changes.
Dublin
1. Lorcan Molloy (St Annes)
2. Eoin Murchan (Na Fianna)
3. Martin Cahilan (Cuala)
4. Eoin Smith (Skerries Harps)
5. Glenn O'Reilly (Na Fianna)
6. Sean McMahon (Raheny)
7. Declan Monaghan (Clontarf)
8. Andy Foley (Clontarf)
9. Killian Deeley (Na Fianna)
10. Brian Howard (Raheny)
11. Michael Deegan (Donaghmore-Ashbourne)
12. Cillian O'Shea (Kilmacud Crokes)
13. Chris Sallier (Thomas Davis)
14. Con O'Callaghan (Cuala)
15. Darragh Spillane (Cuala)
Kildare
1. Declan Campbell (Raheens)
2. Eoghan Bateman (Naas)
3. Darren Maguire (Maynooth)
4. Paul Mescall (Maynooth)
5. Ryan Houlihan (Moorefield)
6. Shea Ryan (Sarsfields)
7. Brian Byrne (Naas)
8. Luke Flynn (Johnstownbridge)
9. Paschal Connell (Athy)
10. Conor Hartley (Sarsfields)
11. Barry Kelly (Athy)
12. Mark Sherry (Two Mile House)
13. Ben McCormack (Sarsfields)
14. Chris Healy (Two Mile House)
15. Neil Flynn (Maynooth)
Carlow's John Hickey is the referee here.
Two late changes for Dublin with Colm Basquel and Donal McIlghorm in for Eoin Murchan and Michael Deegan.
And two changes to Kildare team with Con Kavanagh and Cian McMonagle in for Barry Kelly and Mark Sherry.
Nearly approaching throw-in now in Páirc Tailteann.
Early scoring chance for Dublin from a free but Con O'Callaghan's effort tails wide.
Con O'Callaghan has been in terrific form for Dublin so far this season but his accuracy has been off early so far here. He's just missed his second free.
Dublin have been forced into an early change as Cillian O'Shea comes off after shipping a heavy knock with Ballyboden St-Enda's All-Ireland club winner Shane Clayton coming on. Not a bad option that Dessie Farrell can call upon.
Kildare 0-1 Dublin 0-0
5 mins – No mistake at the other end by Kildare's Neil Flynn who despatches his first chance from a free over the bar.
Kildare 0-2 Dublin 0–0
7 mins – That's an outstanding point by Kildare's Ben McCormack. He shot over from play despite being under huge pressure from Clayton.
Kildare 0-3 Dublin 0-1
10 mins – Dublin needed a point to settle them and Colm Basquel provides it.
Kildare 0-3 Dublin 0-0
9 mins – McCormack points again and Kildare are in flying form here.
Kildare 0-5 Dublin 0-1
11 mins – Kildare respond positively with two points in the space of a minute as McCormack hits his third and Pascal Connell strikes over his first of the day.
Dublin have lost another player through injury with Donal McIlghorm stretchered off as Aaron Elliot is brought in.
Kildare 0-5 Dublin 0-2
16 mins - Goal chance for Dublin as Basquel cuts through but Kildare goalkeeper Declan Campbell does well to deflect the shot away. The play was then called back for an earlier foul on Basquel with O'Callaghan slotting over the close-range free.
Kildare 0-7 Dublin 0-2
18 mins – Good counter-attack by Kildare with Connell firing in a delivery that Neil Flynn wins. He has defenders for company but manages to work the space to point off his right. Then Kildare win the resultant kickout and it's moved upfield where McCormack gets clear to clip over off his left.
It's all Kildare here, they're well on top.
Kildare 0-8 Dublin 0-2
20 mins – Flynn's place kicking is excellent as he drills a '45 over the bar.
Dublin counter at the other end and create another goal chance but O'Callaghan is crowded out and his shot is deflected off for a '45.
That resultant '45 by goalkeeper Lorcan Molloy falls short, O'Callaghan gathers and offloads to Basquel but his snapshot goes high and wide.
Kildare 0-9 Dublin 0-2
25 mins – Ben McCormack on target again, that's five points from play that he's struck.
Flag
Goal for Dublin from Con O'Callaghan!
Kildare 0-9 Dublin 1-2
27 mins – Kildare have looked shaky at times in defence and Dublin finally capitalise. O'Callaghan hammers a shot to the roof of the net after a swift passing move.
Kildare 0-9 Dublin 1-3
28 mins – A long ball is pumped in on top of O'Callaghan who outfields Kildare full-back Darren Maguire, turns and pops over a point with his left foot. Suddenly for all Kildare's dominance, it's a three-point game.
Kildare 0-10 Dublin 1-4
31 mins – Points swapped as Dublin's Chris Sallier and Kildare's Neil Flynn raise white flags.
There'll be six minutes of injury time played here, there's been plenty stoppages.
Two wides in succession for Kildare's Flynn.
Kildare 0-10 Dublin 1-5
34 mins – Glenn O'Reilly off the outside of his boot points for Dublin but they nearly got a second goal before that only for O'Callaghan to be denied again by Campbell.
Flag
Half-Time: Kildare 0-10 Dublin 1-5
Two Dublin subs at half-time with Paddy Small and Eoin Murchan in for Darragh Spillane and Declan Monaghan.
Kildare 0-10 Dublin 1-7
32 mins – Kildare were ahead by seven but Dublin have now drawn level. Con O'Callaghan strikes over the levelling point.
Kildare 0-10 Dublin 1-6
31 mins – Andy Foley gets the first score of the second-half as Dublin cut the gap to the minimum. He fires in a long free and gets lucky as the ball missed the Kildare defence to bounce over the bar.
Kildare 0-11 Dublin 1-7
35 mins – Now Kildare do go ahead and it's a first point of the game for full-forward Chris Healy.
Kildare have a chance to go in front but Ben McCormack shoots across the goal and wide.
Midfielder Pascal Connell charges through the Dublin defence but the Kildare man's effort for a point comes back off the upright.
Kildare 0-12 Dublin 1-7
37 mins – Ryan Houlihan is fouled for Kildare and Neil Flynn points the resultant free with his left.
Rory Feely is introduced to the Kildare attack for Conor Hartley.
Mark Sherry is brought in for Kildare for Cian McMonagle.
Kildare spurning a couple of chances to increase their lead. McCormack hits their latest wide.
We're entering the final quarter, Kildare still ahead by two.
Dublin bring in Michael Deegan for Aaron Elliot.
Dublin's Killian Deeley under pressure from the Kildare defence. Source: Lorraine O'Sullivan/INPHO
Kildare 0-12 Dublin 1-8
47 mins – The scoring drought is broken by a point from Dublin's Brian Howard.
Dublin 1-10 Kildare 0-12
49 mins – And Dublin hit the front through Glenn O'Reilly, the first time they've been in front in this game.
Kildare 0-12 Dublin 1-9
48 mins – All square now as O'Callaghan converts a Dublin free.
Dublin 1-11 Kildare 0-12
51 mins – All Dublin now as Martin Cahilan points.
Dublin 1-11 Kildare 0-13
51 mins – Kildare needed a point and Flynn supplies it.
Cian Scanlan introduced for Kildare for Chris Healy.
Dublin 1-11 Kildare 0-14
54 mins – Flynn is fouled for Kildare and he shows the composure to nail the free and tie the teams.
Still level here, three minutes left.
Dublin goalkeeper Lorcan Molloy coming up to take a free 45 yards out.
Molloy's shot hits the post and Kildare clear to safety!
Four minutes of injury-time will be played.
Chance for Paddy Small for Dublin off his left but the ball goes wide.
Goal chance for Kildare but Mark Sherry's shot flashes wide!
Neil Flynn sent in a cross that Sherry gathered under pressure, he turned and shot low but the ball went just past the post. Huge excitement here.
Flag
Full-Time: Dublin 1-11 Kildare 0-14
Extra-time is on the cards here in Navan.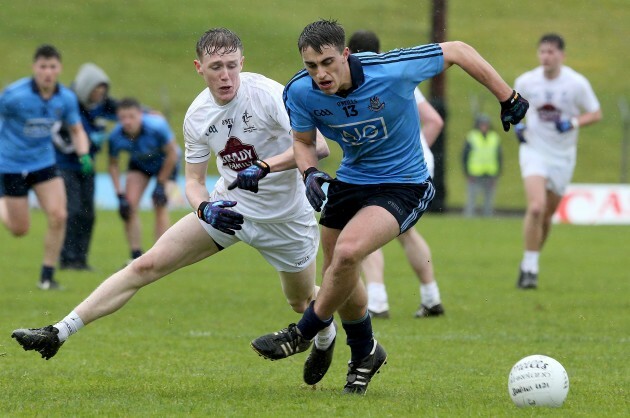 Dublin's Chris Sallier and Kildare's Brian Byrne. Source: Lorraine O'Sullivan/INPHO
Dublin 1-12 Kildare 0-14
61 mins – Con O'Callaghan with the first score in extra-time as he picks off a point from a close-range free.
Dublin 1-12 Kildare 0-15
63 mins - Goal chance for Kildare but Ben McCormack kicks wide while off balance. He was fouled as he kicked the ball though and the play is called back for a free that Flynn converts. Level once more.
Kildare 0-16 Dublin 1-12
66 mins – Kildare hit the front through the excellent Flynn from play. That's 0-9 for him so far, he hit 0-11 in last year's Leinster U21 final in Navan.
Cian Scanlan back on for Kildare for the injured Ben McCormack. Dublin replace Glenn O'Reilly with Kieran Doherty.
Flag
Goal for Dublin from Cillian O'Shea
Dublin 2-12 Kildare 0-16
69 mins – How decisive a score could that be? A perfectly timed pop pass releases Dublin's Cillian O'Shea who bursts through and keeps his cool to tuck the ball into the bottom corner of the net.
Flag
HT (extra-time): Dublin 2-13 Kildare 0-16
Still no scores in second-half of extra-time, Dublin still in ahead by three.
Kildare have plenty possession but can't break down Dublin's defensive structure.
Dublin 2-13 Kildare 0-17
75 mins – Still hope for Kildare as Flynn kicks over an excellent free.
Into injury-time, Kildare just haven't been able to take their chances in front of goal.
Flag
Full-Time: Dublin 2-14 Kildare 0-17
And that's it, Dublin are EirGrid Leinster U21 football champions for the third year in a row. Con O'Callaghan's late free sealed the success after extra-time. Thanks for joining our coverage this afternoon.
Contribute to this story: