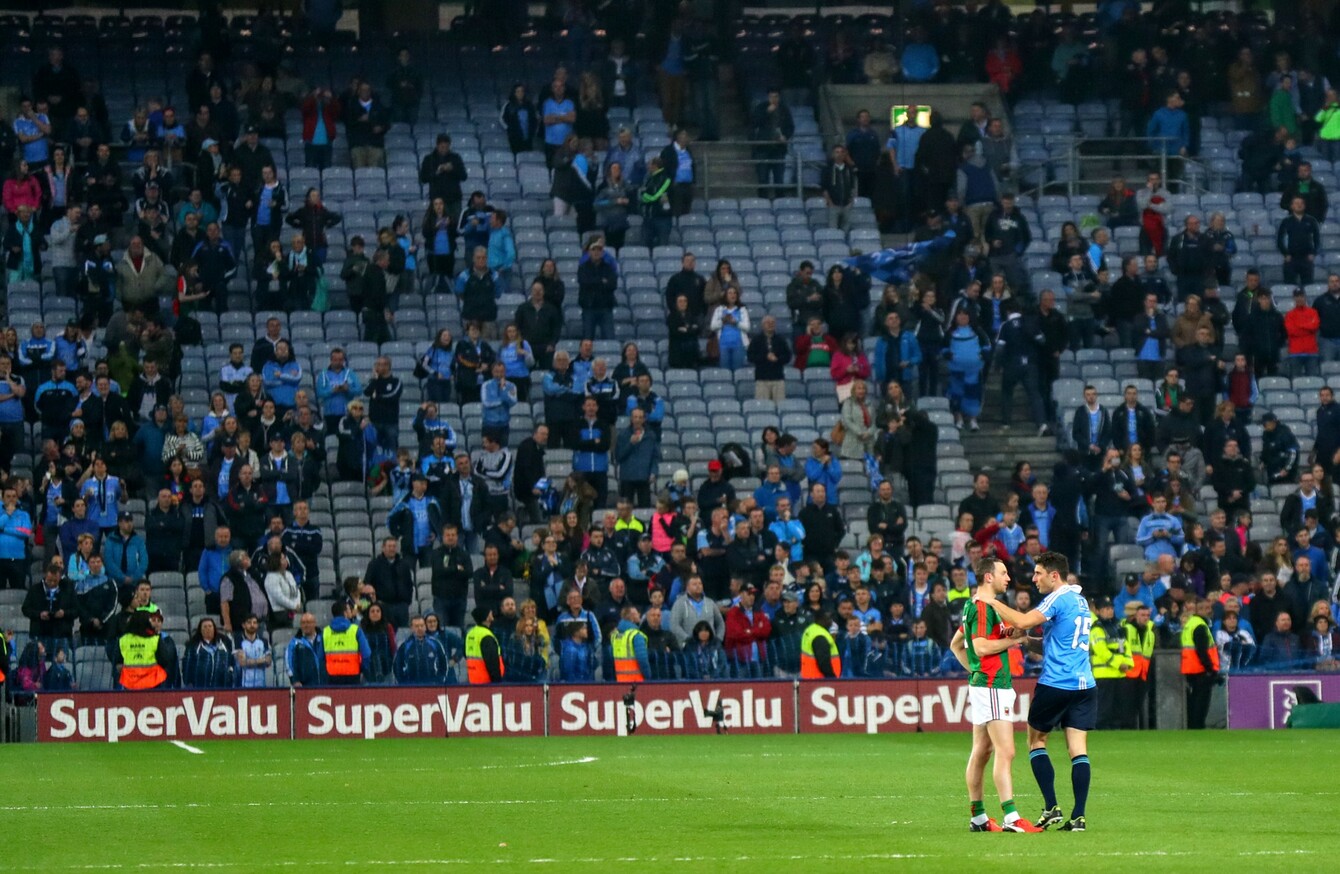 Bernard Brogan consoles Keith Higgins after yesterday's game.
Image: James Crombie/INPHO
Bernard Brogan consoles Keith Higgins after yesterday's game.
Image: James Crombie/INPHO
WE GOT ANOTHER fantastic contest in Croke Park yesterday and we got deserved champions.
Dublin were just that little bit better, those small margins in the finale that made the difference. It's a really brilliant achievement to land four All-Ireland's in six years. They're up there with the Dubs team of the 70's, the Kerry team from the 80's and the Tyrone team in the noughties. Hats off to them.
Still you'd have to feel for Mayo. God help them. Of course there's a bad feeling after every final defeat but to lose the All-Ireland in that manner was horrendous. When Cillian O'Connor lined up that late free, there was no other player in the country that I'd have wanted with the ball in his hands. He's just ice cool, I'd chalk him down for a point every time from frees.
But it's a very lonely spot as a freetaker. Missing this kick leaves Cillian in a very tough place. He is the captain, he had his Roy of the Rovers moment with that late point in the drawn game. You put hours upon hours in on your own, down in your local pitch with a bag of balls, all with the aim of getting it right on the big days.
I've been there myself, it's not easy and you have to be willing to take that responsibility. Cillian did that yesterday in hitting nine of them over but that one miss will be unfortunately remembered.
The other big Mayo moment that will be debated is their goalkeeper selection. I heard the speculation early yesterday and was surprised when it was confirmed. The talk was that Rob Hennelly was an option for long-range frees but he only hit a single one.
It was the type of big call that if it went wrong, the Mayo management were open for serious criticism. I'm sure Stephen Rochford didn't take it lightly but with his kickouts and the concession of that penalty, it clearly backfired. It was a major decision that went wrong for Mayo.
There were other wrong decisions in the first-half that marred the game. I wouldn't be a supporter of the black card and yesterday hardened my view. Both black cards were simply wrong, Jonny Cooper and Lee Keegan both unfairly punished. In contrast John Small's early hand trip on Andy Moran was missed and that was blatantly a black card.
There are enough decisions for a referee to get right during a game, the black card is simply another thing he has to worry about. Referees have to be 100% certain in making these judgements, there cannot be any doubt. Those incidents yesterday proved how tough it is to make those calls.
Mayo clearly suffered as a result of losing Lee Keegan. He's such a massive player and his absence was a big blow. I thought his goal was phenomenal. He powered 60 yards up the pitch, benefitted from great work by Aidan O'Shea and then finished unbelievably well to the net. When coaching young player, you tell them to keep shots on the decks, get the ball low and into the corner. Keegan's goal was a perfect example.
You got to hand it to the other goalscorer on the day as well. It wasn't easy for Diarmuid Connolly to hold his nerve but he did just that. The penalty was brilliantly taken and was a big turning point. Dublin never trailed after that goal from Connolly.
The way they got over the line in first place showed everything that's great about Dublin. There's no doubt about this side's composure. Look at how they deal with problems. They lost two of the best defenders in the country at the start of this year and another during yesterday's game. But the machine keeps going, they deal with it and it's not a problem. That's the sign of a great team.
I felt their bench was the difference. Bernard Brogan came on and got a key score, Michael Darragh MacAuley dominated around midfield after being brought on. Then there was Cormac Costello, the forward who provided that little bit of extra class which was the difference between the sides.
When you're throwing on a sub, he's got to get involved and make an impact. Costello certainly did that. 0-3 was a huge return in that type of game. Credit to Jim Gavin as well. It was a big call to make three changes before the match and put in a guy like Costello that we hadn't seen much of this year. The Dublin manager was rewarded for those calls.
Mayo won't lack regrets. They made a lot of errors on the ball in the second-half. I thought they were too disciplined in their shooting, particularly in the first-half. There were times when they should have pulled the trigger rather than recycling the ball over and back the field.
Will a few Mayo lads question what more they can give to the cause? People might look at someone like Andy Moran but he's only 32 and I felt he'd a very good season. There's no need to see him in the FBD League in January, it's about trying to get something out of him again in August or September.
Of course it's another heart breaker for Mayo and their supporters. I don't doubt they'll respond though. You hear people say they're on the road a long time and it's difficult to go back again in January. But it's tough for every team to do that. A footballer from Kildare or Leitrim or Cork will face that battle as well at the start of 2017, and you'd back Mayo to go further than most.
These Mayo players lick the wounds over the winter and get the itch to go again next season. It's what they do. For Dublin, winning trophies is what they do. 2016 has proved again how brilliant this team are.
The42 is on Snapchat! Tap the button below on your phone to add!