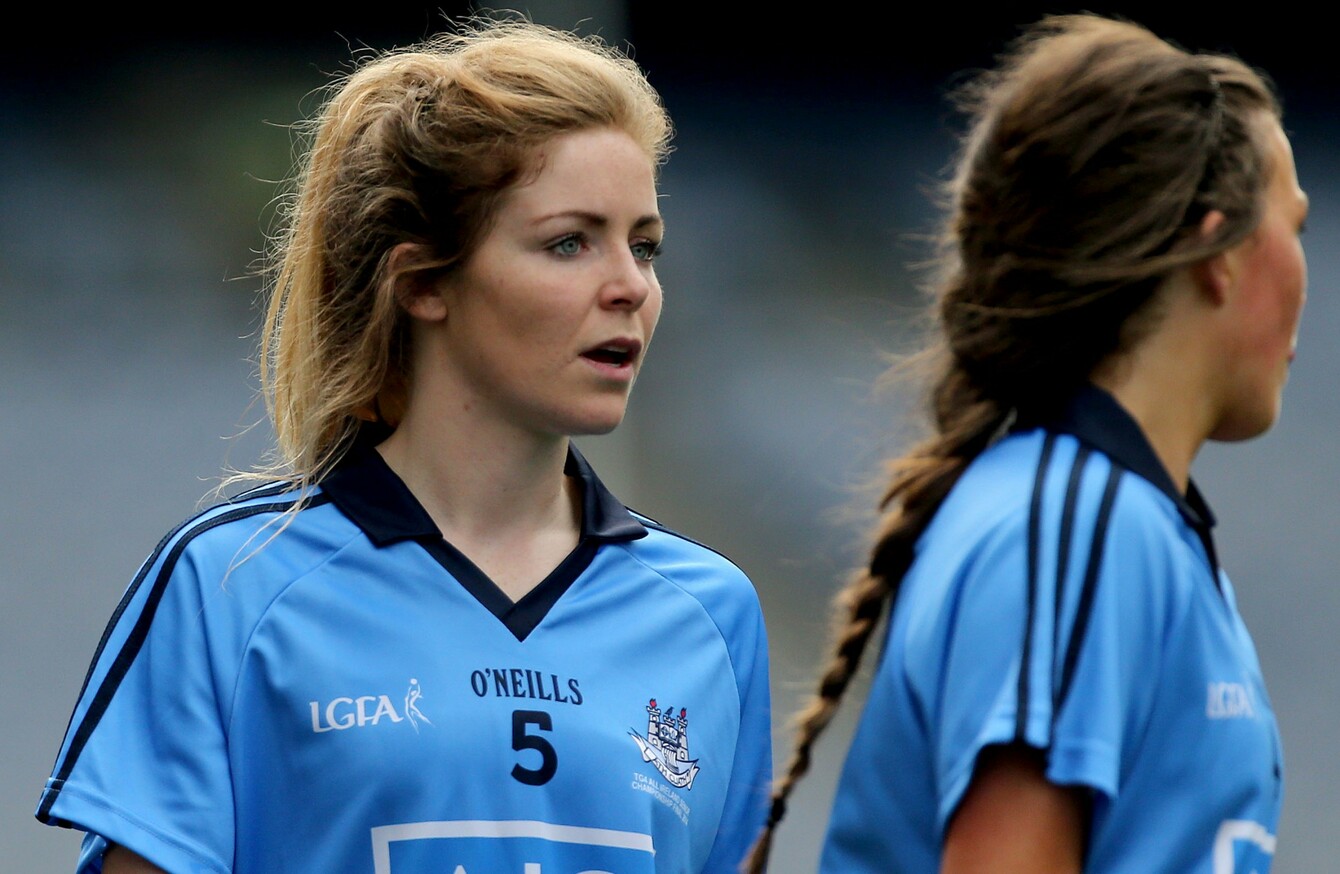 Finnegan: "If you want to win, you want to beat the best."
Image: Ryan Byrne/INPHO
Finnegan: "If you want to win, you want to beat the best."
Image: Ryan Byrne/INPHO
SIX YEARS AGO, Sinéad Finnegan watched with tears in her eyes as Dublin claimed a very first TG4 All-Ireland ladies senior football championship win.
If things were different, she could have been out there but Finnegan had taken a break from elite level football for a couple of years to process the sudden death of her father, Jarlath, from a heart attack in May 2007.
Finnegan did win an Aisling McGing senior B All-Ireland title in 2010 but stepping away from the senior grade for a spell was something she had to do for herself.
Jarlath was the man who first introduced Sinéad to football when she was just six years old.
A talented player, Jarlath represented Dublin in the U16, U17, minor and U21 grades, suffering a huge bereavement himself when his own father, aged 50 at the time, passed away.
Throughout his life, Jarlath was devoted to Raheny GAA club, helping to oversee the development of future stars in the juvenile ranks.
His daughter Catherine played camogie for Raheny and Ladies football for Fingallians.
Sinéad, too, would link up with Fingallians and, rather fittingly, Jarlath would later become manager of the club's senior team.
Sinéad says: "He was so proud of me playing for Dublin, he absolutely loved it, he was GAA mad. It was just too hard for me to play so I took a step back and came back again later."
Sinéad returned to the Dublin senior set-up in 2011 and this time of year always brings back fond memories for a player who made her senior debut against Kerry in 2007.
She adds: "Coming into the All-Ireland final is always a time where I would think about him a lot and absolutely, he's looking down and beaming with pride.
He'd bring us off to the GAA club in Raheny on a Saturday and we might not come home until that night and be in trouble with my Mam!
"For the last two years, I went to visit his grave before the match. I'll probably do that again."
For Finnegan and Dublin, it's a third successive All-Ireland final appearance against Cork, chasing six-in-a-row at Croke Park tomorrow.
She celebrated her 29th birthday this week and was anxious to take a couple of days off, explaining: "In the last few years, I've worked up until the Friday and it was really busy coming into the All-Ireland final, between training and work. I got sick both times, run down. I booked the Thursday and Friday off, off into town, do some shopping, get my nails done!
"I'll spend some time with my Mam (Geraldine) and my brother's coming home from America. It's nice to catch up with my family, they'll all be very excited."
There's been plenty of excitement too in the offices of PSG Communications, where Sinéad works in sports PR and sponsorship.
And the centre back smiles: "It's kind of funny, for the last two years I've been organising balloons and little bits and pieces for our match.
"Some people might wonder if that makes me really nervous but in a really weird way, it takes my focus away from the match.
"Even though I'm organising stuff for the game, it makes you stop thinking about it.
"My boss, Mick O'Keeffe, is a big Dublin supporter and played for Dublin himself. I came in last year one of the days before the game and they had decked out my seat and the whole sponsorship area with blue bunting and blue balloons and had tee-shirts made with my face on them, like Che Guevara!"
But as the hours tick by before the Brendan Martin Cup decider, Finnegan's allowed herself to dream, to imagine what it would be like to win an All-Ireland senior medal.
And she says: "I think it's important to visualise yourself winning and doing things well on the day. It's probably hard to imagine what it would be like, that feeling. I wouldn't be able to tell you until I actually experience it.
"Watching the Tipp team in the hurling final, and Kilkenny winning the camogie, it looks like the most incredible thing you could ever achieve.
You put in so much work, starting out in November and putting your life on hold.
"We've played Cork in the final for the last two years in a row – they're a really strong team and a credit to Ladies football, great role models. They've won 10 of the last 11 titles but we're really happy we're playing Cork.
"If you want to win, you want to beat the best. It's a great opportunity for us to show we're just as good as them."
The42 is on Snapchat! Tap the button below on your phone to add!