Ben Blake reports from Bosnia-Herzegovina
BOSNIA-HERZEGOVINA CAPTAIN Edin Dzeko believes playing at Zenica's Bilino Polje Stadium will give them extra strength to overcome Ireland tomorrow night.
Despite the fact that it will fit just 11,500 fans for Friday's Euro 2016 play-off first leg, Bosnia have opted for the ground over the 37,500-seater in the capital city Sarajevo an hour's drive away.
"This place is something special to us," said former Manchester City striker Dzeko during this evening's pre-match press conference.
"It gives us even more power. We love this place and have won so many games here so hopefully we can do the same tomorrow.
We achieved World Cup qualification in Brazil (in 2014) and that was our first big competition and now we want to go to Euros as well."
Having failed to score since the end of August, the Roma frontman has bagged goals in each of his last two games — against Bayer Leverkusen and city rivals Lazio.
"I was injured so obviously when you're not playing it is difficult but now I am back and have scored some goals," he said on his return to form.
"I'm with the national team and it's different with the club but we all know why we are here and I think we are ready."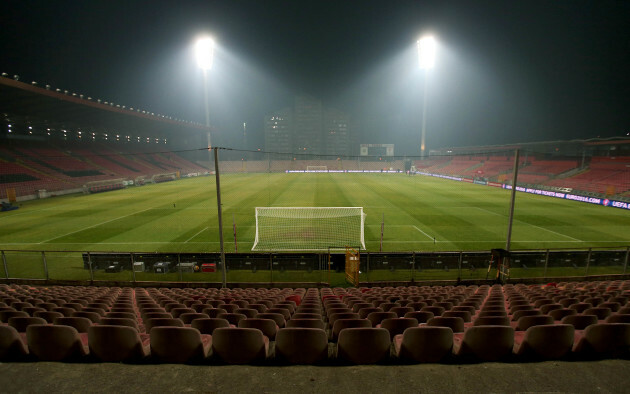 Donall Farmer / INPHO Zenica's Bilino Polje Stadium. Donall Farmer / INPHO / INPHO
Dzeko will have crossed paths with a number of his latest opponents during his time in the Premier League and says he doesn't believe those unavailable through injuries and suspensions will be sorely missed.
"I know almost all the Irish players," he added. "They are all playing in England, which is the best league in the world so they are there because they have quality and they are good players.
Maybe some of the most important players aren't playing in the first game but you have other good players who can jump in so I don't think it's a big advantage for us.
"They will be two interesting games because we want to go to the Euros and you guys want to be there as well.
"I think it's 50-50. It's doesn't matter that some of our players are playing in the Champions League because you have players who have a lot of experience who have played in big games."