WHEN THE DRAW was made for the finals we found ourselves in the same group as England, Egypt and Holland. England up first. Again. On a wet and windy night in Cagliari, England took the lead when Gary Lineker gave Captain Fantastic (Mick McCarthy) the slip to score a simple goal.
But Ireland battled bravely, forcing England to retreat deep into their own territory. It was like a pretty ordinary English League match, lots of effort, rare glimpses of skill. High balls rained on England's defence. Irish forwards scuttled after the scraps. A nation waited anxiously for a break, any stroke of good fortune to even the scores.
When it came, Ireland's goal was sublime. A deflected long ball fell to Kevin Sheedy, who struck it perfectly past Peter Shilton from 18 yards. The dream was still alive. Thanks to their remarkable resilience, the Boys in Green had done the nation proud.
YouTube: CuChoileain
Egypt was next, the following Sunday. The Boys in Green were now the biggest story in the country. Everyone was engaged with the team. The story dominated all conversations. People made plans for the Sunday game against Egypt, with parties, barbecues and gatherings in community halls around Ireland. Not just in the old soccer strong-holds, the garrison towns where shoneen men once played a 'foreign' game, but in bastions of Gaeldom, places like Kerry, Kilkenny and Meath, where the soccer man had long been scorned for the vice of playing the imperialist game.
Bowing to the mood of the nation, the GAA rescheduled their Sunday-afternoon fixture to facilitate those wishing to watch the next chapter of a wonderful story. This really was something special, an end to sporting apartheid, the moment when our beautiful game of soccer would be recognised, and those who loved it would finally be assimilated into Irish culture.
'Cascarino lumbered around up front, like a drunk at a Communion mass'
I recall that Sunday morning very clearly, as if it were yesterday. Driving across the city to RTÉ there was a stillness in the air. Flags and bunting sticking out of windows, adorning shop fronts, pubs and lamp-posts, kids skipping happily in their green Opel shirts, being Paul McGrath, Kevin Sheedy, Captain Fantastic. Today was soccer's great day — more than that, a day when all who loved sport would join together in a celebration of a shared identity based on something real. The old, fraudulent divisions were finally buried in the grave.
Egypt had drawn with Holland in their opening game. England and Holland had drawn the day before. A win meant Ireland would top the group. An hour before the game, news filtered through that Jack had omitted Ronnie Whelan from the team. Ronnie, captain of the Liverpool side that had just won the English First Division, on the bench! That was a very strange decision.
The game against Egypt was a horror show. Seeking Positions of Maximum Opportunity (POMO), Ireland humped long balls at the Egyptians for 90 minutes. Tony Cascarino lumbered around up front, like a drunk at a Communion mass. We never attempted to play a passing game. Long after it became clear that some quality was required to break Egypt down, Jack stuck to his game plan. With 25 minutes to go John Aldridge was taken off. No Ronnie. Alan McLoughlin was the journeyman sub. With five minutes to go Cascarino was replaced by Niall Quinn.
Jack's attempt to bully the Egyptians was an abysmal failure. In our studio analysis I described the football played as 'rubbish'. And I contended: 'Anyone sending a team out to play that way should be ashamed of themselves.'
Jack's post-game television interview was also, I thought, deeply embarrassing. He didn't know the names of the Egyptian players (the running joke in the Irish camp suggested he sometimes didn't know his own players' names) so he attempted to distinguish between them on the basis of the colour of their skin. Thus, there were references to 'the light- skinned lad' and 'the one with darker skin'.
Sitting in the studio, aware that the nation was watching, I winced in embarrassment. John and I exchanged knowing glances. This was an OMFG moment. I repeated my assertion that Ireland's football was shameful. Then I dropped my pen on the studio desk and sat back with a sigh of resignation.
Within minutes the RTÉ switchboard lit up with complainants. At least two thousand people rang to voice their anger. The fuss was only beginning. With little that was printable to say about the game, the media decided that I was the story. I had, they wrote, declared that I was ashamed to be Irish before flinging my pen across the studio in disgust. The mob began marching. And they were marching in my direction.
YouTube: Mare Footage
The following day I travelled to Italy to cover our final group game against Holland for the Sunday Independent. The morning papers were full of reports about the public reaction to my remarks on RTÉ the previous day. At the airport I bought a copy of the Evening Herald. A poll they had commissioned showed that 97 per cent thought my robust criticism was wrong. The airport terminal was packed with travelling Irish fans. It was an afternoon flight. Drink had been consumed. A group of young fans spotted me having a coffee. As they closed in around me they began to chant: 'If you hate Eamon Dunphy, clap your hands. If you hate fucking Eamon Dunphy, clap your hands.' It was borderline dangerous, with the drink and high emotion whipped up by the morning tabloid reports fuelling what was in effect a battalion of 'Jackie's Army'. Other travellers averted their gaze as the mob closed in around my table. A security man arrived. Assessing the situation, he offered me an escape to a quiet room beside the gate we were to board from.
I was shaken. The press reports stated as a matter of fact that I had said I was ashamed to be Irish. I had thrown my pen across the RTÉ studio. The mob chanting outside must have seen the match on television. They must have known the difference between what I'd actually said and what the press was reporting. What, I wondered, would await me in Italy, where the news reports would doubtless be gospel?
As we waited to board, the chanting continued. More security arrived at what was now an ugly scene. I was seated halfway up the plane. The Aer Lingus hostess checked my ticket as I stepped aboard. She seated me in the front row. 'You'll be OK there.' She smiled. This touching act of kindness almost made me cry. The flight was uneventful, an opportunity to reflect.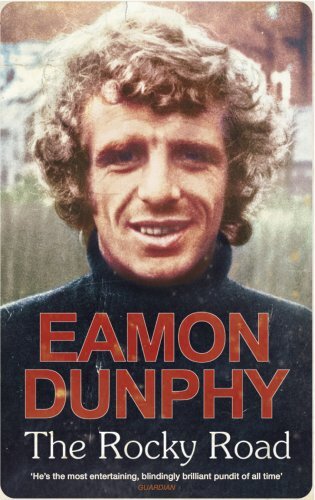 Tim O'Connor and Mike Horgan were brilliant in the face of the unprecedented hostility RTÉ had encountered the previous night. Tim assured me they would replay my comments to establish the truth of what I'd said. There was no question of RTÉ giving in to demands that I be dropped from the World Cup panel. Aengus (Fanning) was equally supportive. 'Call it as you see it. That's why we employ you,' was his answer to the periodic outbursts of indignation when I wrote something deemed controversial by others.
I'd arranged to meet Colm Tóibín in Palermo, the venue for the Ireland–Holland game. Colm was on assignment for Magill magazine to report on the now extraordinary cultural phenomenon that was 'The Boys in Green'. It was more than a sporting story. The whole country was engaged. Mary Harney, now a government minister, phoned after the Egypt game to advise me to lay off Big Jack: she thought the team were doing great!
Showdown
When I went to Jack's pre-match press conference I didn't anticipate trouble. That was naïve. Jack believed the reports that stated I had declared myself ashamed to be Irish. In that context my presence was provocative. When I posed a question he refused to answer, saying that I 'wasn't a proper journalist'. It was, Jack insisted, his press conference and it would be conducted on his terms.
His success with the Irish team was big news in England. A number of British journalists were present along with the Irish press corps. Ian Ridley from the Guardian argued that it was absurd to suggest I wasn't a proper journalist. Jack lost his cool. He walked out, beckoning the Irish scribblers to follow. A row flared between the English and Irish pressmen. Ridley was verbally abused by Cathal Dervan, a young tabloid gunslinger: 'Why don't you fuck off back to England?' Dervan told the Guardian's esteemed football correspondent. In an instant the tension evaporated as I and my English colleagues started laughing at the surreal implications of Dervan's intervention. The Irish journalists repaired to a private room, where Jack provided his pre-match briefing. The Englishmen stood by my fight to be treated as an accredited journalist. It was a rare example of water proving thicker than blood.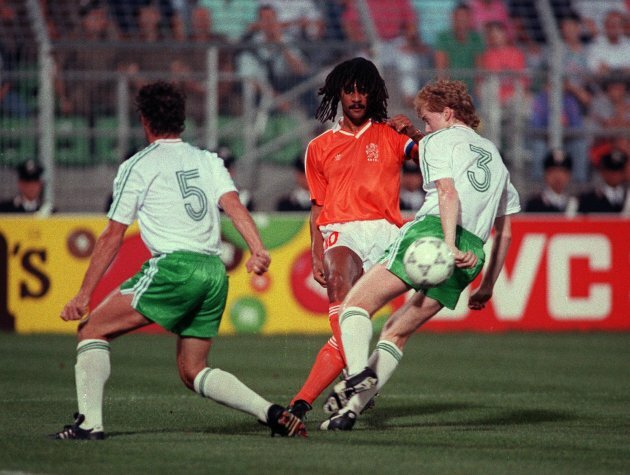 Ruud Gullit of Holland in action against Ireland in 1990. Pic: INPHO/Billy Stickland
Colm Tóibín and I got a taxi to the stadium. I gave the press-box a swerve, opting to buy two tickets for Colm and myself in the regular grandstand. Our taxi dropped us about 200 yards from the stadium at a car park where Irish and Dutch fans were being deposited from their coaches.
As we began our walk to the stadium we bumped into the economist Colm McCarthy. 'What have you done?' he asked me. I gave some shorthand account of the mood back home, the fuss generated by my post-match comments. It was dark. The street was a mass of green and orange, the Dutch being as famously fervent as our own travelling fans. Then a group of Irish fans spotted me. 'Dunphy, you bastard,' one guy erupted. He was joined by his mates, who crowded round as we attempted to keep moving. The chant began:
'If you hate fucking Dunphy, clap your hands.'
Suddenly we were surrounded by hundreds of men (and women) wearing the green, chanting feverishly, pushing ever closer. A few Irish voices offered some support, but 'Leave the man alone' was a minority opinion. The potential for something nasty hung in the air on the final stretch of road between us and the stadium. The two Colms were shocked. I was too. This wasn't the Irish way. Sport was celebrated at Croke Park, Lansdowne Road or any other arena when people gathered to follow their team. There was something loutish about Jackie's travelling army, the kind of vibe familiar to those who visited English soccer grounds.
Before the game we knew that Ireland needed at least a draw to progress to the tournament's knockout phase. The draw would do both sides if England beat Egypt in their match, which was being played simultaneously. Ruud Gullit gave Holland the lead after 10 minutes. The European champions oozed class. They stroked the ball around with great confidence. A second goal would be fatal. But Ireland dug in, defending all around the pitch with incredible determination. Defiance was a defining quality of this team. For this Jack Charlton deserved credit. For our failure to be more constructive with possession he deserved criticism. Watching with Colm Tóibín, I gave him a tutorial on the beautiful game. A great writer, he sensed the drama, in the arena and outside it.
With 25 minutes to go, Jack made a couple of substitutions. Tony Cascarino came on to join Niall Quinn up front. Ronnie Whelan replaced Kevin Sheedy. Ireland needed a break. Route One, a long, stumps,' chasing lost causes up front. Aldridge scored one goal in his first 23 games for Ireland. But he served Jack's cause.
It is no exaggeration to say that the whole nation watched the penalty shoot-out against Romania. Everybody remembers where they were, how they felt, who they were with. Daniel Timofte missed Romania's fourth penalty. Jack left the decision on who should take Ireland's penalties to the players, who huddled in the centre-circle as the drama unfolded. Timofte's miss meant we were one accurate strike from the World Cup quarter-final. David O'Leary broke from the centre-circle huddle and strolled slowly towards the penalty spot. A centre-half. Exiled by Big Jack. Only on the pitch as a substitute. Never taken a penalty kick before, or not, at least, that anyone could remember. In the studio I looked at John. I didn't fancy David's chances. Everything riding on it. All the stuff with Jack over the years.
In what seemed like slow-motion, David carefully placed the ball on the spot. As he set himself to begin his run-up, George Hamilton in the RTÉ commentary box voiced his memorable sound-bite: 'The nation holds its breath.' With unerring conviction, David struck his shot high and true to the Romanian keeper's left. The net shook. The country went wild with joy. In pubs and offices there was an explosion of happiness, a moment of pure, unadulterated pleasure, temporarily lifting even the meanest spirit.
Strangers hugged each other on the streets of the towns and cities into which they had spilled, leaving all inhibitions behind. In the RTÉ studio, watching the pictures beaming in from around the country, informed analysis was forgotten. The story of Big Jack and 'The Boys in Green' was no longer a football story. Tactics and team selection were irrelevant.
The Rocky Road by Eamon Dunphy is published by Penguin Ireland. More details can be found here.
A version of this piece originally appeared on the site to coincide with the release of Eamon Dunphy's autobiography