DESPITE FIFA PRESIDENT Sepp Blatter's infamous assertion in 2011 that 'there is no racism in football,' the issue remains an extremely pertinent one.
The latest notorious incident saw Barcelona player Dani Alves become subjected to racist abuse for the umpteenth time in his career, in a game at the end of last month.
In the club's Spanish league match with Villarreal, a banana was thrown at Alves amid a heated encounter. However, the response to this ignominious incident — one of many reprehensible racist actions that have severely damaged La Liga's reputation over the years — was heartening.
The Barcelona defender picked up the banana and started defiantly eating it, thus sparking an anti-racism social media campaign, with several high-profile stars subsequently tweeting pictures of themselves eating bananas in support of Alves, while the alleged perpetrator has since been arrested.
Yet although the reaction was laudable, the initial abuse illustrated how the issue of racism is still prominent in football.
One Irish player who has had first-hand experience of racism is Shamrock Rovers star Eamon Zayed. Born to a Libyan father and an Irish mother, Zayed grew up in a Dublin that was nowhere near as multicultural as the city is today.
The 30-year-old was watching the aforementioned Barcelona match on TV when the banana incident occurred, and he was impressed with the way the Brazilian international handled it.
"I thought that was excellent," Zayed tells TheScore.ie. "It was his way of saying your abuse means nothing to me. I can deal with it — I've heard it, seen it, it's nothing new. And they went on and won the match 3-2. And rightly he's getting good press. But that's not to say that the team and the fans involved shouldn't be punished."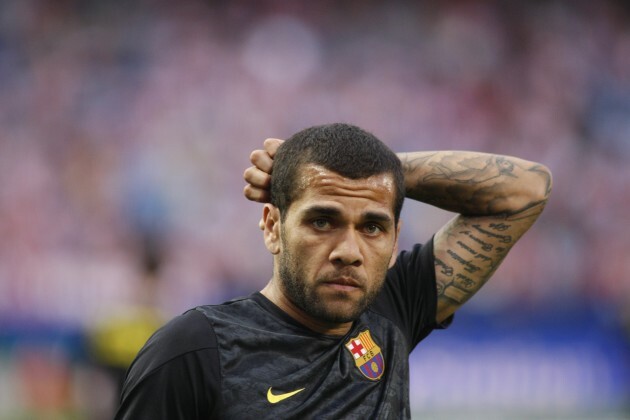 CORDON / Press Association Images CORDON / Press Association Images / Press Association Images
(Barcelona star Dani Alves was at the centre of a recent controversy in which he was racially abused.)
While acknowledging that eradicating the issue remains difficult, Zayed suggests that stricter measures need to be enforced by the powers that be to discourage similar incidents from occurring in the future.
"I can't recall reading about one punishment and going: 'Jesus yeah, that's fair enough'. It's not an easy task to combat it and say you haven't done enough, but then, what is enough?"
Perhaps owing to frustrations with the status quo and the less-than-severe manner in which racist incidents are often being treated by footballing authorities, Zayed has taken steps to involve himself in the game at an administrative level.
The former Ireland under-21 striker has been involved with the 'Show Racism the Red Card' campaign since 2010, after writing about his experiences of racist abuse in the League of Ireland for the website extratime.ie.
The 30-year-old struck up a friendship with Garrett Mullan, who's head of the campaign, and Zayed has since attended a number of events such as comedy gigs organised to help fund the initiative. Moreover, during his time with both Drogheda United and Sporting Fingal, he travelled to a number of schools to educate its students about issues such as racism.
Marc O'Sullivan Marc O'Sullivan
(Aodhán Ó Ríordáin TD, Justice Minister Alan Shatter and TV presenter Diana Bunici pictured with children from the Castaheany Educate Together National School during an event promoting the 'Show Racism the Red Card' campaign during the week.)
Yet in recent times, Zayed has endeavoured to take an even greater involvement in the 'Show Racism the Red Card' campaign.
"About a month and a half ago, I got a phone call from [Irish Times sports journalist] Emmet Malone. He's helping out with the organisation. I think he's on the board now. They were looking to freshen the board up and bring some new people in with fresh ideas. Emmet rang me and asked me would I be interested [in helping out more]. I said I was, and we're trying to get the wheels in motion as regards me actually joining the board in an official capacity."
In many ways, Zayed is the perfect representative to discuss the issue, given that it's unfortunately one that has affected him throughout his life. Even in recent times, he has been on the end of some racist abuse during League of Ireland games, yet the Rovers star says the problem was worse for him personally when he was growing up as a young kid and going into his teens.
"In primary school, you wouldn't have had that many different nationalities around," he says. "So I probably stood out from the crowd more when I was younger.
"The first instance I can remember was when I was around seven or eight. I was playing for my local team Broadford Rovers and we had a match against Stella Maris out in Ballymun.
"I was playing centre midfield back in those days. I was quite tall and there was a smaller lad marking me. I was getting the better of him and I think we were winning the game. There was a man on the sidelines shouting racist abuse at me. I was only a young lad at the time and didn't know what was going on.
"And not long after he was saying it to me, the young lad who was marking me started saying the exact same thing. I was quite upset over it. After the game, the young lad ran over to the older lad and I realised that they were father and son."
Zayed says that incidents such as the one mentioned above did not happen regularly "but it happened enough for me to notice it". And ironically, Zayed himself was once punished for challenging the racist abuse directed towards him.
"I think it was in third year in school, we had to queue up in the shop because there'd always be a crowd going down at lunchtime. I remember queuing up and I got to the top of the queue and there was a young woman who was working in the shop at the time and she said something racist towards me and told me to get to the back of the queue.
"Being young, I think I told her where to go. A couple of friends said it as well to her. She rang the school and I ended up getting suspended for a week because of that. But I didn't do anything wrong. I queued up, got to the top of the queue and then she told me to get to the back of the queue and said something racist towards me."
pfdctv2 / YouTube
Ireland, of course, is far from the only place where people sometimes treat those of alternate origins in a different manner. As well as representing Libya at international level, Zayed played for a period of a year and a half in Iran, with both Persepolis and Aluminium Hormozgan. The striker's stint on the field in the country was relatively successful, as a hat-trick in just his second appearance in the Iranian league during the Tehran derby quickly endeared him to local fans.
A contractual dispute ultimately prompted him to return to Ireland and join Shamrock Rovers in the summer of 2013, but he says he still has fond memories of his time abroad and in particular, the "friendly" Iranian people.
He was not treated differently owing to his Irish background, as he explains: "I probably look more Iranian than I do Irish." However, that's not to say the people there weren't at least taken aback by the more obvious outsiders they encountered.
"I played with a guy in Iran for Persopolis — Mamadou Tall was his name. He was from Burkina Faso. Every team in Iran is allowed to have three foreign players. He was very black. I used to ask him to go with me to the shops or for a coffee or something in our downtime, and he'd never want to do anything. He'd always just want to stay in his apartment. After a while of asking him, I said: 'Do you not want to do something, instead of being stuck in this apartment?' He didn't speak much English, it was more French. But he said the reason he didn't like going anywhere was that people would stop and stare and point. He found out the word for 'black person' in Iranian, and he discovered that people would stand and point and say that word."
Yet Zayed believes in cases like Tall's, the Iranians' behaviour was not malicious and could simply be attributed to the fascination of getting a rare opportunity to actually see a black man in person.
"I was wondering were people in Iran racist, but a month later, my girlfriend came over from Ireland, and she's white and has blonde hair, so she'd stand out from the crowd. And again, walking down the streets, people would stop and stare and point, but I asked a few people from Iran, and it was just that they were fascinated by someone different. Like Ireland back in the day, you wouldn't get many Africans, or European people, walking around, so I don't believe they were racist or anything like that. But the incident I mentioned before about the son copying his Dad — that's just ignorance."
And while Zayed is not convinced that racism in football has increased of late, incidents such as the Alves case highlight its continuing prevalence, thereby illustrating how campaigns such as 'Show Racism the Red Card' remain as vital as ever in helping to alleviate the issue.
"There are times when I've approached someone that's being racist, whether it's towards Eastern Europeans or Africans or whatever, and you ask them why do you think that, and they haven't got a clue. Maybe they heard it from a friend, or another family member, or something like that, and they just jump on the bandwagon — 'he thinks that so I must think that'.
"People are always asking if the issue is getting better or worse. I honestly don't know. All I know is that it's still there and hasn't been eradicated."
Eamon Zayed was speaking on behalf of the 'Show Racism the Red Card' campaign. More info can be found here.
Look out for part 2 of our interview with Eamon Zayed on the site tomorrow, in which he discusses Shamrock Rovers' start to the season, playing for Libya and his hopes of going into management in the future.