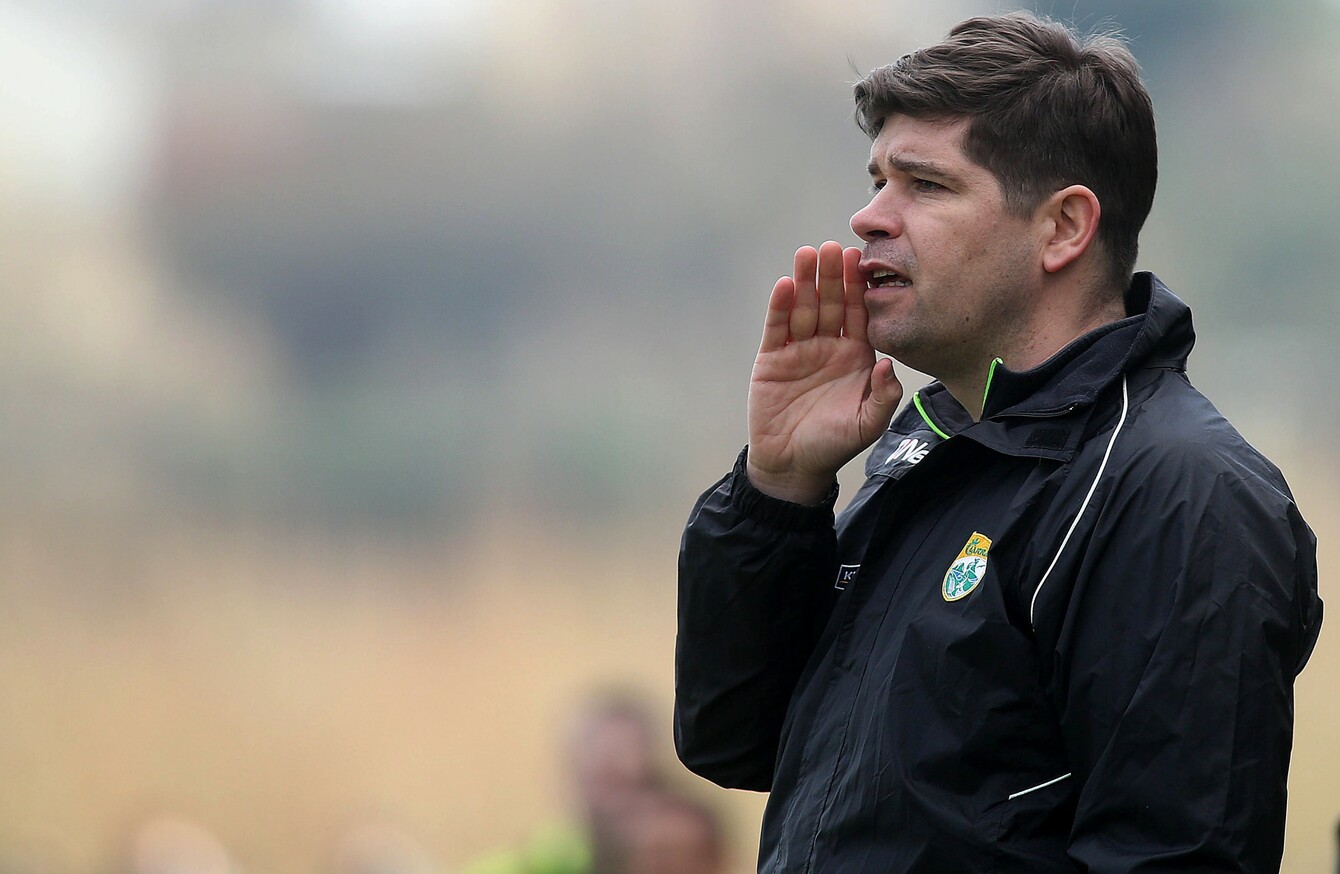 Image: Presseye/Lorcan Doherty/INPHO
Image: Presseye/Lorcan Doherty/INPHO
EAMONN FITZMAURICE IS not one for mind games, he insists. But the Kerry boss couldn't resist getting involved last night, days before this weekend's game with Dublin.
The Kingdom chief insists his side have been painted as something they are not and si concerned his side will start at at disadvantage.
Paul Curran — an All-Ireland winner with Dublin in 1995 — this week used his Evening Herald column to castigate Fitzmaurice's side, saying they should be 'ashamed of themselves' for their style of play when Jim Gavin's side visited Tralee last month.
The sides will meet again on Sunday in a Division 1 decider, of course, with current Dubs star Philly McMahon insisting this week too that Kerry may have copied Mayo's tough approach, in a bid to derail the Dubs' unbeaten run.
Fitzmaurice though was quick to correct a 'worrying narrative' around his side ahead of this weekend's Croke Park showdown.
"I had a good think about this today and normally I don't react to this stuff," he told reporters last night.
"Normally I kick for touch with those kinds of things because I don't know whatever you want to call those things – mind games I don't believe in it. I believe there is a game of football to be played and you trust the referee to get it right. But I do find it a bit worrying to be honest that there is a narrative out there at the moment and I don't think it's balanced at all."
Asked if he thought comments about Kerry's approach was designed to put pressure on referees, he continued: "I don't know. Look supporters of their own teams are going to have their views with the Dublin supporters having blue-tinted glasses and the Kerry supporters are going to have green and gold tinted glasses and that's the way it is.
"But I just think there is a complete lack of balance there at the moment. I think that the Dublin team are a serious team that we have the utmost respect for.
"They are a fantastic footballing team, an attacking footballing team with brilliant players and with an outstanding manager. But make no mistake about it they have a hard edge about them and a seriously hard edge. Any team that wins as much as they do, if you go back to the Kerry team of the noughties, the Tyrone team of the noughties, the Kilkenny team that won four in a row, they all had a hard edge about them and Dublin have.
"Going back to the All-Ireland of 2011, Declan O'Sullivan was taken out of it, going back to 2013 final when they were down a man for the last five minutes and they basically had to tactically foul to see it out.
"Going back to the end of the All-Ireland semi-final last year when one of our players was wrestled to the ground and basically choked. So they have a hard edge but so have we. I have never tried to paint us whiter than white. But what I find annoying at the moment and the reason I felt that I had to respond this evening was out of my duty to the players that we are going in to the weekend on a level playing pitch.
"My worry was that it was developing into a situation like the All-Ireland final replay last year where there was an orchestrated campaign against Lee Keegan that was effective for the All-Ireland final replay. So normally as I said I would not open my mouth about things like that but I feel out of my duty to the players I had to address it this evening. I had to say that there is a complete lack of balance even within our own county, there is a lack of balance and I just think it's unfair on our players.
"Every time we play them in Croke Park there is an edge to it, any time the top five teams there is a physical edge to it. I think some of the stuff that went on in the first half was a bit silly and I don't know what expression you would use for it. But I think in the second half both teams played an awful of good football and I cannot remember too many incidents in the second half so I would be hoping that it would be game more like the second half than the first."