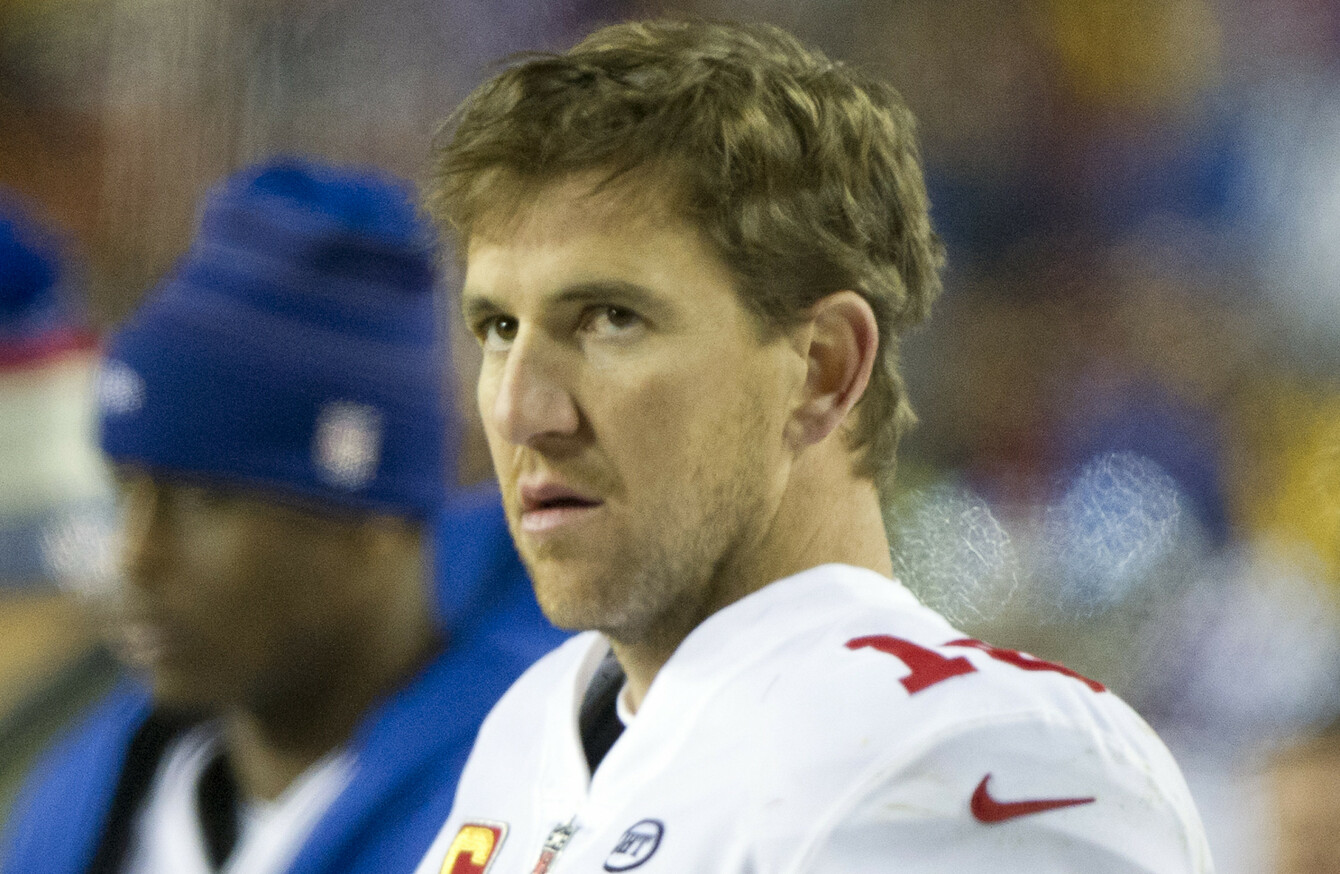 Image: DPA/PA Images
Image: DPA/PA Images
THE CAREERS OF Giants quarterback Eli Manning and his Chargers equivalent, Philip Rivers, will forever remain inextricably linked.
In the 2004 NFL draft, the then-San Diego Chargers drafted Manning as the first overall pick before trading him to New York in exchange for Rivers.
Manning has since won two Super Bowls – and, indeed, is a two-time Super Bowl MVP – while Rivers still awaits his first taste of glory, but both QBs belong to a still-lofty pantheon of NFL 'goods' as opposed to greats, ranking somewhere just below current A-list slingers such as Tom Brady (twice beaten by Manning in Super Bowls) and Aaron Rodgers.
This weekend will see Manning and Rivers mentioned in the same breath once more, as the Chargers talisman, 11 months Manning's junior, replaces the Giants icon in holding the longest active streak of consecutive starts by a quarterback.
Rivers is far from impressed by Manning's unceremonious benching, however. He's furious, in fact, at the Giants' complete botchery of a situation involving a bona fide franchise legend, as Manning's streak of having started every game for the past 13 years is set to finally come to an end this Sunday.
"I honestly thought it was pathetic, really," Rivers said, when asked about the Giants' call to drop Manning.
"I just thought it was too bad, just the way it was handled. Eli – you know, we're not close buddies, but as a fellow quarterback, it was tough to watch him. You can only imagine how he felt."
Eli Manning very emotional discussing the decision pic.twitter.com/L2rtHLtStV

— Dan Duggan (@DDuggan21) November 28, 2017
Rivers continued: "The guy, he's been out there 210 straight games with no telling how many bumps and bruises and injuries for his team, won two Super Bowls, MVPs.
The respect he's had in the locker room over the years, really the respect he's gained throughout the league, you feel like the guy has earned the opportunity – if they are deciding in fact to go another direction – to finish off these last five weeks.
"But he handled it like a pro, like he's handled everything.
"I felt like he's earned that, to go out there for these last five weeks."
Manning's streak is the second-longest in NFL history, trailing only Brett Favre (297). His brother, Peyton, is third with 208.
Despite widespread fury – both from Giants fans and former players as well as the NFL community in general – the G-Men's head coach Ben McAdoo claims he's 'at peace' with the decision to start former Jets reject Geno Smith at quarterback this Sunday.
"It's obviously emotional," said McAdoo, whose position is in jeopardy due to the Giants' appalling season. "I understand the emotions. I understand the responses. It's been a tough couple days, but I feel we have to put our emotions aside and make the best decision for the New York Giants. I'm at peace with the decision.
When asked by reporters if McAdoo's job is safe for the remainder of the season, New York co-owner John Mara replied, "there's no guarantees in life." He added that the Giants "obviously have some decisions to make this offseason."
Pressed further on McAdoo's performance this season, Mara said: "we're 2-9. We're 2-9, OK? I'm embarrassed about that. Nobody's doing a good job."
At an owners meeting on Wednesday, Mara said of the decision to bench Manning:
Maybe the timing of it could have been a little different. I wish I could've been here when that was all going down. I was hoping it would turn out differently and he would continue to play some portion of the games, but at some point we'd work in the other quarterbacks. But he didn't want to do it that way, and I understand that. I respect him so much, and I'm not going to argue with him.
I'm honestly at a lost for words. As a person that has seen Eli the QB but also Eli the Man, I'm truly pissed about what has taking place today. This decision is one of the STUPIDEST I've seen in my time being asap with pro sports #noloyalty #14years #bullshit

— Justin Tuck (@JustinTuck) November 28, 2017
Damn! Bench Eli? Man showed up every week for 14 years.

— Plaxico Burress (@plaxicoburress) November 28, 2017
Are you fucking kidding me? Show me a guy with more heart and guts than Eli and I'll call you a long tongue liar.

— Brandon Jacobs (@gatorboyrb) November 29, 2017
Eli deserves much better than that. Much better. Class person, class player. That's absurd

— Osi Umenyiora (@OsiUmenyiora) November 28, 2017
John Mara letting Ben McAdoo and Jerry Reese finish the season but not Eli Manning is ridiculous and complete and utter disrespect to the greatest quarterback to ever play for the New York Giants.

— Giants Daily (@NYGDaily) November 28, 2017
Legendary New York sports broadcaster Mike Francesa joined the chorus of criticism for the decision, unleashing a scathing rant at McAdoo's expense during a broadcast earlier this week. Francesca, a radio idol in the Big Apple, also rinsed the Giants' general manager, Jerry Reese, for signing off on Manning's benching.
"This coach has decided – he has told you Giants fans – that in his football wisdom, Geno Smith gives him the best chance to win this week — not Eli Manning. Geno Smith." Francesa began. "Geno Smith, who we know well."
"Now, Geno Smith is not a running quarterback," Francesa said. "Is he more mobile than Eli? Well, a tree is, okay? We understand that — that is not Eli's strength.
Jerry Reese's career is BUILT on Eli Manning! His success in those two games [Super Bowls] is the only reason that Jerry Reese has got a career here! He doesn't have a career because of how he's drafted here, he has a career because he won two Super Bowls, won by Eli Manning! Without that, Jerry Reese is unemployed! It's built on his back!
"You're playing guys who drop every ball in sight," Francesca continued. "You haven't disciplined a damn player all year. And you're gonna blame this now on your quarterback? At 2-9? What a gutless move."
You probably heard that Mike Francesa authored a multi-segment destruction of Ben McAdoo today. I condensed it into the absolute BEST two minutes, and believe me... it wasn't easy. This rant is as good as it gets. ☠️ pic.twitter.com/Panc2ILf7q

— Ƒunhouse (@BackAftaThis) November 29, 2017
Francesa continued: "We haven't seen a game plan all year from this guy! Since he's been the head coach the Giants have never scored 30 points EVER! … And now you're gonna tell me that your plan is to go to Geno Smith? That's the game plan that's gonna beat the Raiders this week?! You gotta be kidding me!
You can't run this clown out of town fast enough. Maybe on your way out you can take a look at Eli's rings: that's the closest you're ever gonna get to one. That's not going to stand in this town, because these guys have watched Eli Manning. They've watched him long before they ever heard your name. And they'll remember his long after they've forgot yours.
The42 has just published its first book, Behind The Lines, a collection of some of the year's best sports stories. Pick up your copy in Eason's, or order it here today (€10):