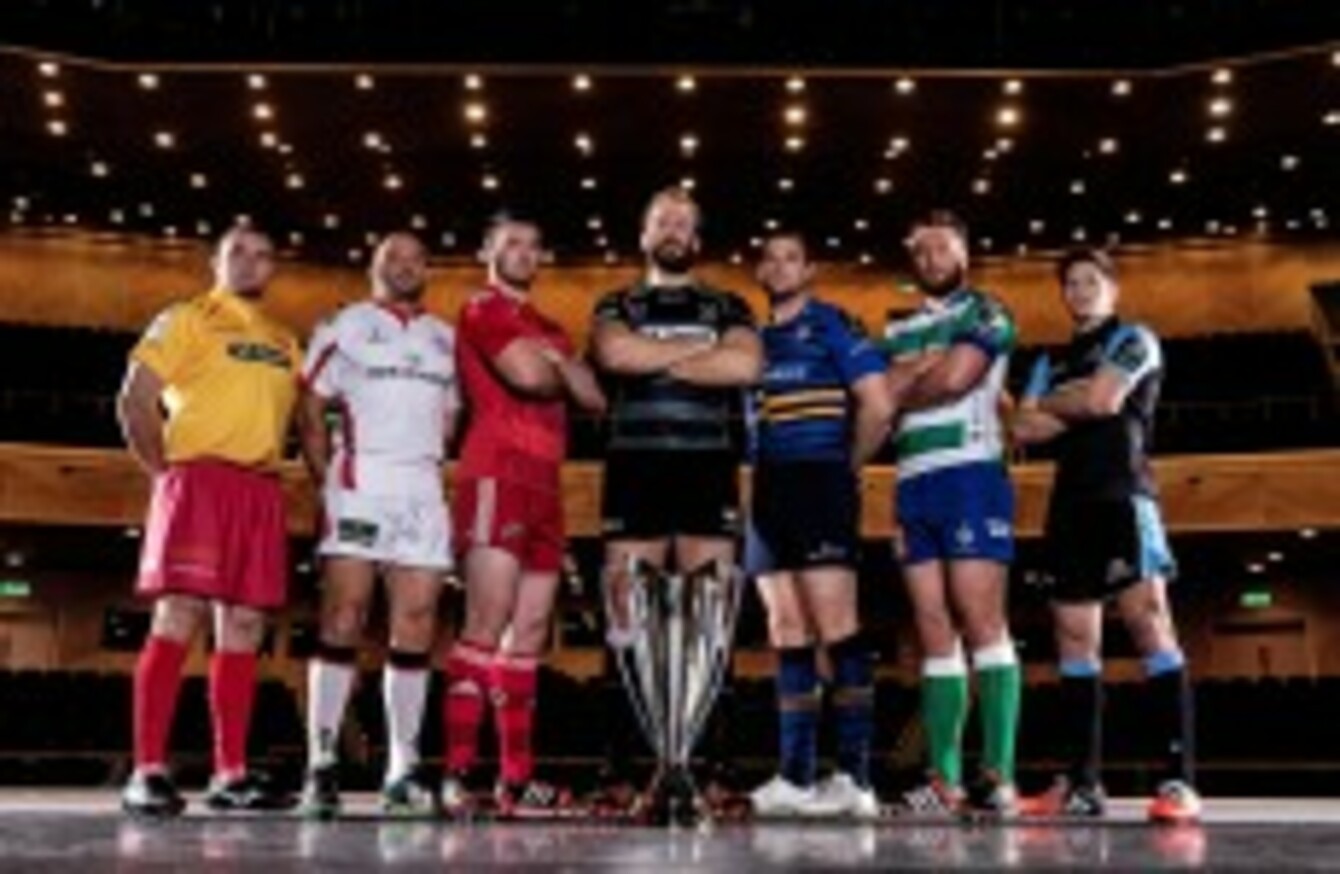 The captains of the Pro12 sides involved in EPCR competitions this year at this afternoon's launch in Dublin.
Image: Billy Stickland/INPHO
The captains of the Pro12 sides involved in EPCR competitions this year at this afternoon's launch in Dublin.
Image: Billy Stickland/INPHO
EUROPEAN PROFESSIONAL CLUB Rugby [EPCR] Board Director Paul McNaughton says his organisation may have to wait until the beginning of next season to fill their four remaining commercial partner positions.
Heineken has been confirmed as a "founding partner" to the new EPCR tournaments – the Rugby Champions Cup and Rugby Challenge Cup – but there are still four sponsor positions available and, for now, unfilled.
McNaughton, speaking at the EPCR launch in Dublin this afternoon, said the organisation could have filled those spots in the build-up to this season's competition, but there was a gap between potential sponsors' valuations and the EPCR's.
"On the commercial front, we could have four or five done now, but at a much lower value than we ascribe to those sponsor slots. So, we're not being smart, but we're trying to play the long game here.
"When you sign a deal, you're signing up for four years and we want to get the best deal for the competition."
McNaughton rejected the notion that there has been a notable gap between the price EPCR are looking for from sponsors and what is actually being offered, and stated that his group were happy to wait until the new competitions proved their worth.
If there was pressure on us to get it done in a month or two, to get it all done before the tournaments start, I suspect you're giving an advantage [to the potential sponsor], in commercial terms.
"We knew as soon as we started as an executive committee last May that it was very unlikely to get five sponsors on. We may have a couple of additional by Christmas, but I would project that we will have the five on before the beginning of next season, at the right value."
The former Ireland manager admitted that the delay in agreeing a deal with France Télévisions, which was signed yesterday, had possibly been a negative from prospective sponsors' point of view, given that it meant there was no guarantee of the Rugby Champions Cup and Challenge Cup being broadcast free-to-air in France.
"Now that the France TV stuff is over the line, and therefore we are free-to-air in France which is important to many sponsors, especially potential French sponsors, it'll give a stimulus to those discussions," said McNaughton.
Be part
of the team
Access exclusive podcasts, interviews and analysis with a monthly or annual membership.
Become a Member
Despite the probable season-long delay in adding a roster of commercial partners to their relationship with Heineken, McNaughton insists that TV deals secured with BT, Sky, beIN, Sky Italia, IMG and France Télévisions mean that this year's Champions Cup is already a bigger earner than last season's Heineken Cup.
"Already, there's more revenue secured – even if we only have one sponsor – with the television increase and with the Heineken revenue. There's about 20% more revenue already in the bag coming in compared to last year.
"Even though all of the commercial sponsors are not signed up, we're still ahead substantially money-wise from now."
McNaughton said the EPCR have had sympathy with rugby fans while the various negotiation procedures have been taking place.
There has been much frustration that dates remain unconfirmed for the fixtures in rounds three and four of the Champions Cup and Challenge Cup pool stages, although they are finally to come later this week.
The ex-Leinster centre outlined that EPCR have not lost sight of the supporters and sympathised with their feelings.
Of course I do, I'm a fan myself. I've got plenty of stick from my mates about not knowing when round three or four was," said McNaughton.
"Unfortunately, that was an element of the French TV finalisation, because obviously, whatever about doing rounds one and two without France Télévisions involved, doing rounds three and four without France Télévisions input would have been difficult.
"So, I share the fans' frustration on that one, but now that the French deal is over the line – and that was yesterday – we'll have the fixtures out to the clubs tomorrow and they will be announced to the public by the end of the week.
"That was down to the commercial side and getting the right deal for the EPCR."