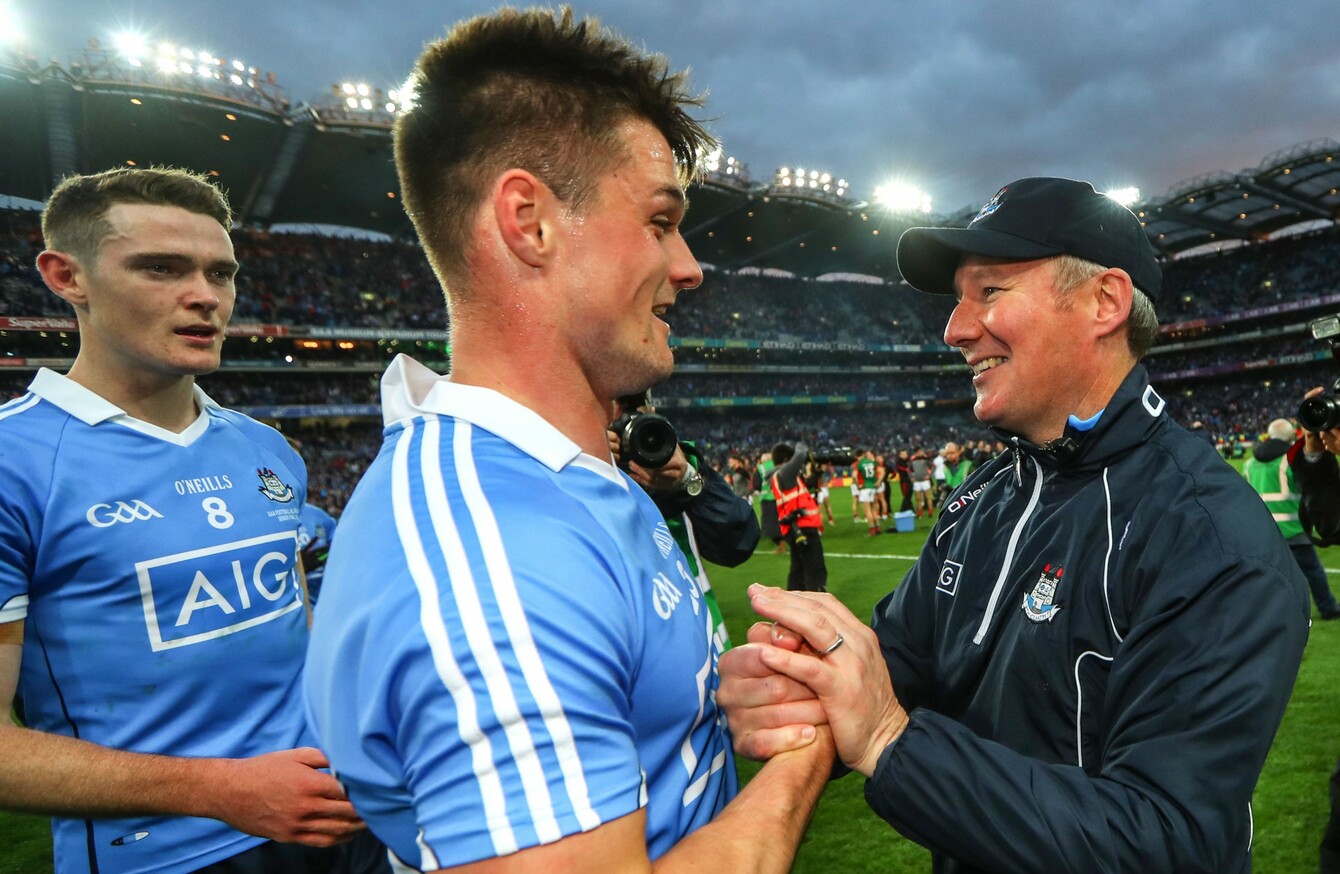 Eric Lowndes alongside Jim Gavin.
Image: James Crombie/INPHO
Eric Lowndes alongside Jim Gavin.
Image: James Crombie/INPHO
THE RISE AND rise of Eric Lowndes continues unabated.
While other players in Dublin West like Paddy Andrews of St Brigid's and Ciaran Kilkenny of Castleknock have received the lion's share of plaudits, the St Peregrines man has been an integral member of the Dublin senior football panel over the last number of years.
Crucially though, he is just getting started. Still just 23-years-old and with his best days in Gaelic football to come, the corner back has amassed a trophy cabinet worthy of any retired GAA legend.
Three All-Ireland senior football titles are the crowning centrepiece alongside four Leinster titles, three National Football Leagues, one All Ireland U21 FC, one Leinster U21 FC, an All-Ireland MFC, two Leinster MFC and two Leinster MHC.
With his fourth senior season going according to plan with starts against both Carlow and Westmeath in the Leinster Championship on top of seven National League starts from eight in 2017, the player is slowly beginning to command and master the role of corner back in Jim Gavin's starting XV.
Lowndes has come a long way but speaking to those who knew him years before, he always seemed destined for success. The question was never what if, but in which code – hurling or gaelic football.
While many lament what Diarmuid Connolly could have brought to Anthony Daly or Ger Cunningham's panels in recent years, Lowndes too could easily have slotted into any Dublin senior hurling side comfortably.
A multi-talented dual player during his minor years, he made the decision to commit to football after moving up to senior level. Putting away the hurl Lowndes left behind a record of success which featured two Leinster Minor Hurling Championships on top of two All-Ireland hurling final defeats at minor level in 2011 and 2012.
He went to Secondary School in St. Peter's, Dunboyne, in Meath with a family tie to the Royal County going back generations. His late grandfather, Paddy Maguire, is well-known for his running and hurling achievements in the county.
Through childhood Lowndes was always involved in GAA and prior to earning his position on the Dublin squad was a recognised player and face within St Peregrines and the wider GAA community in north Dublin.
Peregrines is where it all began and his coach from Under 10s through to minor John Larkin says it is no shock Lowndes has become a three-time All-Ireland winner while not even reaching his mid-20s.
The player's progression was self-made, his ex-manager says, but also owed to his family's tradition in Gaelic games and the competitiveness between Eric and his brothers Stuart and Craig growing up playing for the club.
"It's not surprising how well he has done", says Larkin.
He was always very driven, even as a young lad. His older brother Stuart played minor for Dublin when Eric was around U13 and you always felt that they were pushing each other on, almost as if Eric was thinking, 'if he can play minor then I want to play senior.'
"He had that drive to try and be better than his brother, definitely Eric was driven to try and be better than Stuart. He always had that and was open about it. But with Eric you never saw him outside without a hurl or a football – he was constantly practicing."
Stuart played for Dublin at minor level, while also featuring in O'Byrne Cup matches under Jim Gavin. His last appearance came two years ago in an O'Byrne Cup semi-final against Meath before transferring to play for the county under Andy McEntee at the end of 2016.
Larkin explains that Eric always possessed a desire to move up to the next level. From underage to minor, minor to U21 and now into the senior panel at Dublin, it has been nothing but a natural progression for a player who showed immense promise even as a young child at Peregrines.
To be honest he climbed up the leagues with ease because he just had that will to win. Even when he would be training at a young age if something went wrong he would nearly have a go at the other lads before I would!", he laughs.
"He always had that will that he wanted to push on and win – he would play anywhere from centre back to centre forward.
At underage he would have been a big leader in the dressing room. But he would also have that modesty in him – you would be patting him on the back and you could see he would be a bit embarrassed.
"Anytime I see him now he is very nice and he still sends me texts every now and again. He's just a nice young lad who had that streak in him to push on and make it at the next level."
Sunday's Leinster final against Kildare will present yet another opportunity for the defender to prove himself as he continues a battle with Michael Fitzsimons and Philly McMahon for the corner back jerseys.
His individual performance versus Westmeath three weeks ago has given him the best possible opportunity to make this Championship campaign his own.
In a merciless display from Gavin's troops Dublin inflicted a 31-point massacre on Tom Cribbin's side 4-29 to 0-10 – the first of the game's four goals signed, sealed and delivered with Lowndes' signature all over it.
A neat punt pass found the defender unmarked in dangerous territory. Dodging one challenge before turning David Lynch inside out with a powerful surge, Lowndes charged into the box before elegantly popping the ball off to Dean Rock who netted the chance for his fourth Championship goal.
Lowndes always had that selflessness, says former Dublin U21 manager Philip McElwee, who managed the player from minor up until senior level.
"He always understood the collective importance of the team", he explains.
He knew how important it was for everyone to do their job and do it right. From a very early age he was capable of giving instructions and following a game plan."
McElwee points to Lowndes' display in the U21 All-Ireland semi-final victory against Cavan in Portlaoise three years ago as emblematic of his pedigree.
"For me it was on that day that he really blossomed", the Derryman explains of the 0-11 to 0-10 victory for his side. "He showed in a very tight game his ability to read the game and how to attack from the back.
Beforehand in his minor days he was in the backline for us. He had so many attributes, he could have played anywhere on the team, but he was very pacy and was able to set up attacks coming out of defence.
"During his minor time he would have played minor hurling with Dublin too. It's a long time ago now but back then he was a fantastic dual player. I know he made the decision to stick with the football and the rest is history – for me he has come of age at senior level for Dublin.
"A lot of his development is down to the work he has done himself and the work of his club and those who looked after him in those early formative years. People like Dessie Farrell have had a big part to play in his development, as well as his family.
He was always very selfless in his performances. He was never a player who tries to dominate and go it alone. He always saw the importance of the collective organisation of the team, and you can see that blooming now in the way he plays."
Dave Foley coached Lowndes while playing minor hurling and football at Peregrines. He admits Lowndes was always a committed player and showcased this bravery even when other teams purposefully targeted him during games.
Exclusive NZ - IRE
Rugby Analysis
Get Murray Kinsella's match analysis and Garry Doyle's updates from New Zealand exclusive to members
Become a Member
"You would never see him without a hurl growing up, he was always around the park with his friends picking the ball around", he explains.
If you knew Eric you knew he was destined for the county team", he adds, "whether it be football or hurling it was going to be whatever he put his mind to.
"I suppose what symbolised him in my eyes was during an U15 league game, if we won we would have been promoted to U15 A, which would have been the first team in the history of Peregrines to be promoted to the Premier Division.
"In the game Eric was taken out in the first 10 minutes. He was on the sideline at half time and he insisted on going back in. I told him that we could only put him somewhere out of the way, maybe in the corner forwards where he wouldn't be exposed.
"He said to me, 'what about full forward?' I agreed, but you could see straight away that he was still struggling on one leg.
"Despite all of this in the last 10 minutes he scored two incredible goals, we won by a point and we were promoted – the first time in the club's history to reach the top division.
That just summed Eric up for me – even when he was injured he would go back into battle for his team."
Foley managed Lowndes from U13 to U16 where the club's hurling sides earned consecutive promotions. But like others he recalls the environment the player grew up in thanks to the encouragement of his family combined with his own obsession to be a better player, even training on his own in front of his home.
"He would have grown up with a lovely green field in front of his house so that if he wasn't training at the club or at the hurling wall up at the clubhouse I would see him on that green on my way home from work pucking the ball around.
It means a lot to the club because with young players you can see their ears go up when you mention Eric's name around Peregrines. The young fellas are always dying to get his autograph and his jersey.
"He gets involved in the summer camps within the club, and honestly if I rang him up in the morning and said 'we have a match coming up in two weeks' time, is there any chance you could give the lads a few words and a bit of encouragement?', Eric would say just name the time and place and he would be there."
With more medals than most senior county players could wish for in their careers, Lowndes has achieved so much in such a short space of time.
Growing stronger with each passing game, turning heads all the while to his future promise as one of the country's best defenders, Lowndes is giving Jim Gavin yet another headache with team selection in a Dublin side packed with talent at every corner.
A future All-Star in the making, Lowndes' rise to the top shows no signs of letting up.
The42 is on Instagram! Tap the button below on your phone to follow us!