As always, we'd love to hear your thoughts on the game. E-mail paul@thescore.ie, tweet @thescore_ie, post a message to our Facebook wall, or leave a comment below. You may need to refresh the page for YouTube videos and other elements to display correctly.
Ukraine 0-1 England (FT)
France 0-2 Sweden (FT)
Hello, and welcome to this evening's liveblog.
England require only a draw to progress to the quarter-finals tonight. Surely they can do it, against the less than formidable opponents of Ukraine, can't they?
Here are the teams for tonight's games:
England v Ukraine
England: Hart, Johnson, Terry, Lescott, Cole, Milner, Gerrard, Parker, Young, Rooney, Welbeck. Subs: Green, Kelly, Walcott, Henderson, Carroll, Baines, Jones, Jagielka, Downing, Oxlade-Chamberlain, Defoe, Butland.

Ukraine: Pyatov, Gusev, Khacheridi, Selin, Rakitskiy, Yarmolenko, Tymoschuk, Konoplianka, Garmash, Devic, Milevskiy. Subs: Koval, Kucher, Shevchenko, Aliev, Voronin, Shevchuk, Rotan, Seleznyov, Mykhalyk, Nazarenko, Butko, Goryainov.
Sweden v France
Sweden: Isaksson, Granqvist, Mellberg, Jonas Olsson, Martin Olsson, Svensson, Kallstrom, Larsson, Ibrahimovic, Bajrami, Toivonen. Subs: Wiland, Lustig, Elm, Elmander, Hysen, Antonsson, Wernbloom, Safari, Holmen, Wilhelmsson, Rosenberg, Hansson.

France: Lloris, Debuchy, Rami, Mexes, Clichy, Nasri, Diarra, M'Vila, Ben Arfa, Ribery, Benzema. Subs: Mandanda, Evra, Cabaye, Valbuena, Giroud, Matuidi, Reveillere, Menez, Malouda, Martin, Koscielny, Carrasso.
I should mention that we'll be focusing primarily on the England game, while providing updates of all the major incidents in the France-Sweden clash.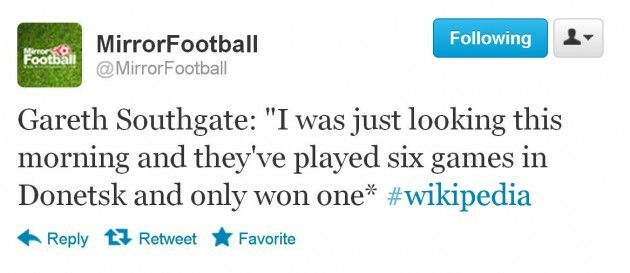 Of course, England only need a draw to progress to the quarters, but will probably need to win by two goals more than France beat Sweden (provided they do) in order to top the group.
Should Roy Hodgson's men finish second of course, they'll have the daunting task of playing Spain in the next round.
Is there anything Henry Winter doesn't analyse?
3…2…1… and we're underway…
Buoyed presumably by the large support behind them, Ukraine have started this game relatively well. They certainly don't seem in awe of their more eminent opponents, enjoying the majority of possession and showing a willingness to attack in numbers.
Nevertheless, they've yet to carve out a clear-cut opening against a rather conservative-looking England side.
However, as I type, Garmash has a shot from at least 30 yards out that only goes narrowly over.
Rooney's been rather anonymous so far, save for one woeful moment, where he failed to properly control a routine bouncing ball, epitomising England's sluggish start in the process.

A cross falls to that man again – Garmash – whose shot requires a desperate lunge from Scott Parker to prevent it hitting the target.
Down the other end, a dangerous cross marginally eludes Rooney, who managed to ghost in unmarked between two Ukraine defenders.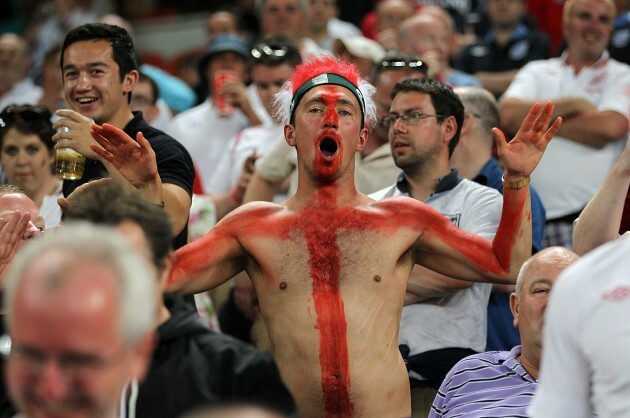 (EMPICS Sport/EMPICS Sport)
Ukraine continue to look the better side, showing some decent technique on occasion.
England, meanwhile, are very much adopting the solid-but-unspectacular approach that has worked relatively well for them in the tournament so far, snuffing out any potential chances whenever their opponents look to make headway in the final third.
Gusev has gone close, making a positive run forward, before producing a powerful shot from the edge of the box that goes just over.
England are adopting a very risky strategy if they're playing for a draw, which they appear to be.
One advantage Roy Hodgson's men have is the Ukraine goalkeeper, who has looked dodgy on more than one occasion tonight, and has just spilled an ostensibly weak Steven Gerrard free kick.
Ukraine, for all their attacking threat, do look susceptible to set pieces.
Rooney has just missed a sitter from a header following Ashley Young's inch-perfect cross into the box.
I never though I'd say this but England are missing Andy Carroll.
A swift Ukraine counter-attack ends with Yarmolenko forcing Joe Hart to dive down to his left to produce a reasonable save.
Ukraine could do with Shevchenko who, like Walcott, is only fit enough to make the bench, as they seem to lack a cutting edge in attack at the moment.

Garmash drags a shot well wide from distance following some nice build-up play. Are Ukraine running out of ideas already?
Meanwhile, Young's dangerous cross is well intercepted by the Ukraine defender at the near post.
Both sides are beginning to look quite tired even at this early stage.
No doubt there'll be the usual calls for a winter break in English football should they exit the tournament tonight.
The ball brushes off Scott Parker's hand as his opponent weaves past him in the box. It would've been harsh if it had been given, but England are continuing to play with with fire this evening.
HALF-TIME: UKRAINE 0-0 ENGLAND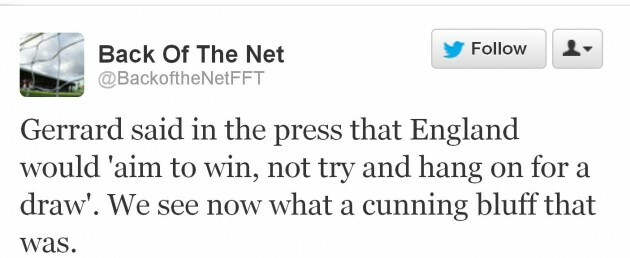 At half-time, England have played in a similar manner to their previous performances in the tournament – uninspired, but just about good enough.
Ukraine, on the other hand, have been impressive with the ball, but lack incision in the final third.
If only they had a legendary goal poacher waiting to be introduced from the bench… Oh wait.
ITV's Adrian Chiles has just said suggested tonight could be good practice for Wayne Rooney "before the big game in the quarters". Patronising towards Ukraine much?
The second half is underway…
What was that I was saying about the Ukraine goalkeeper being dodgy earlier? He fails to hold a deflected Gerrard cross and Rooney is on hand to tap the ball into the empty net.
So as it stands, England will top the group, and face Italy rather than Spain in the quarters.
That will all change, of course, if France score.
Here's a look at that Rooney goal:
YouTube credit: Rul Rive
Incredibly, Ibrahimovic has put Sweden ahead against France.
Ukraine responded reasonably well to that England goal, winning two quick corners in succession.
However, Rooney subsequently almost punished them again, finding himself through on goal, but lacking the pace to escape the defender, who is unlucky the referee doesn't spot the handful he has of the striker's shirt.
Moment of controversy there. A shot from Milevskiy appears to cross the line (judging from replays) but the referees and the extra officials indicate play on.
All I'll say is the referee is definitely not a homer.
Meanwhile, to the delight of the Ukrainian crowd, Shevchenko is preparing to come on.
Twitter is in uproar…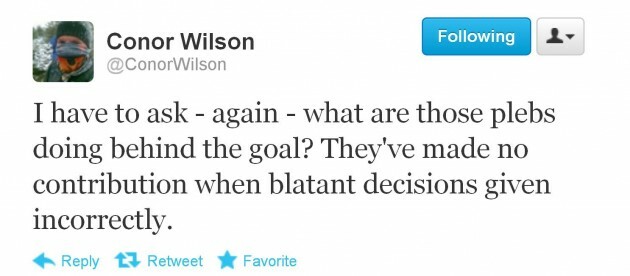 Walcott has replaced Milner, while Shevchenko has been introduced for Ukraine.
That Ukraine goal that never was also should've been ruled offside judging by replays, so justice has been served in a peculiar way.
Meanwhile, Joe Hart does well to parry a powerful Konoplianka shot away from goal.
You may want to take a look at this Ibrahimovic goal – it's quite special.
YouTube credit: Rul Rive
Rooney celebrates his goal (EMPICS Sport/EMPICS Sport).
Nazarenko has just blasted a shot well over the bar from distance. Ukraine no longer seem to believe they can score, and have resorted to pot shots.
This England performance has been uncannily reminiscent of Ireland under Trap before everything fell apart at the Euros.
Ukraine have undoubtedly played the better football of the two sides, but England's defensive solidity and strong work ethic appears to be enough for them to win this game.
Anyway, Oxlade-Chamberlain has just replaced Wayne Rooney, as ITV's Clive Tyldesley and Andy Townsend show admirable restraint in refraining from using the 'money in the bank' cliché.
3 minutes of added time to be played.
Barring a miracle, England will play Italy in the quarters, while France will meet Spain.
Seb Larsson has just doubled Sweden's lead, as France are dragged kicking and screaming into the quarters.
FULL-TIME: UKRAINE 0-1 ENGLAND
"England are STAYING HERE!" says an ecstatic Clive Tyldesley.
So in the end, England make the quarters in somewhat fortuitous circumstances.
Ukraine will feel aggrieved, given that they demonstrated superior technical ability, had greater possession and wasted one or two glorious chances, not to mention the dodgy decision that went against them.
However, the co-hosts failed to show the type of solidity at the back which their opponents demonstrated, as emphasised by their goalkeeper's lacklustre attempts to collect that cross for the goal – a factor that ultimately proved the difference between the two sides.
Here's a look at the second Swedish goal, with Seb Larsson nearly breaking the net with his venomous shot in the process of scoring.
YouTube credit: kashif Shah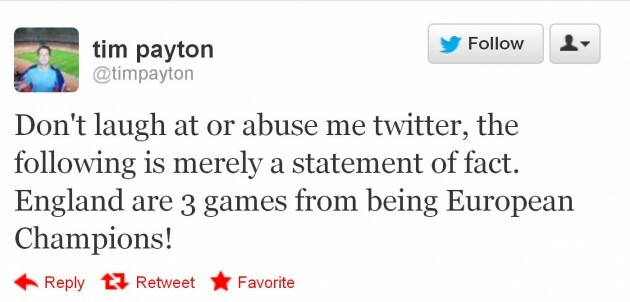 When asked how far England can go in this competition, Steven Gerrard diplomatically says: "We'll see."
RTE's Liam Brady says England will have to "do a Greece" in order to win the Euros.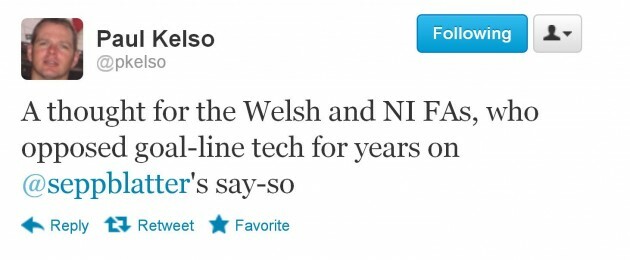 Roy Hodgson says it was a "hard game for us tonight" and admits they "needed a bit of luck" to win.
Alright, that's all from me. Thanks for reading and commenting. Good night.