DAY THREE OF the Euros yesterday was a moving day for us, a day for making the trip from Poznan up to Gdansk where Ireland will be attempting Mission Improbable against the Spaniards tomorrow night.
Of all my mates that are over here following the Boys in Green, most put together their trips themselves independently thus avoiding hefty creaming by travel agents putting together the package deals.
However, in order to ensure we got match tickets for each game sorted immediately, last December when we'd qualified and the draw was made, one of my mates and I bit the bullet and went down the travel agent route, being charged a sickeningly high premium for the privilege.
At least we could sit back with our match tickets tucked away while other mates went on all manner of wild-goose chases the last few months trying to get theirs sorted.
Another small mercy of our travel agent route was we'd have everything laid on for us so we'd be travelling in a bit of comfort on a luxury coach on the five-hour journey from Poznan to Gdansk while our other mates would be crammed in a cattle train.
Well that was the plan anyway.
I do love a snooze after a night out on the lash and had neglected to set my alarm of course resulting in me sleeping in and missing the coach laid on for us and we now had to scramble to re-arrange some other way to get up Gdansk.
Having been quoted €350 for the taxi journey between the two cities, it meant it was the cattle trains for us and a mad dash down to the station to catch the last one just before it departed, which we just about did, but late enough so there were no seats left. It meant we spent the journey standing in the bouncy bit between two carriages.
A trip up through the carriages in search of a bar proved a fruitless search as, though we managed to locate the train bar, in true Irish fashion the fans had managed to drink it dry in the first couple of hours of the journey, literally purchasing everything that the bar had to offer including, somebody told us, a bottle of Pimms, some 70% local-brewed spirits and a few boxes of cigars.
Anyway we finally got up to Gdansk to our hotel, parched and starving, having missed the early evening kick-off match but just in time for the second match, the hosts Poland taking on the impressive Russians.
Now anyone with even the most rudimentary knowledge of the history of this region would be fully aware that the Poles may have one or two reasons for not being overly-fond of their bigger neighbours and chatting to any of the locals you could tell they were up for this game in a big way and so we decided to head down to the local 'Fanzone' to watch it.
The Fanzones aren't generally the best places to watch games; you're sold piss-weak beer at inflated prices and have all sorts of branding from UEFA 'commercial partners' rammed down your neck, along with these credit cards you must buy to pay for anything in the Fanzone.
Corporate-organised fun like this you can normally keep but it was one place where we knew you'd be getting thousands of Poles watching it and so it proved. And what an atmosphere with the Poles decked out from head to toe in red and white, singing and chanting the whole way through, save for a couple of minutes after Russia took an early lead.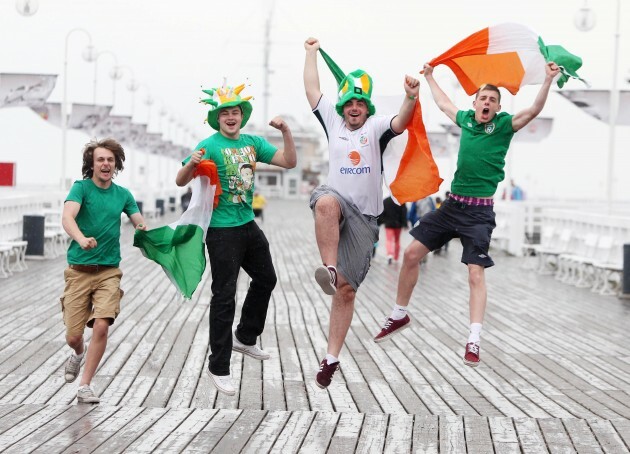 Niall Barry, Mark MacNamee, Cian Buckley Cillian Carroll from Dublin arrive at Republic of Ireland's team base of Sopot. Pic: Niall Carson/PA Wire
As the second half progressed and Poland got closer to an equaliser the excitement and tension built and built until the place almost exploded when they made it 1-1. There's a lot of pride among the locals for their country and the party they're laying on for their guests and their enthusiasm is infectious. Unluckily they didn't get a winner but it's all teed up nicely for their must-win final group game now.
Our other mates meanwhile who had got the early train to Gdansk while we were still trying to leave Poznan, had met some of the Irish players, had photos taken and a good bit of banter. My mate Doug, who we had long ripped into before for resembling FAI head honcho John Delaney, even got a photo taken with him while sporting his 'Delaney 12' Ireland top. We were green with envy at this and regretful that a drunken sleep had robbed us of this opportunity too.
And I wasn't in the best of spirits until I remembered that I'd had a fiver on Joleon Lescott at 40/1 to open the scoring against France the other night, a fact I'd completely forgotten, and this cheered me up no end.