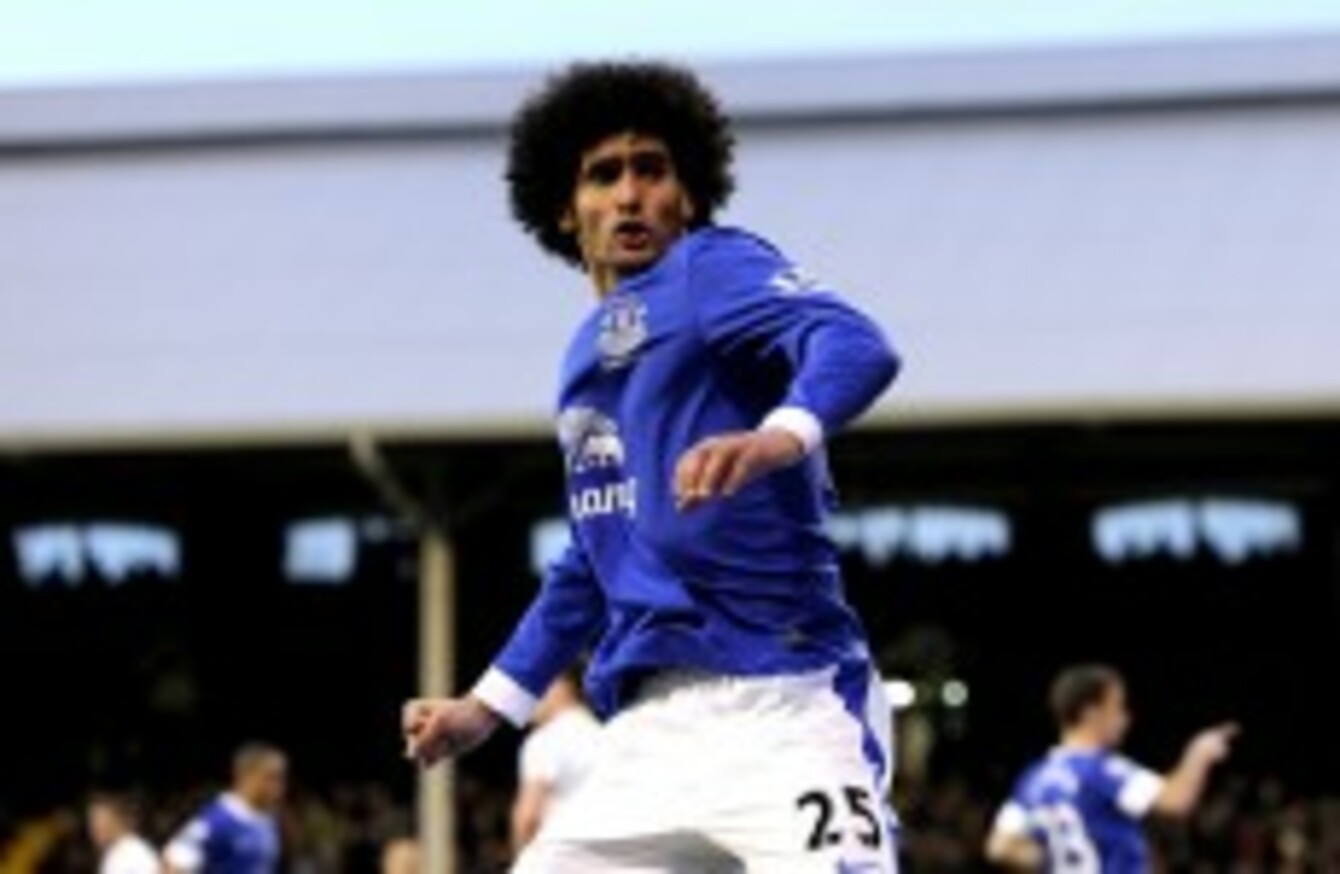 Everton's Marouane Fellaini was in impressive form last week.
Everton's Marouane Fellaini was in impressive form last week.
FANTASY FOOTBALL PLAYERS were left reeling last week following more than one unexpected result.
Anyone confident that Tottenham against Wigan was a banker home win, or who thought Chelsea's class would prove too much for Swansea, was in for a surprise.
Moreover, there were a number of cagey draws and a conspicuous lack of goals scored, leading to disappointment for FF players hoping to acquire a significant amount of points. Indeed, the fact that the highest points score was a paltry 91 says it all.
So let's hope this weekend provides far more goals, entertainment and general satisfaction for the avid FF fans among us.
Two players to pick this week
Demba Ba: Newcastle have a decent home record this season, while their opponents, West Ham, have looked decidedly suspect on their travels. On that basis, I'm recommending their main man, Demba Ba.
Marouane Fellaini: The Everton player had an exceptional game against Fulham last week, earning 30 points for FF players who had him in their team. Expect the Belgian international to build on that form tomorrow, as high-flying Everton face Sunderland, who have had a distinctly underwhelming start to their campaign.
Two players to avoid this week
William Gallas: The Tottenham defence has looked less than assured at times this season, and Gallas in particular is starting to show his age. Moreover, Tottenham lost and conceded three at Eastlands last season, and their surprise defeat by Wigan last week won't make them overly confident that they can avoid a similar fate this time around.
Shane Long: Think less about Long as being a player to avoid rather one to be cautious about picking. West Brom boss Steve Clarke tends to rotate his strikers, with Long, Peter Odemwingie and Romelu Lukaku all looking impressive at times this season. So pick Long at your peril – he could score a stunner, and equally, he may start on the bench.
Predictions:
Arsenal 2-1 Fulham

Everton 2-1 Sunderland

Reading 1-1 Norwich

Southampton 1-1 Swansea

Stoke 3-1 QPR

Wigan 2-2 West Brom

Aston Villa 1-3 Man United

Man City 2-1 Tottenham

Newcastle 3-1 West Ham

Chelsea 2-1 Liverpool
How my team got on last week:
25 points. Pretty unacceptable stuff. Though I suspect I'm not the only one to be let down by a number of top players.
Who's leading TheScore.ie Primera Division?
Stephen Ruth's 'Man Red' remain on top, despite the crazy state of affairs last week.