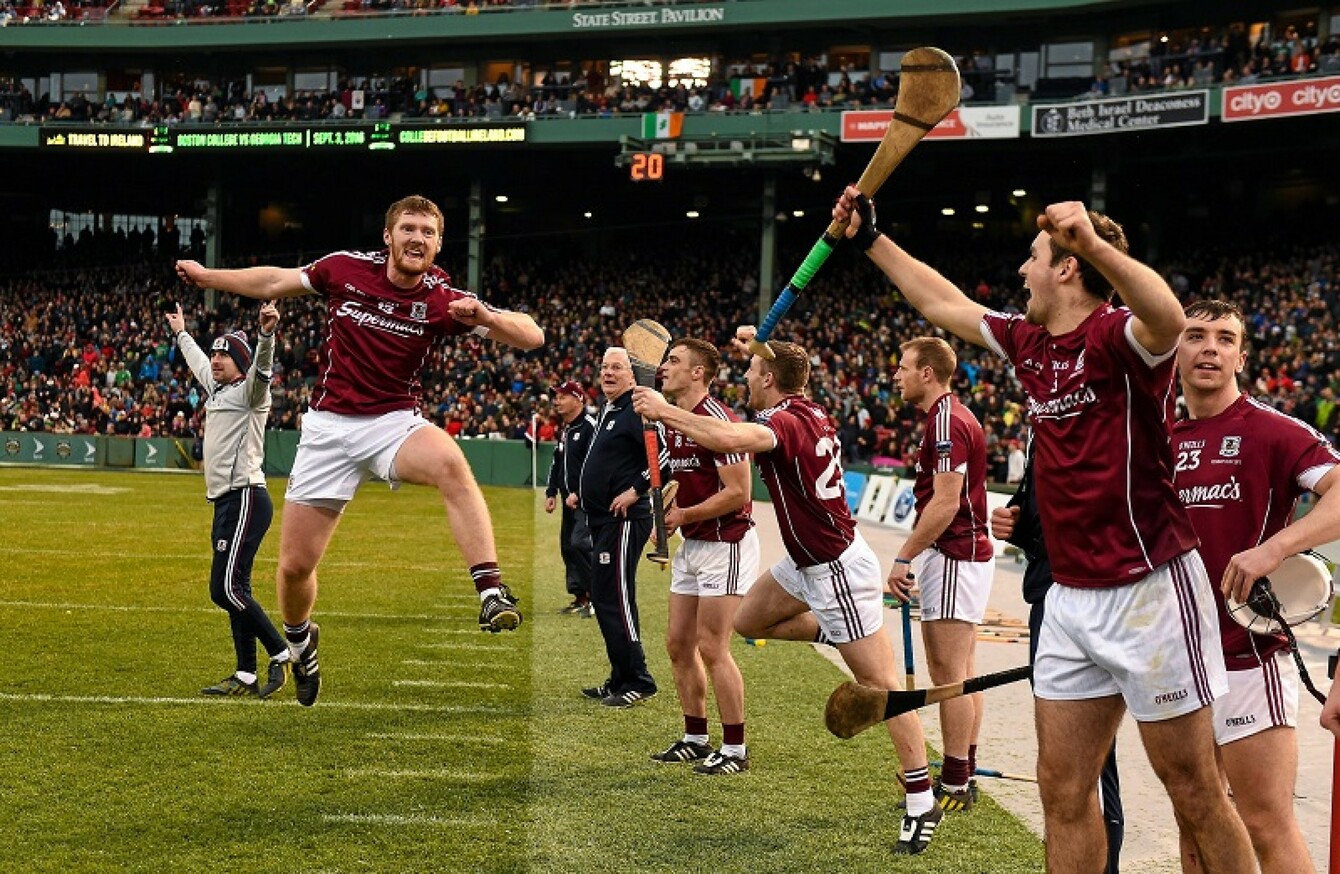 Galway's John Hanbury leads the celebrations at the final whistle.
Image: Ray McManus/SPORTSFILE
Galway's John Hanbury leads the celebrations at the final whistle.
Image: Ray McManus/SPORTSFILE
Galway 50
Dublin 47
A SECOND-quarter flash-point enlivened the AIG Fenway Hurling Classic between Dublin and Galway in Boston on Sunday.
The sin bin was full after a major skirmish broke out in front of the Dublin goal.
Keeper Conor Dooley went down injured after making a save and a bout of pushing and shoving quickly accelerated with players throwing punches, wrestling on the ground and generally getting stuck in.
Galway's Iarla Tannin and Andy Smith along with Dublin's Dooley were all yellow-carded, though they were lucky that referee Alan Kelly didn't take a dimmer view of the incident and flash reds.
As an officially sanctioned GAA game suspensions for sendings-off would likely have carried over into hurling at home, though this wasn't confirmed and in the end wasn't an issue. The Tribesmen came from five points behind in the final quarter to win by five and they celebrated like they'd on an All-Ireland on the pitch afterwards.
A crowd in excess of 25,000 was at the game in one of America's oldest and most iconic sporting venues. They got value for money with a lively game and they really found their voices when the teams clashed in the second quarter.
Fenway Park holds 37,000 when hosting the Boston Red Sox baseball franchise but the capacity was reduced to 31,000 in order to accommodate this game. It was played on an American football pitch used on Saturday night for the Notre Dame-Boston College clash, which was part of a weekend-long festival of Irish themed sport in this Irish-American city.
This was the second AIG classic, the first having been played on Notre Dame's Indiana campus two years ago. Galway led at the first turn-around thanks to a three-pointer from Conor Whelan and four points from Brian Molloy.
Goals scored inside the 20 metre exclusion zone are worth three points, outside of that it's four and a goal scored on the volley is worth an extra point no matter where it's hit from.
The game is divided into four 15-minute quarters with unlimited substitutions. Yellow cards result in a two-minute cooling off spell in the sin bin and frees are taken on a tap-and-go basis.
Instead of a '65' teams get a short corner and in the second quarter Brian Molloy converted one brilliantly on the volley for the Tribesmen to help them cut their half-time deficit to four points, 24-20, having at one stage trailed by seven.
Three quarters of the way through Dublin led by 36 to 31, setting up the final 15 minutes nicely. Galway went up through the gears with Conor Whelan taking his personal tally to 12 points and Jason Flynn racking up 18 points for the day, the game's top scorer.
They led by six in the closing stages before a Fiontan McGibb goal for the Dubs cut the gap to three and the eventual winners had goalkeeper James Skehill to thank for a brilliant stop right at the death.
DUBLIN: G Maguire; S Barrett, L Rushe J Boland; C Crummy, E Dillon (17pts); N McMorrow (5pts), C Boland; O O'Rorke, D O'Callaghan (3pts), P Ryan.
INTERCHANGE: C Bennett, C Dooley, J Madden, S Lambert, J McCaffrey (3pts), A Nolan, R McBride, C McBride (3pts), C Mac Gabhan, E O'Donnell, B Quinn, F McGibb (10pts), D Sutcliffe (6pts).
GALWAY: C Callanan; F Moore, P Mannion, J Coen; G Lally (3pts), S Moloney (3pts); I Tannian, A Harte; J Flynn (18pts), C Whelan (12pts), A Smith.
INTERCHANGE: E Burke, R Burke, C Donnellan, C Flynn, J Glynn, J Hanbury, D Higgins, P Killeen, C Mannion (3pts), G McInerney, B Molloy (11pts), J Skehill.
REFEREE: A Kelly (Galway)