Liveblog
Bienvenue!
Welcome along to our coverage of the Euro 2016 opener and this should be a terrific occasion.
In the blue corner, the hosts and tournament favorites France.
In the red corner, the underdogs Romania.
Can the home side deal with the expectation and get a win under their belts at the Stade de France?
Let's get straight to the lineups.
Flag
So, the big news is that Dimitri Payet and N'Golo Kante – two of the best Premier League performers in the 2015/2016 season – are handed starts.
Raphael Varane misses the tournament through injury so Adil Rami partners Laurent Koscielny in the centre of defence.
For Romania, there are experienced figures like Vlad Chiriches and Razvan Rat while Florin Andone will lead the line up front.
Here's what you can expect regarding the formations.
France will line up in their usual 4-3-3 with Olivier Giroud through the middle and supported by Antoine Griezmann on the left and Payet on the opposite flank.
Kante and Matuidi will bring plenty of energy to midfield while Paul Pogba is given freedom to roam.
For Romania, it's the same formation.
Keep your eye on their number 10, Stanciu.
These teams met at Euro 1996 – 20 years to the day.
Christophe Dugarry grabbed the game-winner on that afternoon in Newcastle.
Just look at those jerseys!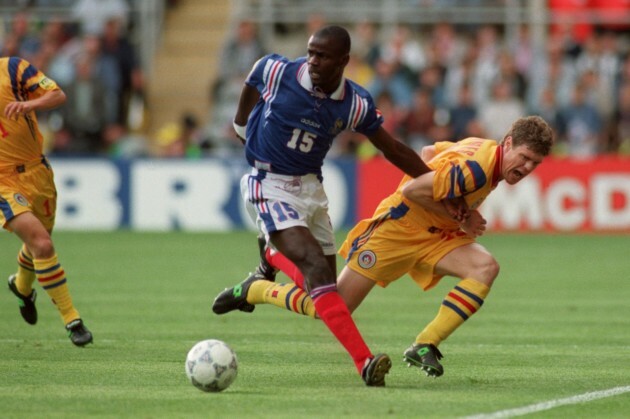 Source: Aubrey Washington/EMPICS Sport
In terms of Stanciu, he's 23 and this is his competitive debut.
But, he's featured five times for his country and already scored 4 goals.
He's still based domestically with Steaua but expect plenty of interest if he keeps that form up.
On RTE, George Hamilton and Ronnie Whelan are taking us through the opening ceremony.
Next year, please, please, please can we get them to do the Eurovision?
'Here comes David Guetta and his decks', says George.
'This is more my music', replies Ronnie.
Attaboy.
The game is about to kick off in five minutes but there's still hundreds of dancers and David Guetta on the pitch.
We may be delayed.
'David Guetta – one of France's top men', says George.
The opening ceremony ends with a rather phallic raising of the Eiffel Tower. There's a metaphor in there somewhere. The teams are on the pitch, finally.
Here comes La Marseillaise and it's LOUD!
An update on the benches.
France have Anthony Martial, Yohan Cabaye and Kingsley Coman in reserve. Not bad at all.
Already Griezmann is on the right for France, Payet on the left.
VERY CLOSE! What a save from Hugo Lloris! France should be 1-0 behind here. Stancu is perfectly placed at the far post as the flick-on causes mayhem from the corner. But somehow, the captain blocks on the line. Incredible.
To confuse matters, there is a Stancu and a Stanciu in the Romanian side.
The former just missed a glorious chance, the latter is the youngster with a very bright future we name-checked earlier.
CLOSE! That's why Giroud has his critics. It should be 1-0. Payet sends in a perfect cross to the near post and the Arsenal striker is totally free but gets his header all wrong, sending it wide. That's an excellent chance.
VERY CLOSE! Pogba releases Sagna down the right and he whips in the cross. Griezmann misses it but it rebounds off a Romanian defender and the attacker puts his head on it. The ball hits the post and bounces to safety. Major let-off for the Romanians. France have really upped the tempo in the last few minutes. Controlling things, moving the ball well, Pogba and Payet involved.
Pogba's touch has been a little off so far. He wins a free-kick here though after seeing the ball initially bounce away from him for the umpteenth time.
Lovely skill from Sapunaru down the right as he gets away from Evra but the veteran full-back shows some physicality to win it back.
Oooh. Grigore has to stretch as far as he can to nick the ball away from Giroud as he races onto a superb, curling through ball. It's rolling perfectly into his path until Girgore gets his studs to it.
Pogba has a crack from distance, just trying to smack it with the outside of his right boot inside the upright. He doesn't miss by too much.
Pintilii is down and receiving attention for Romania here after clashing with Matuidi.
BOOKING! Chiriches has just been given a yellow after clashing with Giroud off the ball.
That right side is where it's at for the French. Also, Kante has seen a lot of the ball in the middle of the park.
Slight concern for France. Giroud doesn't need to be involved in build-up but has to score if involvement is limited to opposition's box.
VERY CLOSE! Again, the right channel proves a solid way through for France. Payet, who's enjoying a free role here, sends in a low cross after getting to the by-line and Griezmann looks to side-foot it to the net. Initially it looks like it just narrowly misses the near post but replays show there was a crucial touch from a Romanian defender. Should've been a corner.
CONTROVERSY! That's a let-off for France. Andone chases a long ball forward and he gets the first touch to take him away from Koscielny and Rami. But as he chests it forward, Koscielnty mistimes his challenge and drives his boot across him – right on the edge of the area. But referee Vicktor Kassai is a long way back and misses it, as do his fellow officials.
This time Payet pops up on the right, jinks past a challenge and wins a free-kick.
BOOKING! Rat leaves his boot on the upper chest of Giroud and tries to plead his ignorance. A certain yellow card.
CLOSE! Payet's corner is better this time but Giroud takes a while to wrestle away from Chiriches so his body position isn't the best when he gets his head to it. Decent connection but too high. Half a chance though.
France on top but failure to convert decent chances may come back to haunt them.
Romania started brightly and really should've been in front when Stancu saw his close-range effort superbly saved by Hugo Lloris.
The hosts calmed down after that, though. Griezmann struck the near post with a header while Giroud had an excellent opportunity when Payet teed him up with a pinpoint cross.
Pogba has shown glimpses of his ability with some astute passes while Kante has worked tirelessly in the middle of midfield.
You'd expect France to find a way, eventually, but may need a change or two for everything to properly gel together.
Superb from Andone early doors as he breaks through challenges towards goal. It needs a timely interception from Rami to stop him.
VERY CLOSE! What are France doing here? They try to catch Romania offside but the ball is on the edge of their area. They need to be meticulous in stepping up together with the ball so close to them. Inevitably, there's no togetherness and Stancu is in. He seems surprised and can't quite settle himself and snatches at a semi-acrobatic volley. It comes off his shin and bounces wide.
Poor start to the half by the French. Similar pattern to the first period though. They should find their stride here and start creating chances but still so vulnerable at the back.
CLOSE! Payet pops up, cuts inside and slips in Giroud. He takes it on his favoured left foot and despite going away from goal, he keeps the ball close to his body to get the shot in. But it's straight at Tatarusanu.
VERY CLOSE! Payet brilliantly evades a couple of challenges and attacks the left channel of the penalty area before cutting it a superb cross for Pogba. He smacks the volley but the keeper makes a superb save.
Awful from Tatarusanu. On the right side, the cross is lofted in by Payet and the keeper comes to get it, isn't strong enough to get there before Giroud and the attacker flicks to the corner.
SUBSTITUTION! Alibec (on) – Andone (off)
The Romanian bench responds quickly after going behind as one attacker is replaced by another. Fresh legs and can they find a way back here?
GOAL! Stancu!
Well, incredible few minutes. What is Patrice Evra doing? He lazily sticks out a left leg as Stanciu bursts through the penalty area and from the resultant spot-kick, it's Stancu who tucks it away.
Just like that, everything is changed.
SUBSTITUTION! Coman (on) – Griezmann (off)
Deschamps makes his first change as the Bayern Munich winger is sprung from the bench.
BOOKING! Giroud just saw a penalty appeal waved away and moments later he gets a yellow. Inevitable frustration from the striker.
SUBSTITUTION! Chipciu (on) – Stanciu (off)
The number 10 was brought down for the penalty and has had a few nice touches but a second change for Romania.
SUBSTITUTION! Martial (on) – (Pogba (off)
France will look for the pace of Martial out wide now. With him on one side, Coman on the other and Payet in behind Giroud, there's a change in system with Kante and Matuidi holding.
BOOKING! Popa is the latest Romanian player to get a yellow.
Martial combines with Giroud but his strike is easy for Tatarusanu who gets down and claims.
SUBSTITUTION! Torje (on) – Popa (off)
Third and final change for Romania who have 10 minutes to hold on and claim a massive point here.
Payet does superbly to play Coman in behind on the right side. The low cross is superb but there's an offside called as Giroud and Martial look to scrap for it in the six-yard area.
OH, YES!
What a superb goal that is! Payet, the best player on the pitch tonight, gets his just reward. On the edge of the area, he picks up a pass and immediately gets it out of his body before thumping the left-foot strike straight to the top corner. It will be one of the goals of the tournament. Magnificent.
SUBSTITUTION! Sissoko (on) – Payet (off)
The goalscorer makes way and breaks down in tears as he trudges off. What a lovely moment. Emotion has got the better of him.
A great start. Let's hope for more of that.
France dominated and created plenty of chances. Yes, Romania were plucky and dogged and could've picked up a point. But on the basis of play, the hosts deserved the victory.
Yes, they have some issues, but the first game will iron some of those out. Deschamps changed the system and stretched things with the introduction of Coman and Martial and they'll be glad to get the opening fixture out of the way with so much anticipation, nerves and anxiety.
Pogba will have a point to prove against Albania, as will Griezmann, Evra and a few others.
Payet was superb throughout and the goal capped off a wonderful performance. Walking off in tears when Sissoko replaced him moments after scoring will prove an iconic European Championship moment from here on.
Thanks for staying with us and there will be plenty of coverage on the site throughout the rest of the night.
Contribute to this story: