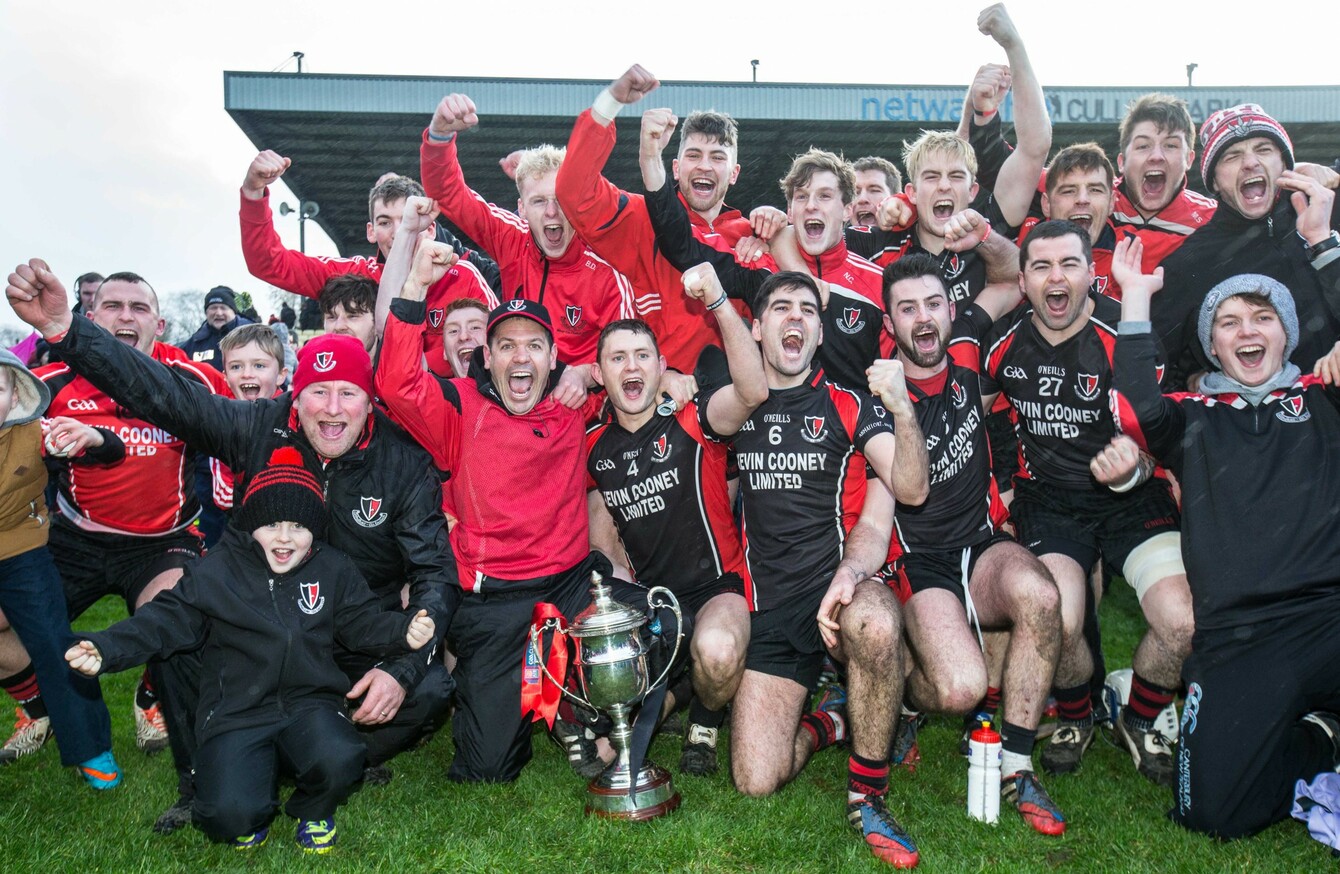 Frank Flannery joins in the celebrations with his Oulart-the-Ballagh players.
Image: Cathal Noonan/INPHO
Frank Flannery joins in the celebrations with his Oulart-the-Ballagh players.
Image: Cathal Noonan/INPHO
OULART-THE-BALLAGH boss Frank Flannery came over all Jose Mourinho after the Wexford champions finally smashed their AIB Leinster senior club hurling championship hoodoo on Sunday.
Flannery, who is also the new Cork coach alongside boss Kieran Kingston, paid tribute to his players following victory over Cuala at Netwatch Cullen Park in Carlow.
Oulart stalwart Keith Rossiter admitted that his teammates were living in the shadows of the club's camogie players, winners of two All-Ireland titles in recent years.
And Flannery echoed those sentiments when he spoke to Newstalk's Rewind podcast after the game.
"Their camogie team is phenomenal, their underage teams are phenomenal, they needed this.
"Michael Jacob has ten county senior medals and this is the pinnacle of his career.
"It's a fantastic club, it's like Chelsea in a way, it's ruthless and you have to do your job well."
The key to success for Oulart was taking "one game at a time," Flannery revealed.
"Belief and taking one game at a time. That's our 11th match and we're unbeaten, so it's a real good championship to win.
"They're unbelievable, they keep coming back. We never got a text to say a fella won't be at training but the rule we had all year was the hardest man you mark has to be the man in training.
"If you have that, fellas buy into that and are thumping off each other, the results slowly wear into you and you'll make good decisions under pressure."
Which is exactly what Oulart did in the second half as they protected an eight-point half-time advantage playing against the elements.
"Definitely, we used the ball very well in the second half. Look, we were being criticised in Wexford for playing a short game, 'this is a Cork game' and all this rubbish but that's just using the ball well. We got numbers around the ball and we used it very well."
And Flannery revealed that Oulart had their homework done on opponents Cuala, the reigning Dublin champions who were fancied by many to claim provincial silverware.
"We had four tapes of their last four games, they were trying to get Mark Schutte on the ball, and Con O'Callaghan was going back creating overlaps.
"We said we'd go man to man, football-like, and our two wing-backs would mark the space in front of their full-forward line, because their two wing-forwards don't score too much. That's what we said we'd go with, to be honest with you."