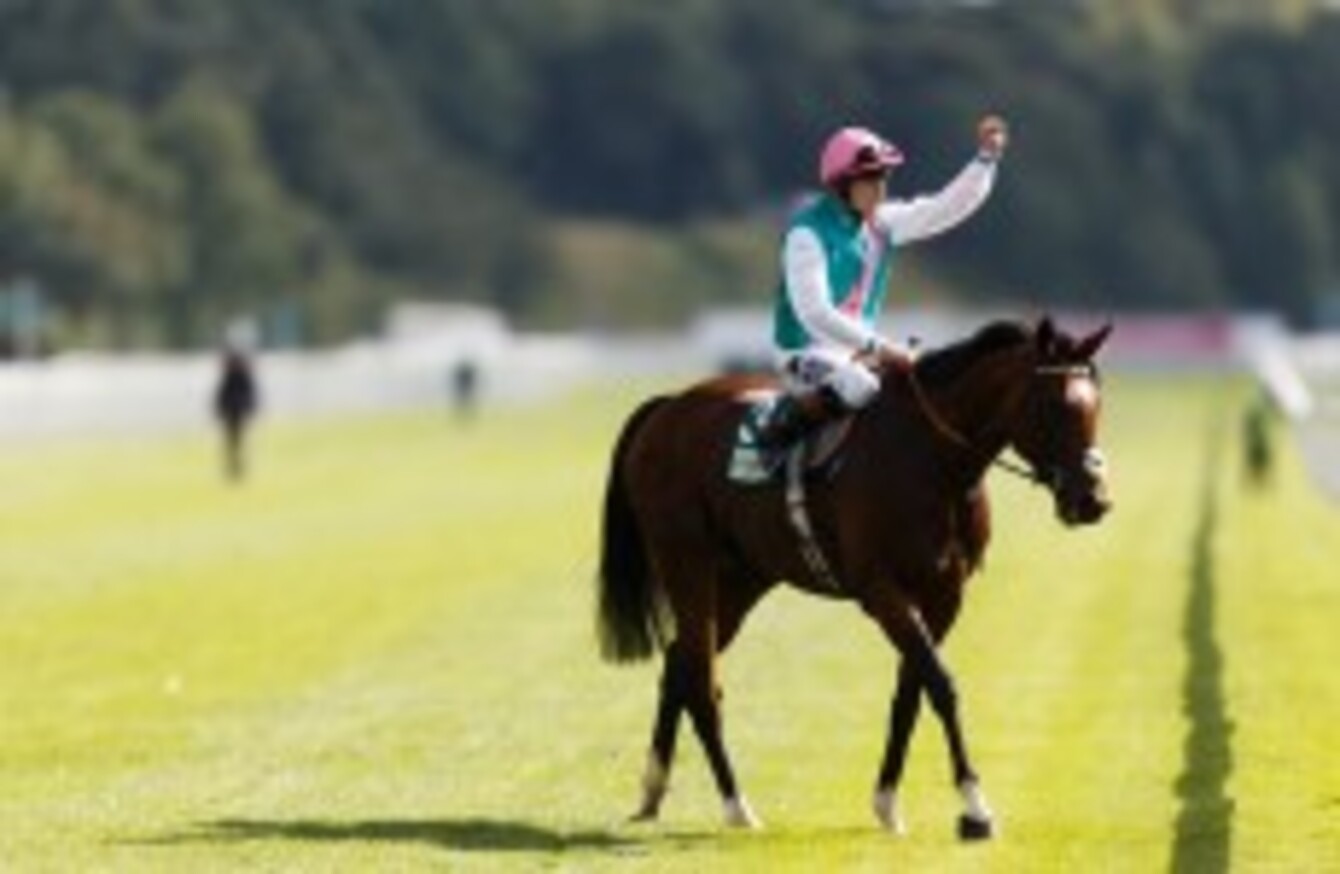 Image: John Walton/EMPICS Sport
Image: John Walton/EMPICS Sport
THE RACING WORLD is waiting with bated breath for racing superstar Frankel to tell Henry Cecil whether he wants to crown his sensational career in the Prix de l'Arc de Triomphe.
The Arc emerged as an intriguing if admittedly slim option after Prince Khalid Abdulla's colt demolished his rivals in last week's Juddmonte International where he was tackling ten furlongs for the first time.
The extra distance at York proved a breeze for Frankel as he made top notch opposition like St Nicholas Abbey look distinctly ordinary to take his career record to 13 from 13.
Cecil missed Frankel's previous win at Goodwood as the much loved racing knight was undergoing the latest course of treatment for stomach cancer first diagnosed six years ago
Britain's most successful and most popular trainer in the past four decades made the trip to York though, and despite appearing frail and leaning on a walking stick his delight at his colt's latest success enlisted a heart-warming three cheers from the 20,000 racegoers packed around the winner's enclosure.
Thirteen times Frankel has set foot on a racecourse and 13 times Cecil, ten-times a champion trainer, has produced him to run at the top of his game.
Frankel has nothing left to prove, his place in racing folklore cemented, and his standing as the hottest stallion prospect since Northern Dancer or Sadler's Wells assured.
The original plan for Frankel was always to bow out at Ascot in the Champion Stakes on October 20 – but the manner in which he button holed the Juddmonte has brought the Arc, over a mile and a half on October 7, tantalisingly into view.
Bookmakers reckon Frankel is a stone cold certainty for the Longchamp showpiece, a race Cecil has never won, pricing him up at 4-1 on 'with a run' after his seven length rout at York.
Cecil for one won't be rushed into a decision.
"As for his next race, Frankel will tell me what is the best thing to do and obviously I will discuss it with the Prince and Lord Grimthorpe (racing manager)," he told his website www.sirhenrycecil.com.
"The Prince will make the final decision."
Reflecting on win number 13 the trainer added: "Wednesday was a day that we, at Warren Place, will never forget.
"Frankel did everything right. He behaved beautifully and seemed to get the trip really well.
"The outcome was a tremendous relief to me and, if there was anyone who doubted him in any way, surely their thoughts were put to rest.
"The Yorkshire racing crowd gave Frankel a wonderful reception and I was so pleased that we managed to get him to the Knavesmire as the north really appreciates seeing good horses.
"I would like to thank so many people who helped to make it such a wonderful occasion – one I will remember and cherish for the rest of my life."
An incredulous Grimthorpe added: "It's just hard to believe and the expectations are just so enormous.
"But he keeps delivering time and time again, it's remarkable.
"Each time you say 'that was amazing', then you see him again and it's fantastic. That is Frankel, I've never seen anything like him."
Whether he stays at home for the Champion or goes to Paris one thing is clear – there will be no change to the plan to retire him at the end of the season.
"The best time to leave a party is when you least want to go," said Grimthorpe.
"Nice though it would be to carry on, he has given us three unbelievable years."
(c) AFP, 2012