THE FUNERALS OF Ulster rugby player Nevin Spence, his father Noel and brother Graham, took place on Wednesday morning at Ballynahinch Baptist Church in Co Down.
More than 2,000 people, including Ireland coach Declan Kidney and Tyrone Gaelic football manager Mickey Harte, were in attendance at the service for the three men that passed away on the Spence family farm in Hillsborough on Saturday.
Noel (aged 68), Graham (30) and Nevin (22) all died while trying to rescue each other from a slurry tank.
Nevin Spence was a talented centre in an Ulster team that reached the final of the Heineken Cup in May of this year.
Members of the Ulster team were among the coffin bearers for the funeral service.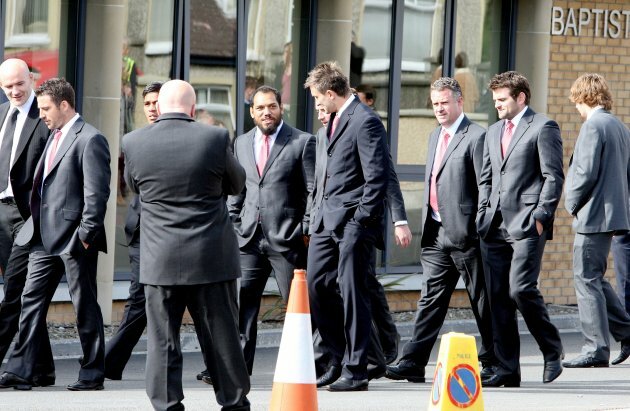 Jon Afoa and Jared Payne of Ulster Rugby paid their respects at the Ballynahinch Baptist church service . (Paul Faith/PA Wire)
According to the Belfast Telegraph, Spence's sister Emma, who was present during the tragedy and was taken to the hospital for treatment afterward, spoke eloquently at the service. She said:
They were hard-working men. They were not perfect but they were genuine. They were best friends.
"They were Godly men – they didn't talk about God, they just did God.
"They were just ordinary – but God made them extraordinary."
Also present, amongst the thousands that paid their respects, was Noel's wife, Essie, and Graham's wife, Andrea.