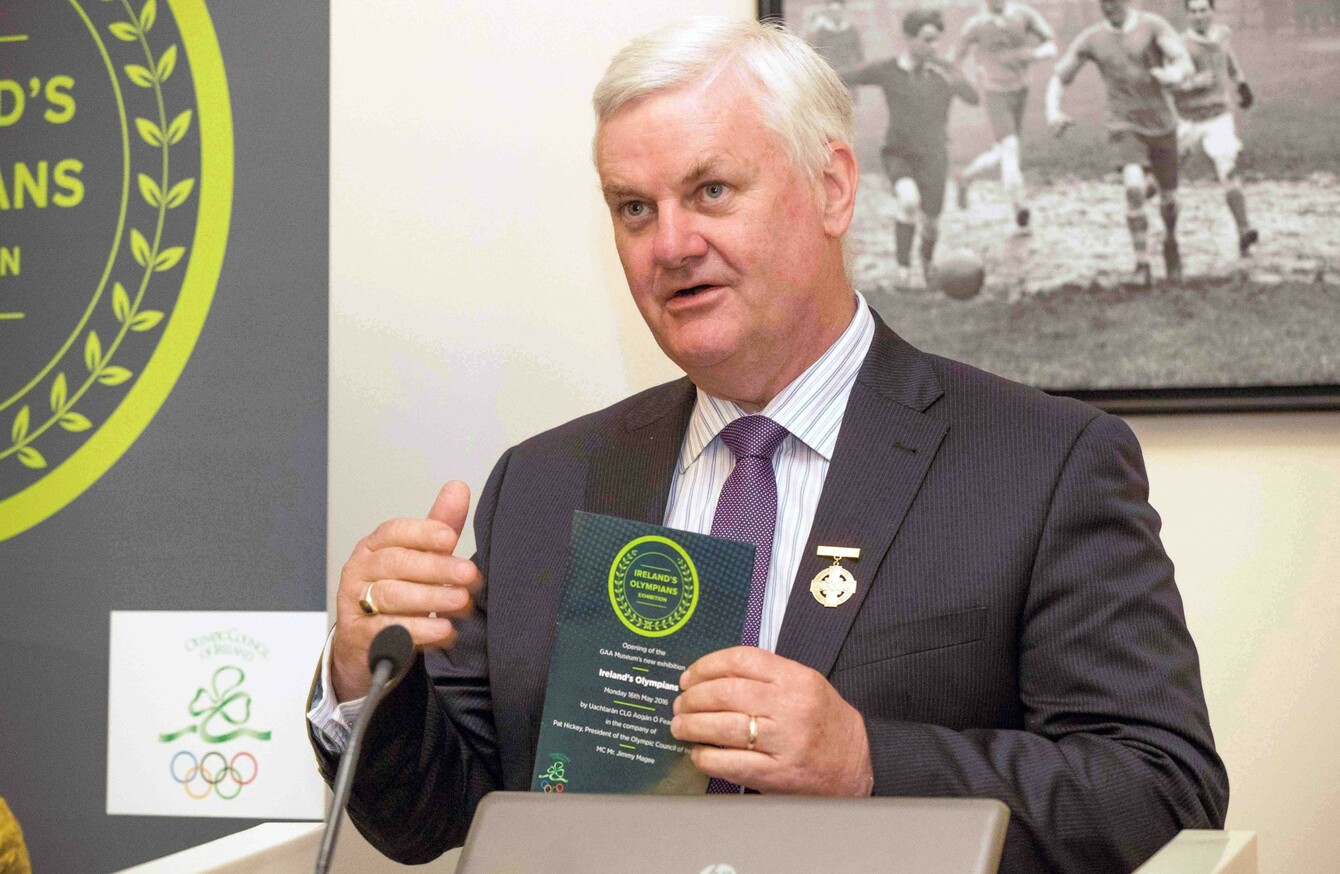 GAA President Aogán Ó Fearghail (file pic).
Image: Morgan Treacy/INPHO
GAA President Aogán Ó Fearghail (file pic).
Image: Morgan Treacy/INPHO
Updated at 13.45
THE GAA SAY they would consider limiting the use of the Irish national anthem, Amhrán na bhFiann, and the Irish flag, as part of potential new agreements in the wake of Brexit.
Speaking to reporters in Dubai as part of the GAA/GPA Football All Stars tour, the association's president Aogán Ó Fearghail suggested any new deal in light of Brexit would likely have a significant impact on the association and the traditions they employ.
When asked whether the GAA should contemplate relaxing the practicing of these traditions in countries outside of Ireland, he said:
"It would be time to look at it in our own island too in terms of an agreed Ireland, which everyone in the GAA and everyone in Ireland looks at.
"You certainly can't look at these issues in advance agreement, that's for sure. The flag and anthem means a lot to the GAA and will continue to do so… In the future if there are agreements in place for the whole island, of course the GAA would be inclusive in that.
There could be further agreements politically at home. There is a massively changing world at home. The Brexit is going to affect the GAA the same as it's going to affect everyone else and it does cause concerns.
"There might well be political realignments on the island of Ireland and if there are that, the GAA, just as it did when Nickey Brennan was president at the time and before him Sean McCague, they welcomed the Anglo-Irish agreement. Every successive president has done that. I've done that.
But in the future if there are new agreements and new arrangements we'd be open-minded about things like flags and anthems but not in advance of agreements."
Additional reporting by Fintan O'Toole
The42 is on Instagram! Tap the button below on your phone to follow us!