THEY'LL GATHER IN Finnerty's Bar on Friday night to talk hurling and crank up the anticipation before Croke Park.
INPHO Adrian Tuohy won an All-Ireland medal last September, while Patrick O'Connor triumphed in 2013. INPHO
An 'Up For The Match' event in a local GAA club is commonplace, the twist is that Tubber in north Clare and Beagh in south Galway, have come together to organise this as a precursor to the main event in Dublin on Saturday evening.
For neighbouring clubs their relationship is a novel one as they operate in different counties and different provinces. But hurling tribalism still fuels them both and Saturday's All-Ireland semi-final is dominating the agenda this week.
The fact that both have their own representatives involved – Tubber's Patrick O'Connor captaining Clare and Beagh's Adrian Tuohy anchoring the Galway rearguard – heightens the sense of anticipation.
"What you have really is every second house, you either have a Clare parent or a Galway parent," outlines Beagh's John Moylan.
"You have fierce divided loyalties across the border. But there's great old craic about it and good co-operation between the clubs. We've Tubber on board this year.
"Last year when Galway were in the final and trying to win it for the first time in 29 years and the fact that we had Adrian, our own player involved, we said it would be a pity not to do something. It went down very well.
"It really is about the community spirit in Beagh and Tubber. It's the actual GAA ethos the way this whole event is being run, there's no animosity of any description."
Despite not plying their trade in the same hurling region, the sport still binds the two clubs together. In 2009 both O'Connor and Tuohy were part of a Gort Community School side that won the Connacht colleges senior hurling title.
"That team also featured current Galway senior duo Conor Cooney and Johnny Glynn, Clare's 2012 All-Ireland U21 winning netminder Ronan Taaffe and Galway's 2011 All-Ireland U21 winning forward James Regan.
James Crombie / INPHO Clare hurling captain Patrick O'Connor. James Crombie / INPHO / INPHO
"They would always play challenges, they'd definitely come across each other, they would have played each other in seven-a-side tournaments," explains Moylan.
"Beagh at juvenile level is amalgamated with Kilbeacanty and they'd call themselves Michael Cusacks, but at adult level we're on our own. Then Tubber would be amalgamated with Crusheen. They're both small clubs but at senior level the players are coming through and they're able to survive on their own. The big question is for how long, that's the difficulty."
The playing pools both clubs draw from are shallow but their hurlers still make a mark. The Gantleys of Beagh produced players synonymous with various Galway hurling sides for several years.
"The previous Clare-Galway clash in an All-Ireland semi-final was in 1995, the year of Clare's famous triumph which was enabled by a goal that Tubber's Eamonn Taaffe cracked home in the September showpiece.
© INPHO / Patrick Bolger Former Clare hurler Eamonn Taaffe. © INPHO / Patrick Bolger / Patrick Bolger
Moylan flew the flag as well during his own playing days.
"1982 to 1984 I would have been on the senior panel but I never made the breakthrough because Galway succeeded in 1980 and what happened was you'd Sean Silke, Iggy Clarke and Sylvie Linnane in the half-back line. It was difficult to make the breakthrough. I was on the fringes then."
When he retired, coaching roles with Galway teams came calling.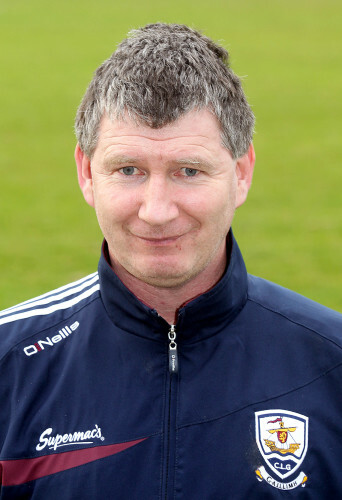 Lorraine O'Sullivan / INPHO Galway hurling selector John Moylan. Lorraine O'Sullivan / INPHO / INPHO
"In 1999 and 2000, I got involved with Galway as a selector with John Hardiman, he was the manager, and they won two All-Ireland minors. I was involved then three years U21 and three years – 2009, 2010 and 2011 – with John McIntyre as part of his management team.
"In 2011 we played Clare in the qualifier in Salthill and Galway won it very easily. We came along afterwards and beat Cork by 12 points in a qualifier. The following week we went out and played Waterford and got beat. Just a collapse. 2010 Tipp beat us by a point, we were two points up with three minutes to go. Lar Corbett and John O'Brien got the last three points and they went on to win the All-Ireland."
Those were chapters in the narrative of Galway hurling disappointment but last September wiped away the memories of those setbacks. Aside from the players, Moylan sees a formidable outfit backboning Galway now.
"I think they've developed a type of professionalism in their backroom setup. They have an awful lot of coaching and gameplans. The fact that they've decided to go down the route of not picking small guys easily now. They're gone more on the bigger men but the guys that they're actually picking have a huge amount of skill.
"They've brought in some past players who are quite young. I'm going to mention Cyril Donnellan and Damien Joyce. Those guys have been through the mill and know what's required in order to get a proper setup."
The Galway-Clare hurling links are not just restricted to the two parishes.
"Donal Tuohy's mother is a Galway woman and Adrian Tuohy's mother is a Clare woman. Conor Whelan's mother is a Clare woman, she's from Killanena. She would have been Niall Donoghue's aunt. Then Shane O'Donnell would be related to Conor Whelan. That shows you the loyalties but the houses have Clare and Galway connections crossing them.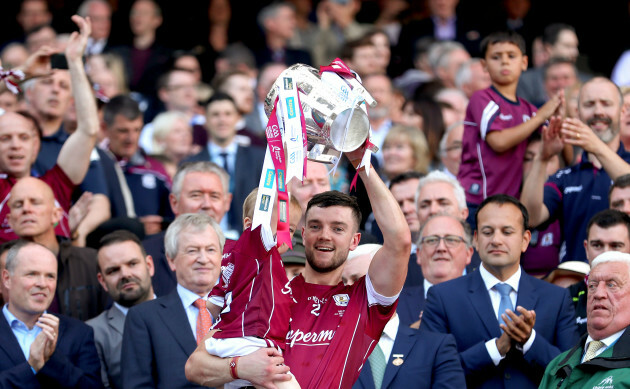 James Crombie / INPHO Galway's Adrian Tuohy and his son Jamie lift the Liam MacCarthy Cup. James Crombie / INPHO / INPHO
"Even when you go back, Clare's Michael Cusack, the founder of the GAA, was a teacher in Lough Cultra, which is in the parish of Beagh. He spent five or seven years there as a national school teacher in about 1870."
It's an exciting time for the clubs. Beagh won the sevens tournament in Kilmacud Crokes last September, Enda Tuohy captaining the side a day before his brother Adrian was part of Galway's crowning glory. They are the favourites to triumph on Saturday but Moylan, who works as chief technician with the Clare County Council, can appreciate the hurling potential in the Banner ranks.
"I think it'll be close. I'd go to a lot of Clare club hurling matches and anytime Clare play in Ennis. The type of hurling Clare are playing this year, in terms of more off the cuff, they have a lot of guys with pace in the middle third. If Galway's midfield cannot counteract that, Galway are going to be severely tested."
Before the match and after, there'll be plenty hurling issues to thrash out on the Clare-Galway border.
The42 is on Instagram! Tap the button below on your phone to follow us!