Liveblog
The focus now turns to the second-quarter final at Croke Park. Here's how the sides will line out:
Galway
1. Bernard Power (Corofin)
2. Eoghan Kerin (Annaghdown)
3. Declan Kyne (Clonbur)
4. David Wynne (Moycullen)
5. Liam Silke (Corofin)
6. Gary O'Donnell (Tuam Stars)
7. Gareth Bradshaw (Moycullen)
8. Paul Conroy (St James')
9. Tom Flynn (Athenry)
10. Gary Sice (Corofin)
11. Damien Comer (Annaghdown)
12. Johnny Heaney (Killannin)
13. Eamon Brannigan (St Michael's)
14. Shane Walsh (Kilkerrin/Clonberne)
15. Danny Cummins (Claregalway)
Tipperary
We're almost set to go here, who do you fancy to come out on top and make the last four?
Tipperary have started out with two wides, Galway have hit one. We could be in for plenty of long distance shooting here.
Galway 0-1 Tipperary 0-0
Danny Cummins kicks the Tribesmen into the lead. Nice score.
Galway 0-2 Tipperary 0-0
Shane Walsh curls over a free to put Galway two in front.
Galway 0-3 Tipperary 0-1
Eamon Brannigan finds the range for Galway. All three of Galway's inside forwards have now scored.
Michael Quinlivan kicks Tipperary's fourth wide.
Galway 0-4 Tipperary 0-1
Galway are loving the space in their forward line. Danny Cummins kicks the latest score.
GOAL! Quinlivan reacted quickest to palm the ball into the net for Tipperary!
Galway 0-4 Tipperary 1-2
Quinlivan kicks a close-range free and just like that Tipperary lead.
Galway 0-4 Tipperary 1-3
Quinlivan again for Tipperary this time from play. At the far end Gary O'Donnell let possession slip out of his hand just as he pulled the trigger while bearing down on the Tipperary goal.
Galway 0-4 Tipperary 1-6
Tipperary are really motoring here. They've hit six scores in-a-row.
Galway 0-4 Tipperary 1-7
Kevin O'Halloran and Conor Sweeney both tagged on a score each to leave the Premier five in front. With minutes left to half-time, Quinlivan strokes one over. Half-time can't come quick enough for Kevin Walsh.
Galway 0-5 Tipperary 1-7
Paul Conroy curls one over. That's the first real impact he's had on this game. Galway really needed that score.
Galway 0-5 Tipperary 1-8
But there's no need for Tipperary to panic. Conor Sweeney strokes his second point over after winning the ball out in front of his marker.
GOAL! Damien Comer sets us up for a cracking second-half! Exactly what Galway needed!
Half-time: Galway 1-4 Tipperary 1-7
Some finish by Comer there as he barreled his way through the Tipperary defence. Galway are fortunate to be within three at half-time.
What impact will that goal have for Galway?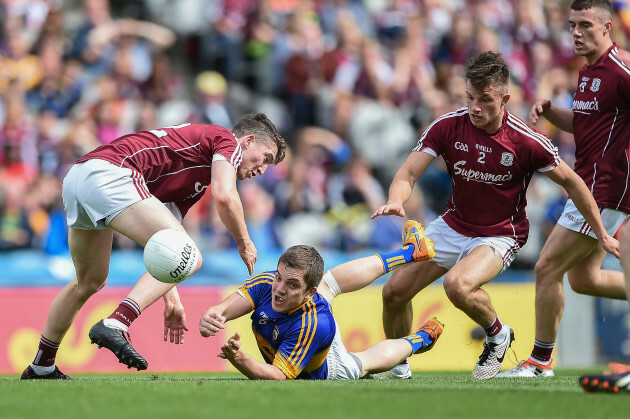 Source: Tommy Grealy/INPHO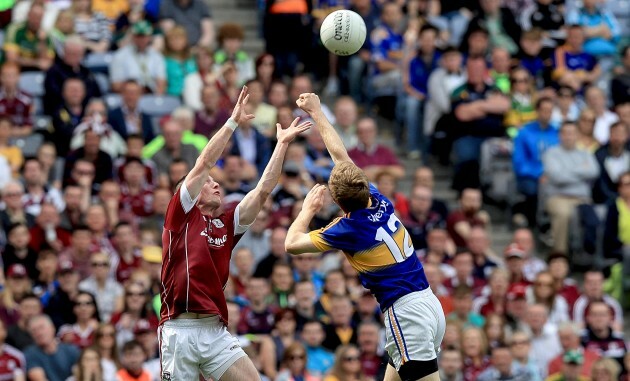 Source: Donall Farmer/INPHO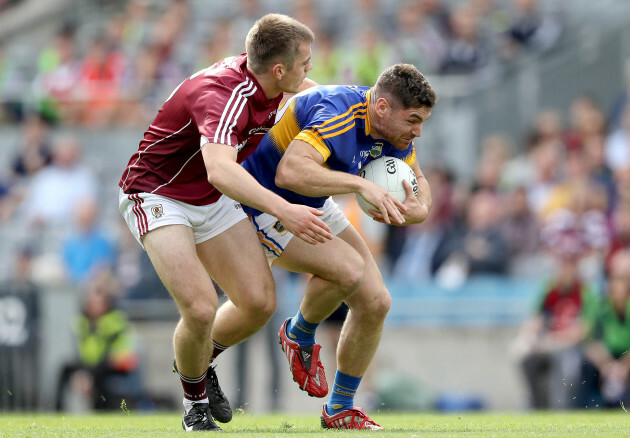 Source: Ryan Byrne/INPHO
29,251 is the official attendance at Croke Park.
No changes for either side before the start of the second-half.
Galway 1-6 Tipperary 1-8
Shane Walsh's free gives Galway a good start to the second half.
Galway 1-6 Tipperary 1-9
O'Halloran doesn't miss frees from close-range. He taps one over to put Tipperary three in front.
CHANCE! Quinlivan misses the chance of a lifetime when he found himself one-on-one with Bernard Power. He should have put that one away.
Will Tipperary rue that miss by Quinlivan?
GOAL! Conor Sweeney rolls it in soccer-style off the left foot! Brilliant finish!
Galway 1-6 Tipperary 2-10
Quinlivan drives forward and sinks one from the left side. Tipperary are seven points up after 42 minutes. Not in his wildest dreams could Liam Kearns have pictured this.
Galway 1-7 Tipperary 2-10
Shane Walsh lands a free in front of goals after a smart foul by Brian Fox. He is given a yellow card for his troubles.
CHANCE! Phillip Austin almost finds the onion bag but he sends the ball the wrong side of the post.
Galway 1-7 Tipperary 2-11
Galway's defence is all at sea. O'Halloran lands another score from distance. Tipperary are giving an exhibition out there. Phenomenal stuff.
GOAL! TIpperary are in dream land. Sweeney flicks the ball into net past Power!
Galway 1-7 Tipperary 3-11
This is sensational stuff. After 47 minutes and finding themselves 10 points down, Galway make their first change.
Galway 1-7 Tipperary 3-12
Tipperary look born for this stage. Robbie Kiely curls one over from the outside of the right. The Premier County move 11 in front.
Galway 1-8 Tipperary 3-12
Walsh with another free but Galway have really struggled to offer anything from play.
CHANCE! Comer's strike from inside the 14m is saved by the Tipperary goalkeeper Evan Comerford.
Galway 1-9 Tipperary 3-13
Wonderful score from Cummins from the right flank.
Paul Conroy is black-carded for Galway. His season is over.
Galway have scored just four points in the second-half with just one coming from play.
We'll have six minutes of added time.
Quinlivan handpasses an attempted score wide. But it doesn't matter, Tipperary are 10 points up with about four minutes left.
Galway 1-10 Tipperary 3-13
Varley reduces the gap to nine. Quinlivan gets a huge ovation as he is substituted. What a performance from him.
Full-time: Galway 1-10 Tipperary 3-13
Tipperary are through to the All-Ireland semi-final!
Contribute to this story: