THE DIRECTOR-GENERAL of the GAA has said his organisation felt "very let down" by the decision of Dublin City Council (DCC) not to give the go-ahead to the five Garth Brooks concerts planned for Croke Park last summer.
In his annual report for 2014, Paraic Duffy said the decision not to grant a licence cost the GAA "up to €5 million in lost revenue, a significant loss in difficult economic times."
Duffy also outlined the effort the GAA undertook – including the implementation of new event management procedures at the three One Direction concerts which resulted in just three complaints to DCC – to ensure the gigs would go ahead.
"Croke Park and the GAA felt let down by this whole process. Most people who followed the Garth Brooks affair found the decision to refuse a licence for five concerts incomprehensible. And they were right," he says.
"Consider the reality of what we all knew when the licence application for five concerts was submitted: DCC had created a legitimate expectation that a licence would be granted for five concerts; 400,000 people – 330,000 of our own citizens and 70,000 tourists from abroad – had paid a substantial sum of money to buy tickets; and the concerts were set to present the country with the gift of a massive economic uplift.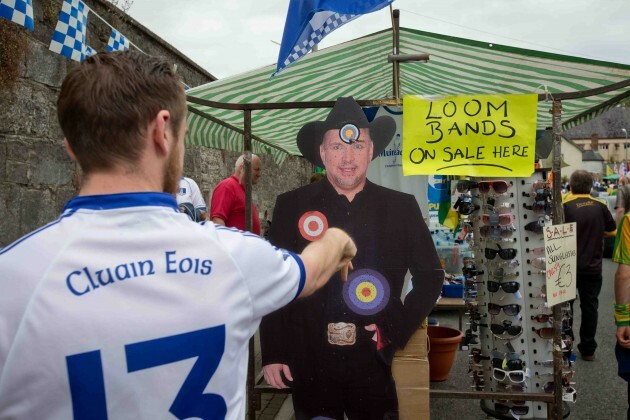 Morgan Treacy / INPHO A Monaghan fan lets his feelings on Garth Brooks be known. Morgan Treacy / INPHO / INPHO
"DCC told us that the decision reached was, I quote, 'appropriate, balanced and reasonable'. But was it so for 400,000 people who had already bought tickets and who were looking forward hugely to the concerts?
"We had the opportunity to enjoy a unique experience that we would have fondly remembered for years.
"We lost all of this, just as the GAA lost out in all the ways I have identified."
Duffy also refuted any accusations that "over-intensification of use" was a legitimate concern as it has never been raised in the past and had not been raised in connection with Ireland's 2023 Rugby World Cup bid despite how often the venue would be in use should that bid succeed.
"We did not hear anything about over-intensification of use during the redevelopment of Lansdowne Road when Croke Park was needed to host international soccer and rugby internationals which were, of course, in addition to Croke Park's own schedule of match days and concerts.
"And we know that, should the IRFU's application to host the 2023 Rugby World Cup in Ireland be successful, Croke Park will be required for a total of seven matches, again in addition to Croke Park's own schedule of match days and its quota of three concerts.
"Is there anyone who seriously imagines that an argument about over-intensification of use of Croke Park will be allowed to interfere with these seven World Cup rugby matches in Croke Park."