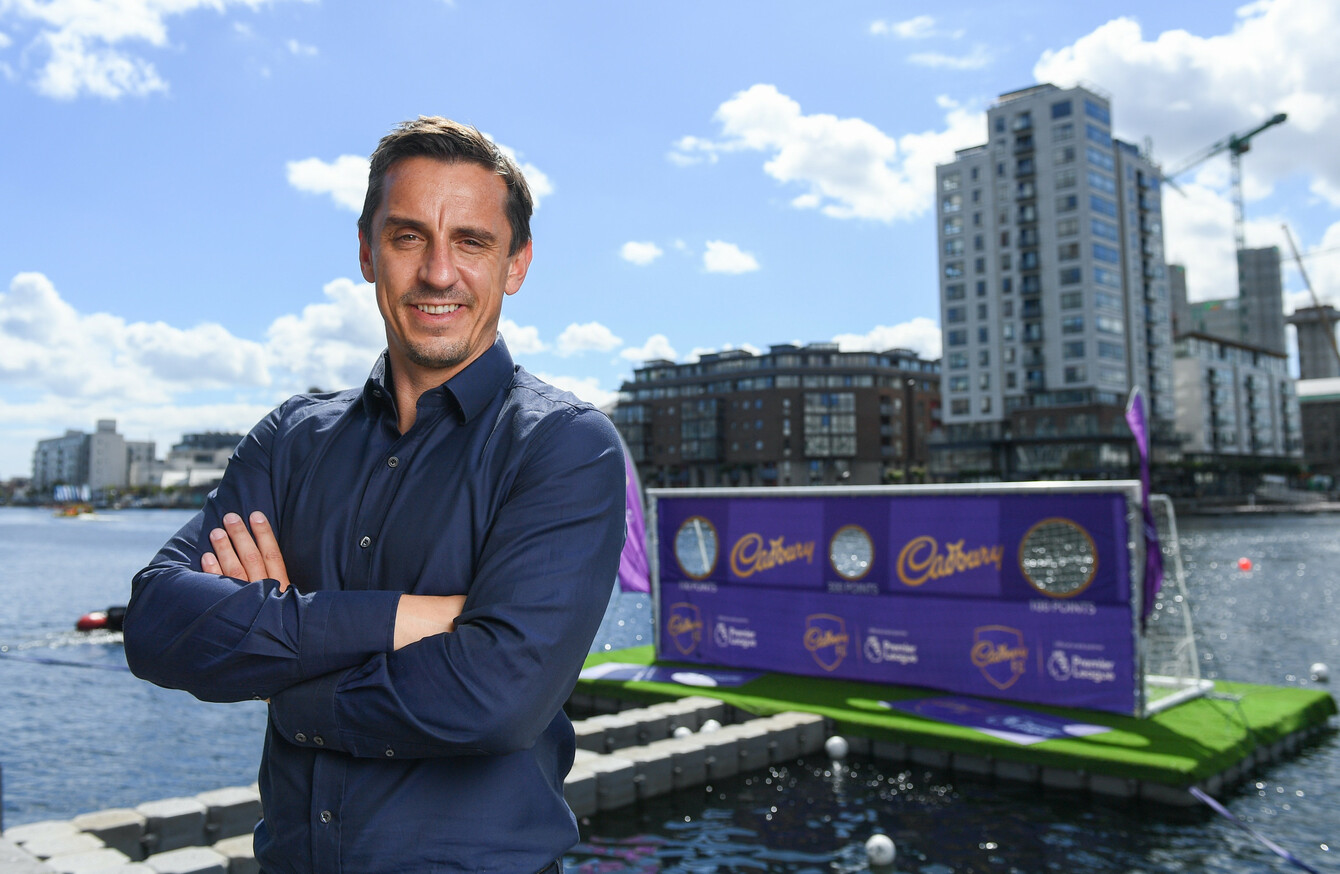 Gary Neville pictured in Dublin yesterday.
Image: Ramsey Cardy/SPORTSFILE
Gary Neville pictured in Dublin yesterday.
Image: Ramsey Cardy/SPORTSFILE
EX-MANCHESTER UNITED defender Gary Neville believes his former team are treated differently to others, while he has backed claims that Jose Mourinho's achievements since taking over as manager have been underappreciated.
Mourinho has in recent months been embroiled in an argument with the club's board over recruitment of players and how to spend the money available.
On this matter, Neville says he sympathises with both parties to a degree.
"He's basically throwing the ball over to the board and saying 'deliver me the players,' The Sky Sports pundit said of Mourinho. "He's playing that out in public. Normally, when managers do interviews, they'll use language like: 'We're working together to try to sign players. We're working hard, we're trying to do this, we're trying to bring players in.'
"Jose quite clearly feels he's not being fully supported in some of the signings that he's wanted. The board have got their reasons for that. They're probably sat there thinking — Man United finished the season with six centre backs, they've got five now. Daley Blind's left, but they've got Phil Jones, Marcos Rojo, Chris Smalling, Eric Bailly and Victor Lindelof.
"If I was the board, I would be [pointing out the centre backs available], but if I was Jose Mourinho, I'd be saying: 'Pick me a pair out of those, I've been handed three or four of those. They're not good enough.'
"So I see both sides of it. If you're the board, you'd be saying, since Sir Alex Ferguson left, we've given £700 million to build a winning team. If you're Jose Mourinho, you're saying: 'Hang on a minute, Pep Guardiola spent more.' So there does seem to be that tug of war and that little bit of tension with what's going on at the moment.
"You know full well. You know exactly what you're going to write, exactly what you're going to do. If United don't start the season, you know exactly what your tone's going to be, your angle and your editorial. However, if Man United win three or four games, it'll all go away. And that's the reality.
"The thing that will tell me everything will be the players on the pitch [tonight] against Leicester. Not necessarily that they win 4-0 or even win, but what's their intent, their mood, their body language. What's the spirit like, the resilience."
Mourinho recently complained of how he received less praise than his counterparts elsewhere, despite the club finishing above every Premier League team bar Man City last season. Neville says the Portuguese coach is right to feel aggrieved in this regard.
"You have to say, after two years under Jose Mourinho, they've won two trophies and finished second, which is their best performance since Sir Alex Ferguson left.
"There was a quote today, I thought it was quite interesting. He's having a dig and he's right to have a dig. They finished second last season, and people are making it out like they've been relegated. There are teams that finished below them and everyone makes it out like they were champions. He's pointing the finger there towards Liverpool and Tottenham. Everyone glorifies the achievements of those two clubs, because they like the managers, they like the style of football. But those two clubs haven't won a trophy. Man United won two and finished second in the last two years. So I think he thinks: 'Why are we being put under all the pressure?'
"There is a different approach towards United. Paul Pogba and Dele Alli were pictured in the Mail Online — two stories apart.
It was 'Paul Pogba absent while his team-mates struggle on tour.' And it was: 'Dele Alli relaxing and preparing for a new Premier League season.' So the editorial is completely different when we talk about Man United, compared with Tottenham or Liverpool. You could argue that is the case because of Jose's interviews, but you've got to look at it in the round.
"What I would say is it's not been a well-managed pre-season for United from a publicity point of view. You don't want negativity."
Of course, this pressure facing Mourinho is nothing new. Even a managerial legend such as Alex Ferguson was frequently questioned and criticised during his tenure in charge at the club.
"I can go back to my first full season in the first team — 95-96," Neville recalls. "Sir Alex had sold Mark Hughes, Andrei Kanchelskis, Paul Ince and there was a poll in the Manchester Evening News: 'Should Alex Ferguson keep his job?' The first game of the season, we lost against Aston Villa away and it was 'you can't win anything with kids,' he's made massive mistakes here.
"But we won three games within a week after that and all of a sudden, the clouds disappeared. But at that moment, it wasn't nice. The pressure was on us. And all you can do is win. You have to win. The Man United players only need to think about winning tomorrow night. They shouldn't be thinking of anything else other than winning and that will result in less pressure and it'll move towards football stuff again."
On Mourinho, Neville continues: "The one thing I would say that if you're saying publicly you want to bring in players in your list at the club and that 'we need to bring players in to strengthen,' and that we're weaker than other clubs, I don't see how that can motivate or help your players' confidence in the dressing room. There was an unspoken rule we had at United — we don't speak about players we haven't got. You talk about what you have got in that dressing room and what you are surrounded by and how proud you are to be surrounded by the players you have.
"The angle that I'd like is, 'we'd always try to strengthen where we can, but I'm proud of the players I've got and I'm really happy with the players in the dressing room'.
But on the other side of it, Jose is a realist. He's a pragmatic coach, who knows he needs to sign one or two centre-backs or they will struggle to win the league. So, I think he's calling it on, I think he's saying, 'I do have faith in what I've got, but we need to push the board into buying one or two centre-backs'.
"Historically, I would have always said it's best to keep them problems within. But, when you've only got one or two or three years in a job as a manager, I don't think you have time for long-term thinking or planning. I think you have to go in there and do your job and make sure you get the players you want straightaway to be able to deliver success.
"And Jose Mourinho knows that he's got to deliver a title at Manchester United, and I think he feels that if he got, say for instance Maguire or Alderweireld, he has a chance of winning the league. Whereas I think he thinks if he doesn't get those two, or one of those two, he probably hasn't got a strong enough defence to win the league, and he has called it on because I think strategically, he needed to put the pressure on the board to do it."
Mourinho's approach is in stark contrast to the one favoured by Ferguson, who generally refrained from speaking publicly about the club's transfer targets.
"You would never have known about it. We didn't know about players being signed until they were signed. It was announced to us when it was announced to you. There was no sort of grand announcement three weeks before. Imagine Sir Alex walking into the dressing room going, 'Gary, Paul, Ryan, Roy, Peter, Cristiano, I'm looking at Robin van Persie at the moment'. That's not what happens. You know, if your boss is going to bring in another journalist to replace you, he's not telling you, is he?! And he might be.
"With Alex Ferguson, you wouldn't know about this type of thing. I don't think it's fair to compare styles. You can throw comments from managers back in people's faces constantly. Again, look at the situation where Manchester City ditched four full-backs and brought in three new ones in for 130 million quid. Or they signed a goalkeeper for 20 million quid, and then got rid of him after one year and got another one for 30 odd million quid, because Pep Guardiola didn't like him. That happens.
"So, Jose will say, 'I don't like these three centre-backs, go and get rid of them and bring me two in. Other managers have done that, and Pep has been successful at it and no one talks about it now. I'm sure Pep went up to the boardroom.
It is being played out in public, which is never great. And that was the one thing that, to be fair, historically at United, or at any club, you don't want it playing out in public if you can help it. But Jose obviously felt there's been an inaction in the boardroom and he needs to pressurise and he needs to speak his mind."
Meanwhile, when pressed on all the title contenders, Neville selects Man United's neighbours, City, as the team most likely to prevail, which would see them complete the rare feat of back-to-back triumphs in the process.
"I've spoken to Pep twice on Sky since the end of the season. We did a programme the other day with Dave Jones and Jamie Redknapp asking questions and at the end of the season. We asked him directly, Premier League or Champions League. Premier League came out of his mouth before we'd even finished the question.
"We spoke to Kompany and Walker, they seem so intent to not drop below the mentality and standards they achieved last year. I think back-to-back titles is an obsession for them. I think they know they're not really going to be seen as a great team and that Pep is not going to be seen as someone that has dominated English football if he doesn't win two in two or three in three. He realises that's the measure of greatness and when you're talking about great teams and what a manager does and at the end of the season, if United win it or Liverpool win it, it'll be 'oh City only won one in three.' Whereas, it's different if he wins two in two.
"Perception is everything. For me, they are the ones to beat and it's just a case of whether United, Chelsea or Liverpool can do it. They're the only three that can challenge.
"Arsenal and Unai Emery I think will need three transfer windows to sort out what's gone before, to get the team into a situation where they can challenge. They may surprise a few, but that's what it feels like to me.
"I think Mauricio Pochettino has done a brilliant job and I love him to bits, but I just feel like the four big things gone against Tottenham. They haven't signed anyone, they've got their first four games away, they've changed stadiums and they've had I think 9 players out of the starting 11 playing in the very later stages of the World Cup. They're big challenges to overcome, but they have got consistency and stability, so if there is something there.
I think Liverpool need to go out of the Champions League pre-Christmas to have a good chance of winning the league. I don't think they can challenge on both fronts with the way they play, unless they adapt and they change, the way they play at 100mph from the first minute to the last — it's very hard to do that Saturday, Wednesday, Saturday, Wednesday.
"I think it'll be tough but if they were to go out of the Champions League and they had free weeks after Christmas, Saturday to Saturday, they could be a real threat this season to City. I do think they have one over on City. The challenge for them is: can they repeat that level of energy and that level of focus every three days?
"United should be challenging. I don't think just because they haven't signed a centre back we should be sat here thinking 'we'll let Manchester United off the hook,' they shouldn't be challenging this year.
"A club that's spent the money they've spent in the past few seasons and the players they've got, Manchester United have a front six of Mata, Lingered, Lukaku, Rashford, Martial and Sanchez. That's an obscene amount of talent. In midfield they've got Matic Fred and Pogba. Every team in the league will be thinking what a great midfield that is. The way in which United are being talked about this pre-season, it's as if they've got a load of bums playing for them."
Gary Neville was in Dublin to officially launch the second year of Cadbury's partnership with the Premier League as Official Snack Partner.
The42 is on Instagram! Tap the button below on your phone to follow us!